Easy Muhammara Recipe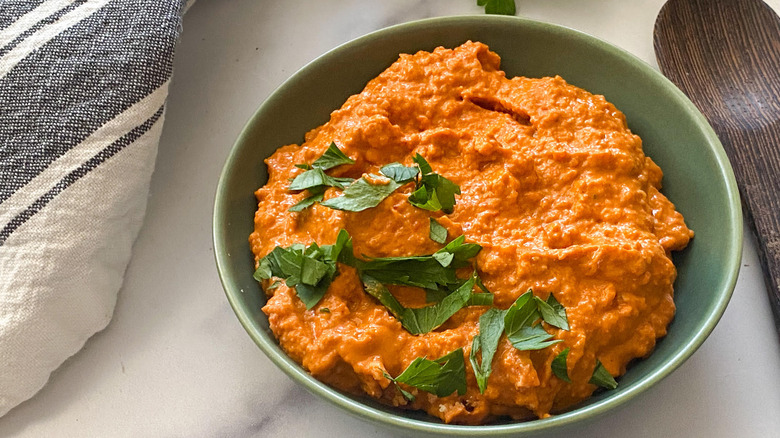 Miriam Hahn/Mashed
If you have yet to try muhammara, let us just tell you that you're missing out! According to No Recipes, muhammara was created in Syria and is made primarily of red peppers. There are a few different variations of this delightful recipe, but in our case, recipe developer Miriam Hahn of YouCare-SelfCare opted to use breadcrumbs and walnuts instead of bulgur.
There are plenty of great parts about muhammara, but Hahn shares that what she loves the most about it is both the flavor and plenty of ways you can enjoy it. "This dip is so flavorful! My favorite thing about this dip is how versatile it is," she shares. "It is so great as a dip, but also really tasty on a sandwich or in a wrap," Hahn says. "The flavor is strong and savory with a hint of lemon. It tastes really fresh!" That sounds pretty darn good to us.
This recipe is excellent for a snack, to accompany a meal, or even by itself. We're not lying when we say that the possibilities are endless. Keep scrolling to find out how to make what's sure to be your new favorite recipe.
Gather the ingredients to prepare muhammara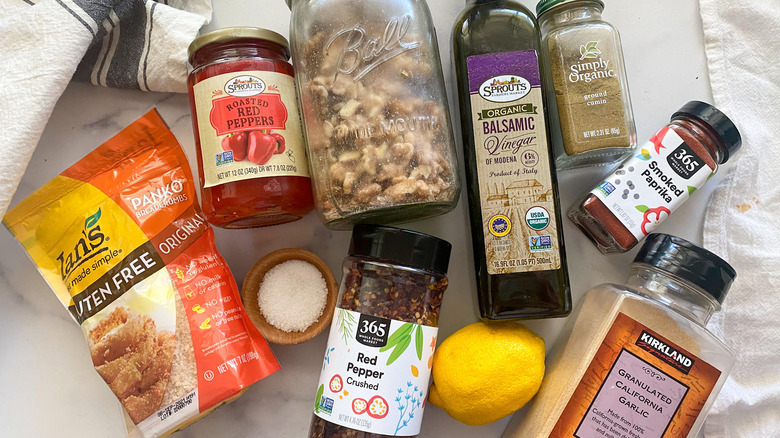 Miriam Hahn/Mashed
All of the ingredients you need for this recipe are relatively simple, and if you're lucky, you will already have a few of them at home. The main ingredient is a jar of roasted red peppers, which taste just as good as they sound. You will also need a cup of walnuts and a cup of breadcrumbs.
In terms of liquid, you'll need balsamic vinegar and the juice of one lemon. The rest of the recipe calls for seasoning, including garlic powder, red pepper flakes, cumin, and smoked paprika. As you can tell by the spices, this dish is jam-packed with flavor.
The benefits of red peppers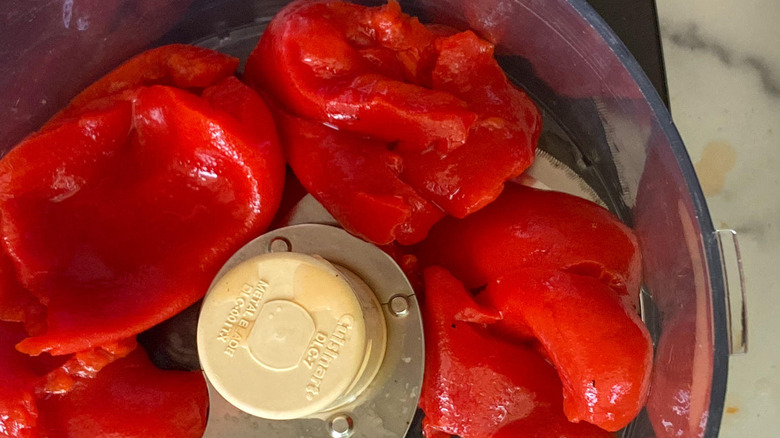 Miriam Hahn/Mashed
Most veggies have some great health benefits, and red peppers are no exception. Web MD reported that red peppers are full of both vitamin C and A. It's also worth noting that it only takes ½ cup of red peppers to reach 159% of the recommended daily intake of vitamin C. As for Vitamin A? It does plenty of good things for your body, like improving eye health and aiding in the growth of white blood cells. Muhammara tastes good, and it's healthy for you — now that's what we call killing two birds with one stone.
Blend the ingredients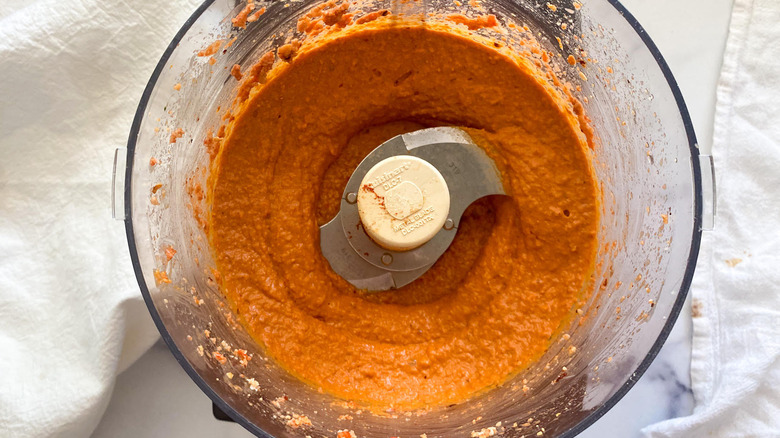 Miriam Hahn/Mashed
For the first step in the process, you will want to take out a large food processor that's big enough to fit your ingredients. Then, take every single item that is on the list and dump them into the food processor. This includes the red peppers, walnuts, breadcrumbs, liquids, and all of the spices. Put the lid back on the top of the food processor, and blend it. Let the items blend until they are smooth and looks similar to hummus. You can also use the photos as a guide to see how the dip should look.
Serve, and enjoy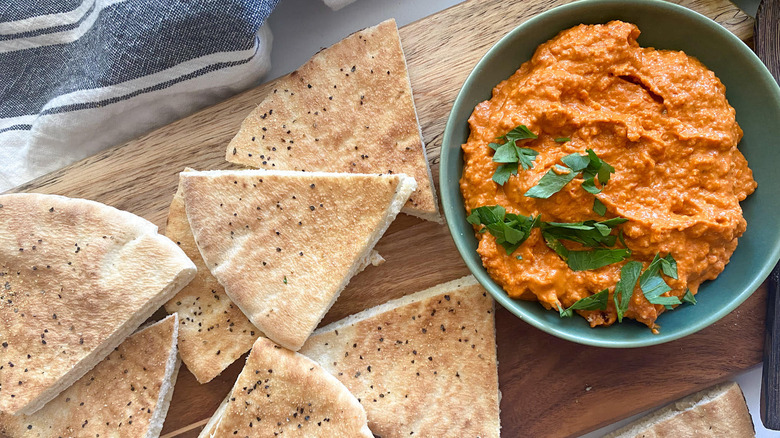 Miriam Hahn/Mashed
Once you blend the items, it's ready to be served. Yep, there's only one real step in the process, which is pretty amazing if you ask us. Feel free to serve in a bowl or just on the side of your plate. 
Hahn notes that the spread goes great on sandwiches, but there are plenty of other items that it makes a great addition to. "[Muhammara is] also great with naan or pita bread," she shares. "I have even used it as a pasta sauce with sautéed zucchini, onions, and kalamata olives. Also great on bruschetta." Leftovers will last about five days in a sealed container, and it will be pretty exciting to look forward to it during the week.
Easy Muhammara Recipe
This muhammara recipe is excellent for a snack, to accompany a meal, or even by itself. We're not lying when we say that the possibilities are endless.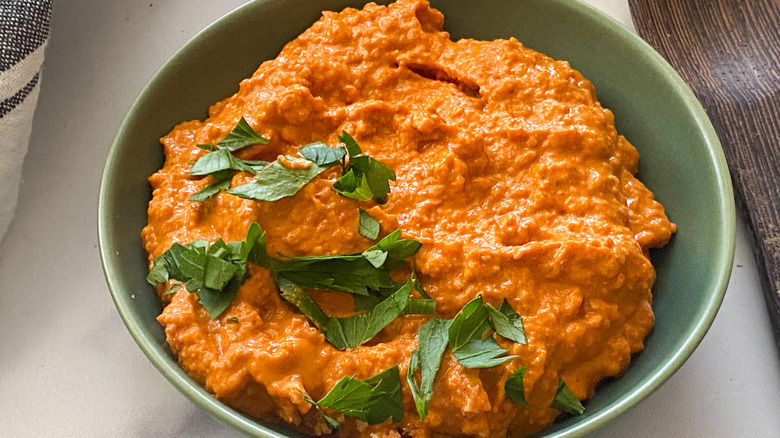 Ingredients
1 jar (12 ounces) roasted red peppers, drained
½ cup walnuts
½ cup panko or breadcrumbs
1 teaspoon balsamic vinegar
juice of ½ lemon
½ teaspoon salt
½ teaspoon garlic powder or granules
¼ to ½ teaspoon red pepper flakes
½ teaspoon cumin
½ teaspoon smoked paprika
Directions
Add all of the ingredients to a large food processor, and blend until smooth.
Serve as a dip with pita bread, on sandwiches, or even as a pasta sauce.
Nutrition
| | |
| --- | --- |
| Calories per Serving | 60 |
| Total Fat | 0.9 g |
| Saturated Fat | 0.1 g |
| Trans Fat | 0.0 g |
| Cholesterol | 0.0 mg |
| | |
| --- | --- |
| Total Carbohydrates | 12.5 g |
| Dietary Fiber | 1.7 g |
| Total Sugars | 4.4 g |
| Sodium | 238.7 mg |
| Protein | 1.8 g |