Aldi's Lemon Shortbread Icebox Cake Recipe Has Fans Drooling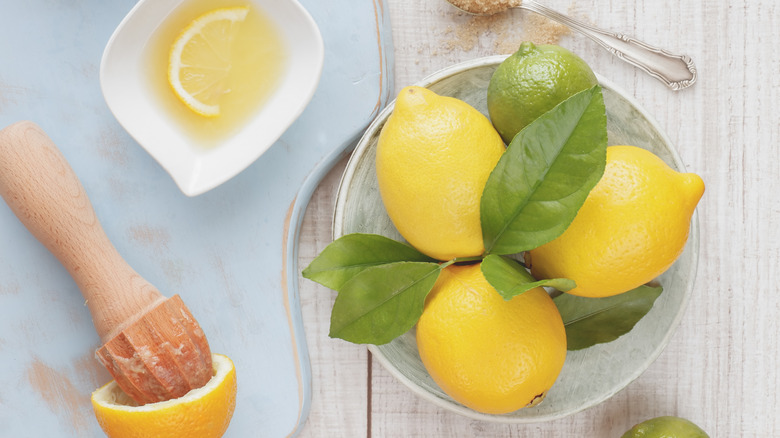 Shutterstock
Nothing screams summer more than lemons, and once you try out this recipe, you will have the perfect sweet treat for the season. This lemon shortbread icebox cake by blogger @pbfingers has fans going wild. In the comment section of Aldi's Instagram post, where the recipe was re-shared, one follower jokingly responded with, "Don't buy those cookies!!! You'll get addicted to them."
The stars of this recipe are Benton's Lemon Shortbread Cookies, which are comparable to the Girl Scouts' Lemonade variation. Since they were released, they've amassed a large fanbase and came at a perfect time, just as Girl Scouts' cookie season was coming to an end. They are also significantly more affordable, costing just $1.49 per pack, according to @aldifavoritefinds on Instagram.
Even if you're an icebox cake skeptic or aren't the biggest lemon enthusiast, you should give this sweet, mouthwatering dessert recipe a try. It's so easy to make, and you'll be the most popular person at your next summer picnic. 
Here's how to make the icebox cake
The recipe calls for those Benton's Lemon Shortbread Cookies (duh) from Aldi, along with two cups of heavy whipping cream, one teaspoon of vanilla, and three tablespoons of powdered sugar. After you have combined all other ingredients except for the cookies, you're going to want to transfer the mixture to a loaf-shaped tray, and then pull out the cookies to put on top of them. You then repeat this process two times over to create the cake's multiple layers.
Then, add crushed cookies on top of the final layer, before refrigerating overnight. Serve with some additional cookies on the side, because you simply can't get enough of them.
Aldi's post also notes that one dollar from each cookie purchase goes towards a $1 million donation to Alex's Lemonade Stand Foundation, a pediatric cancer charity. So even if you're not the biggest icebox cake enthusiast, you should still grab a bag of these lemon cakes, as you're supporting a great cause.