The Internet Is Loving Brooklyn Beckham's Cooking Videos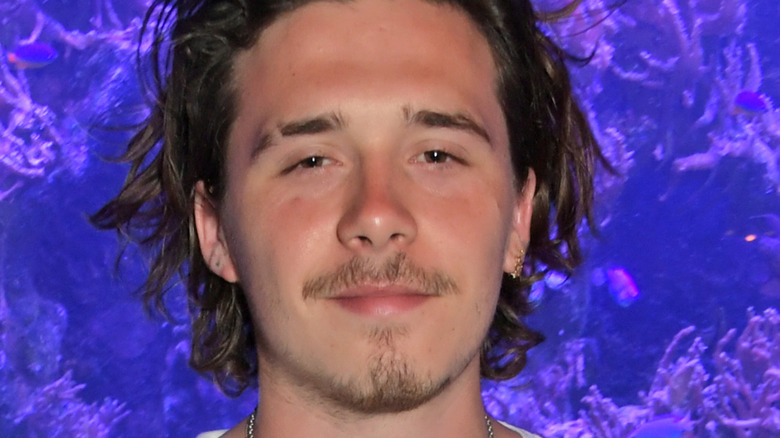 David M. Benett/Getty Images
Heir to serious celebrity status, celebrated photographer, successful model, and now, wunderkind chef? It seems Brooklyn Beckham has just added another passion and area of expertise to his reputation, one that was already impressive for a 22-year-old. The eldest son of David and Victoria Beckham has been delighting the internet with a series of cooking videos on Instagram Reels, and people — from his own family to total strangers — are seriously impressed by his culinary chops (via People).
The posts are time-lapsed videos of Beckham hard at work in his kitchen: no shortcuts here. One Instagram Reels post demonstrates his skilled approach to grilling up a steak and then turning it into mouthwatering quesadillas. Another video shows him whipping up a spicy tomato cream pasta, and a third post finds the budding chef making a pesto pasta. The most recent post follows Beckham as he makes a bacon, egg, and sausage sandwich (via Instagram). While we don't get step-by-step recipes here, even in the sped-up format, we can see the ingredients Beckham is using and his own approaches to things like smashing garlic. The videos are part explainers, part meal inspiration, part Beckham getting to show off his kitchen cred. 
Even Beckham's own family is wowed by his kitchen skills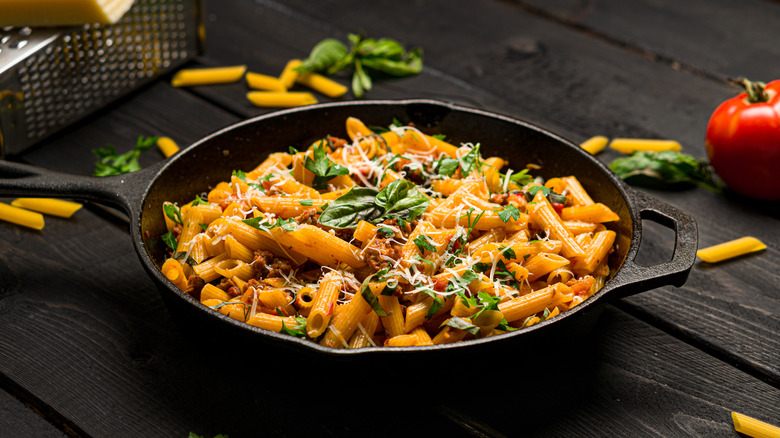 Shutterstock
Apparently, Delish writes, the Beckhams are close with Gordon Ramsay and his family. It's tempting to imagine the famed chef teaching Brooklyn Beckham a thing or two, both celebs laughing while making dishes we can only imagine getting to feast on. Certainly, plenty of comments on Beckham's Instagram Reels posts compare him to Ramsay and say that Ramsay must be proud. We've yet to learn how much of Beckham's knowledge is fellow-celebrity-taught versus self-taught, however.
What we do know is that Beckham's own family members and Instagram followers, alike, are applauding the young star's kitchen talents. Three heart-eyed emojis plus a flame emoji from Beckham's fiancee Nicola Anne Peltz top the comments on his spicy tomato cream pasta video, with replies to that pointing out how lucky the actress is to have a guy that can cook. Peltz and Beckham did indeed just buy a house together, reports E! Online, so we suspect that new kitchen is about to see some serious cooking action.
"Wow!! Looks amazing!!!!!" Victoria Beckham commented on her son's steak quesadilla post (per People), proving that mega-famous or not, moms love showing their pride in their kids. 16-year-old Cruz Beckham was even more relatable, asking the question that truly matters of his big bro: "So when u gonna cook me that?" Most commenters on all three videos are quick to express praise and the thoughts that next, Beckham needs his own cooking show.