Cheesy Baked Asparagus Recipe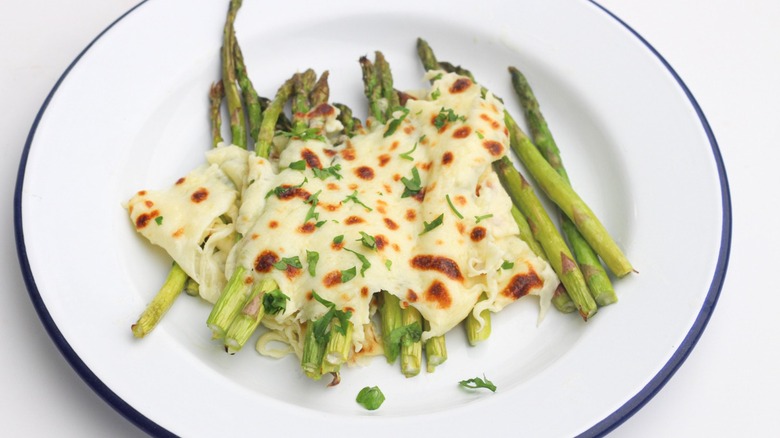 Susan Olayinka/Mashed
Frozen and even canned veggies can be just as nutritious as their fresh counterparts, and some even have distinct advantages. Frozen onions, for one thing, mean no more crying in the kitchen, while canned tomatoes actually do make for a much better marinara. With certain veggies, however, it's go fresh or go home, and most would agree that asparagus definitely falls into that category. With asparagus, texture is everything, and both the frozen and (especially) the canned kind tend to be limp and mushy.
Fresh asparagus, however, is one of the crowning glories of springtime produce. It's only at its peak for a few short months, so you've got to make the most of it while it's still in season. In fact, you'd better hurry and make this cheesy baked asparagus right away. This recipe, from Susan Olayinka of The Flexible Fridge, is something you're going to want to make again and again before asparagus goes back into hibernation. Even if you're not a fan of asparagus in its plain state, Olayinka says you may enjoy this dish. "Baking asparagus takes the edge off the bitterness," she says, explaining that this caramelizes the vegetable so it doesn't taste quite so astringent. Plus, of course, there's the cheese! As Olayinka says, "The cheese takes it that much over the edge," and she even confessed that she ate almost the entire dish in one sitting.
Choose your asparagus wisely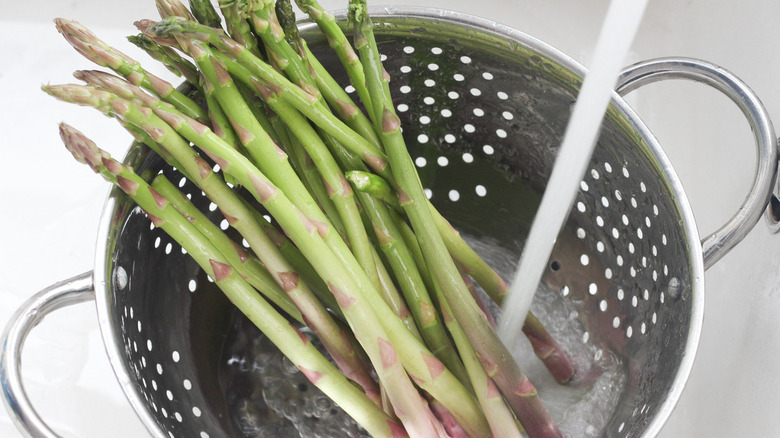 Susan Olayinka/Mashed
In a recipe like this, where asparagus is the star of the show, you'll want to make sure you buy the freshest asparagus spears available. Check each one before you put it in your shopping cart. A ripe spear should be firm and not bendy. The tips should be tightly closed and dark green or even purplish. If the tips are yellowed or appear dried out, the asparagus is likely past its prime. The same goes for the opposite ends of the stalks, as these should be moist, green, and plump instead of dry or cracked.
Make sure you've got the rest of the ingredients on hand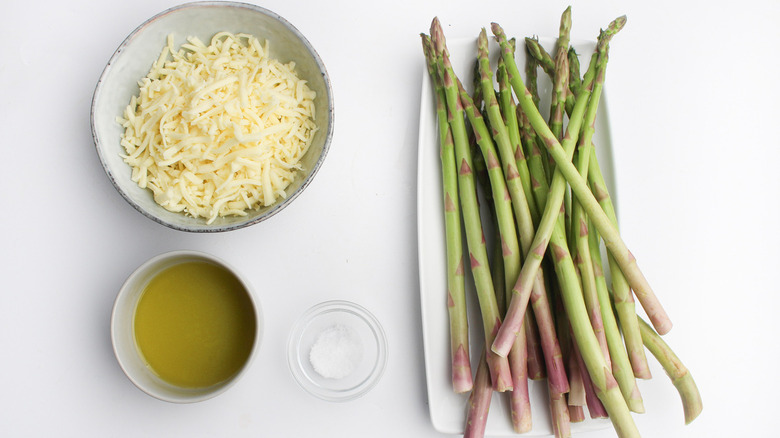 Susan Olayinka/Mashed
Got your asparagus all picked out? Great, now let's check on the other ingredients. There aren't too many of these — in fact, just three — so it takes four ingredients in all to make this recipe once you count the asparagus. You'll also need some olive oil. Olayinka used extra virgin, but since the oil is being used for cooking, regular olive oil will do just fine. You're also going to need a little salt, and then, of course, there's the cheese.
Without this all-important ingredient, this would be a recipe for non-cheesy baked asparagus, and it wouldn't be nearly as delicious. As Olayinka puts it, "cheese makes everything better." While she went with mozzarella cheese, she says cheddar would be good too. In fact, she told us, "You could use any sort of cheese — you could use even vegan cheese."
Prepare the asparagus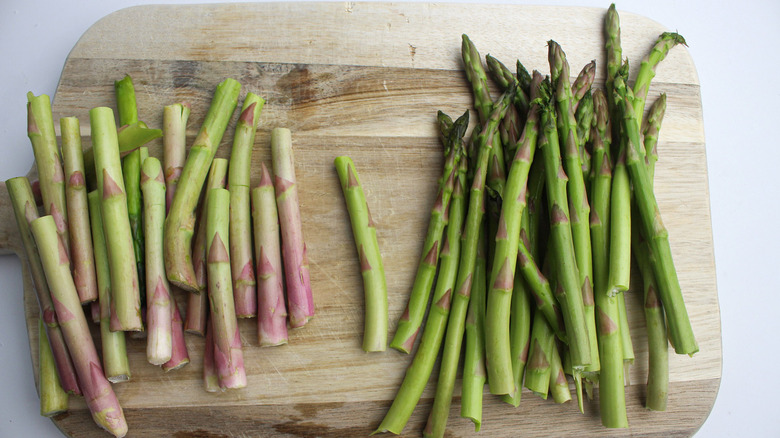 Susan Olayinka/Mashed
For this recipe, you're not going to be using the entire stalk of asparagus. Instead, Olayinka tells us the stalks need to be snapped in half. If the asparagus is ripe but not overripe, the stalks should snap easily. The halves with the spears are what you'll be using for this recipe, but if you hate to waste any food, you'll be glad to know you don't have to just toss out the rest of the stalks. While the bottom half of the asparagus may be a little tougher than the spear end, Olayinka tells us, "I know some people either put them in their compost bin or people blend them and then strain all the fiber out to make a soup."
Bake the asparagus with its cheesy topping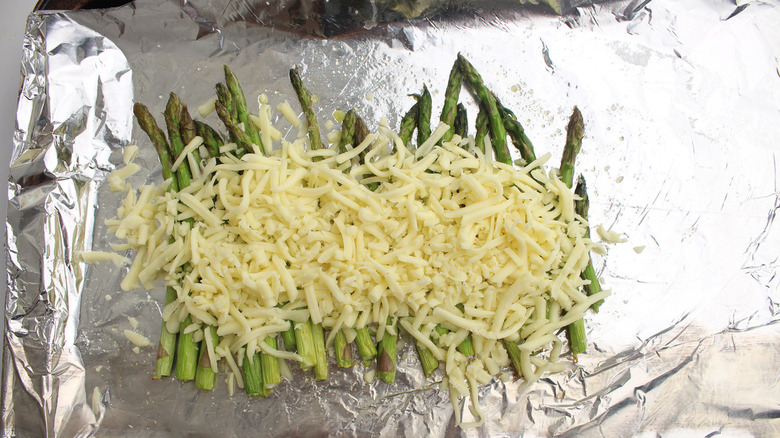 Susan Olayinka/Mashed
Preheat the oven to 350 degrees Fahrenheit. Line a baking sheet with aluminum foil and place the asparagus on the sheet. Drizzle the spears with oil and sprinkle them with salt, then mix the asparagus with the oil and salt so the seasonings are evenly distributed. Olayinka used tongs to do this, but you can use any implement of your choice or just do the mixing by hand.
When the oven is hot enough, bake the asparagus for 10 minutes. Remove the pan from the oven and crank the heat up to broil. While the oven is getting hotter, sprinkle the asparagus with the shredded cheese. Return the baking sheet to the oven and broil the asparagus for five minutes or until the cheese is melted, brown, and bubbly.
Feel good about this healthy side dish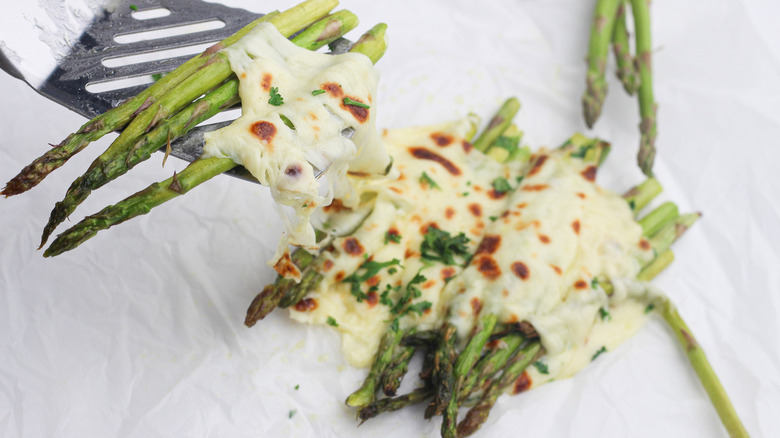 Susan Olayinka/Mashed
This cheesy baked asparagus is something that should be served right out of the oven while it's still hot. As rich and flavorful as it is, Olayinka says, "It's quite a balanced dish if you pair it with some carbohydrates."
While all that cheese might make this baked asparagus dish seem slightly decadent, Healthline says mozzarella is one of the most nutritious types of cheese. It's relatively low in sodium, fat, and calories, and it also provides a heaping helping of calcium and protein. Asparagus, of course, is also super-healthy. It's loaded with folic acid, B vitamins, and potassium and is a great source of fiber.
Cheesy Baked Asparagus Recipe
Fresh asparagus is one of the crowning glories of springtime produce. It's only at its peak for a few short months, so make this recipe now.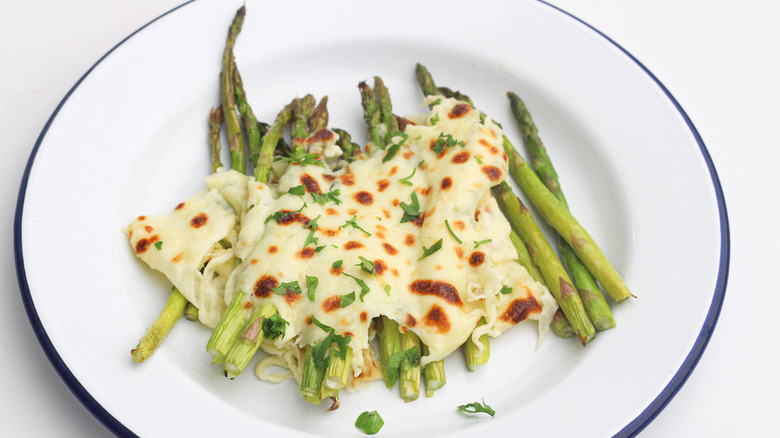 Ingredients
20 asparagus spears
1 tablespoon extra virgin olive oil
1 teaspoon salt
1 cup shredded mozzarella cheese
Directions
Snap the asparagus stalks in half and reserve the tops.
Preheat the oven to 350 degrees Fahrenheit.
Place the top halves of the asparagus onto a foil-lined baking tray and drizzle with olive oil.
Sprinkle salt on the asparagus and mix so the oil and salt are evenly distributed.
Bake the asparagus for 10 minutes.
Take the asparagus out of the oven and sprinkle with shredded cheese.
Turn the oven heat up to broil and cook the cheese-topped asparagus for 5 minutes.
Serve cheesy asparagus immediately.
Nutrition
| | |
| --- | --- |
| Calories per Serving | 202 |
| Total Fat | 15.6 g |
| Saturated Fat | 8.5 g |
| Trans Fat | 0.0 |
| Cholesterol | 46.3 mg |
| | |
| --- | --- |
| Total Carbohydrates | 3.8 g |
| Dietary Fiber | 1.3 g |
| Total Sugars | 1.7 g |
| Sodium | 370.4 mg |
| Protein | 12.6 g |