Burger King's Popular Mix 'N Match Deal Is Back With One Big Catch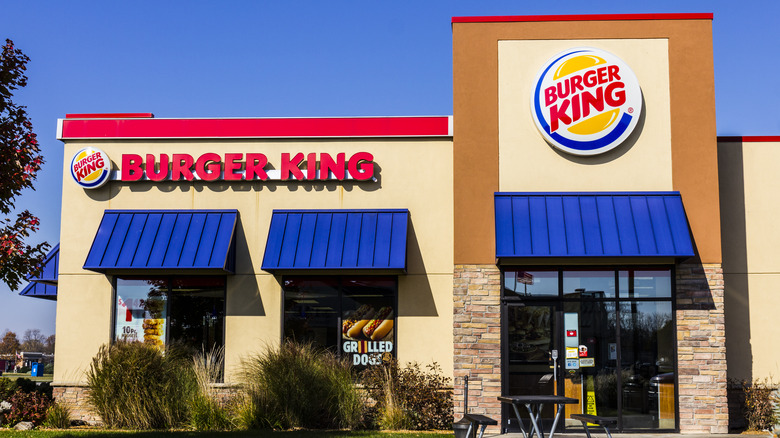 Shutterstock
Burger King has good news for their loyalty rewards members, but their new announcement may come as a bit of surprise to the rest of their customers. The burger chain has just announced the return of one of their popular deals — the 2 For $5 Mix n Match deal — but you will now have to be a member of their Royal Perks loyalty reward program in order to take advantage of the new promotion.
With the new 2 For $5 Mix n Match Royal Perks deal, loyalty rewards members can mix and match any two featured items for just five bucks at participating locations nationwide, according to Chew Boom. This limited-time deal only applies to orders placed online or through the Burger King app, and applies to the Whopper Sandwich, Original Chicken Sandwich, Big Fish Sandwich, and 9-piece Chicken Fries. 
When this mix and match deal was first announced in the summer of 2020, it was open for anyone to order, loyalty rewards member or not, per Thrillist. However, now the deal is reserved exclusively for Royal Perks members.
Burger King launched its rewards program in February
Burger King launched their loyalty rewards program earlier this year, with a limited test run in Los Angeles, Miami, Long Island, New Jersey, and New York City in February, according to QSR. "It feels like we've just accepted what brands have told us is possible with loyalty programs over the years, so as we started working on Royal Perks, it was easy, let's do what the others don't. To make sure we get it right, we're testing, learning and solving this year," Ellie Doty, Burger King, North America CMO said of the launch at the time.
To become a rewards member, customers simply have to sign up via the Burger King app or website to become eligible to receive ten "crowns" for every dollar spent, which are redeemable for free menu items. Members also get other perks, like double points during their birthday month. So if you want to take advantage of this new Mix 'N Match Royal Perks deal, as well as their many other exclusive discounts and deals, now is the time to show your BK loyalty and become a Royal Perks member.