Candy Shop Dazzles TikTok With Bizarrely Satisfying Viral Videos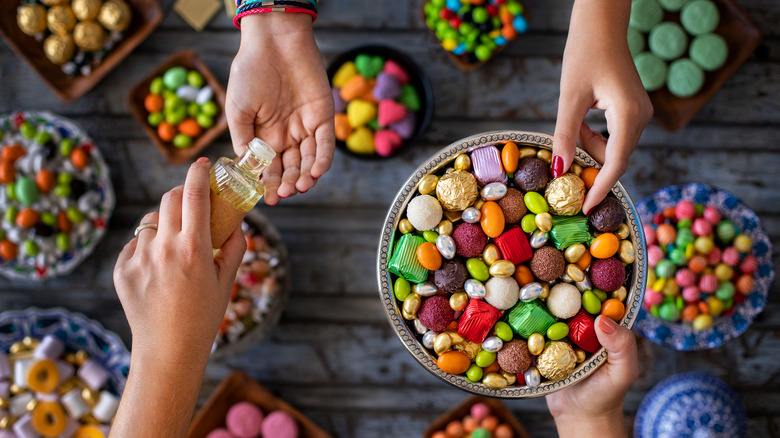 Shutterstock
As early as 2019, and in some cases even earlier, candy-making videos have been described as visually satisfying — just take one look at YouTube when you search the term "satisfying candy making". But in the simultaneous world of trending TikTok accounts, Logan's Candies is the next company to gain its 15 minutes of fame with videos posted from their Ontario, California shop. 
According to Snopes, some videos from the shop, which is known for making chocolates, ribbon candy, candy canes, among other things, are going viral on TikTok. The latest is a video of Logan's Candies creating watermelon pillows, and it's been viewed just under 70 million times. That video alone broke their record of viewer numbers and helped project them to 2 million followers. The California candy shop is killing it with its depiction of the candy-making process for people who need something to take their minds off the stresses of the day.
The Willy Wonka of TikTok
The viral TikTok video shows a worker layering the pink, white, and green candy for the watermelon pillows bit by bit. They then hand-stretch and meld the flavors together, making sure it sticks. Next, they roll it into a long candy cane type shape before cutting into mini "pillow" shapes. The company also posted a nearly as popular TikTok video of "Jerry Rowley making Independence Day-themed candy canes," in which he melts caramelized sugar and lets it cool until congealed, walking the viewers through the steps he takes to stretch and pull the candy before similarly combining the two colors, flattening the candy and taking a few more steps before rolling it into the candy cane shape with which candy eaters are familiar.
The videos follow a trend of similar candy-making content, like this one found on YouTube, which shows simmering, mixing, stretching. and more. So if you're a sugar fiend looking for a way to soothe your senses — and see how the candy canes are really made — one of these videos may be a good option for you.