The Burger Restaurant Bobby Flay 'Grew Up In'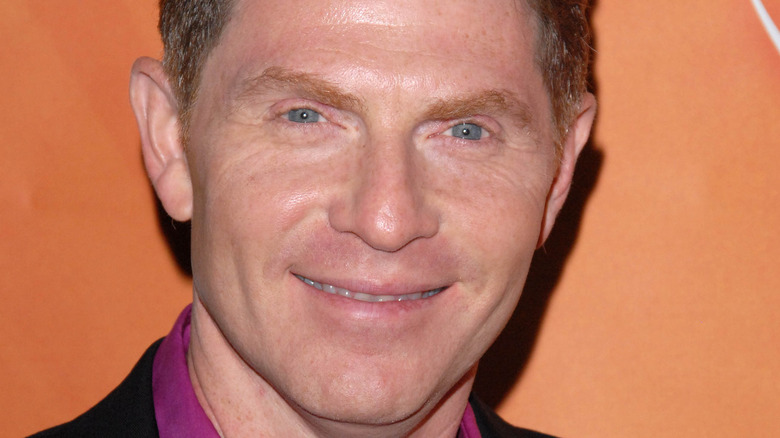 Shutterstock
Bobby Flay has done a lot in the food industry. He's accomplished so much that there are four separate timelines on his website listing his achievements for opening restaurants, writing cookbooks, hosting food television shows, and being honored in the culinary world. Flay was even a member of the French Culinary Institute's first graduating class in 1984, but it was much earlier in life that he learned to appreciate a good burger.
The famous chef told First We Feast that his father's best friend owns JG Melon, an iconic pub located in Manhattan's Upper East Side. According to the chef, he was only 8 years old when JG Melon opened, and he "literally grew up in the place." The restaurant's website claims that in addition to being known for its cottage fries and bloody marys, the place is known for its "famously juicy hamburgers." We think Flay would agree! Not only was he inspired by the burgers, but he also put in a lot of research time, as he explained to First We Feast: "I don't think there is anyone in the world who has eaten more JG Melon cheeseburgers than me."
What makes JG Melon cheeseburgers inspirational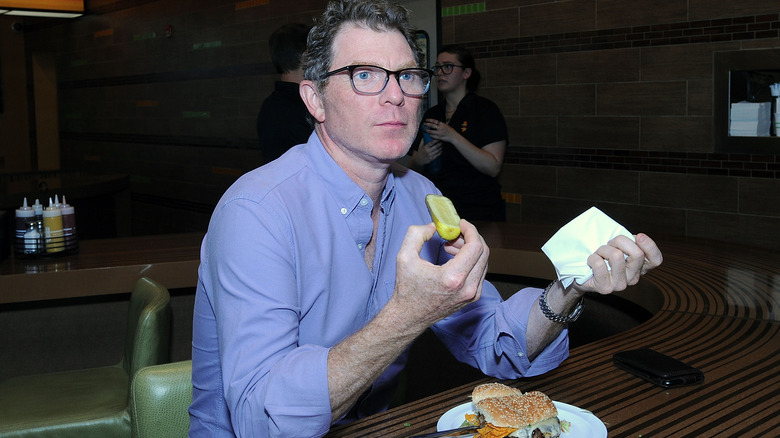 Bobby Bank/Getty Images
As you sink your teeth into a thick, juicy burger dripping with melted cheese, ever wonder how that inhuman piece of perfection came to be? According to Flay, JG Melon gets it right, and the right way is "incredibly simple." Flay explained to First We Feast that the techniques JG Melon uses to create its delicious burgers inspired how he cooks burgers at his restaurant, Bobby's Burger Palace. Some of the takeaways he's gotten from all his years spent dining at JG Melon include cooking his burger on a griddle, using a soft bun, using American cheese, and melting that cheese completely. He told First We Feast that he even goes so far as to tell his cooks, "You have to melt the cheese completely because if you don't then it won't taste good."
JG Melon's fries even inspired the signature burger at Bobby's Burger Palace. Flay told First We Feast that JG Melon once served their cottage fries on a plate with cheese melted onto them (yum), and that gave him the idea of putting potato chips on his burgers (double-yum). This resulting menu item is a burger served with American cheese and potato chips known as the "Crunchburger" (via Bobby's Burger Place). We're glad to see all those cheeseburgers Flay ate as a kid really paid off!