Yes, There Really Is A New Bar In London That Makes Cocktails For Dogs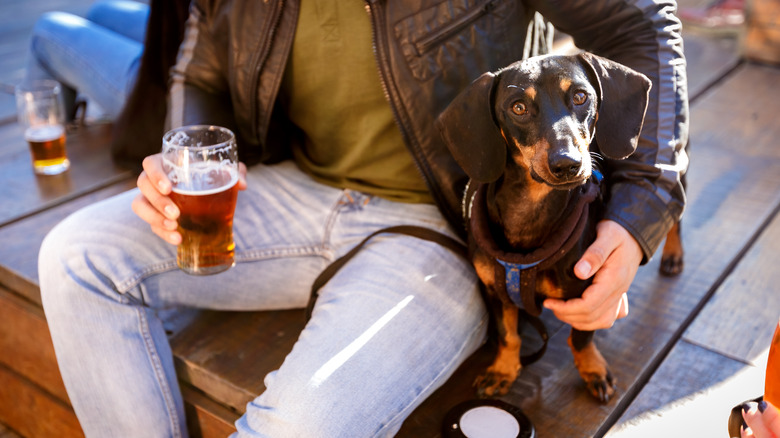 Shutterstock
Being a dog owner comes with a lot of joy, but it can also cause feelings of guilt. That moment when you leave the house and see their sad puppy eyes in the window, wishing they could tag along? There's no worse feeling. Then comes the anxiety-inducing thoughts: What are they doing all day? Are they lonely? Do they miss you? As the saying goes, dogs are a human's best friend, so how are you supposed to truly enjoy yourself when your other half is cooped up at home?
Well, good news for dog parents... in London. The beloved dog-friendly community center Barkney Wick has launched a cocktail bar specifically designed for canine owners and lovers, according to Food & Wine. Situated in east London neighborhood Hackney Wick, After Bark offers a variety of cocktails for both owners and their four-legged friends. Dogs will be allowed to select a drink of their choice from the special "puptails" menu, which are all alcohol-free, of course.
Take your dog to happy hour!
After Bark is the newest addition to Barkney Wick's already pretty popular dog-friendly community center. The establishment also offers doggy daycare, pet training, and a dog-friendly cafe, per Food & Wine. Jamie Swan, the founder of After Bark, recently told Reuters that a big inspiration behind opening the bar was to help dogs with separation anxiety who may be having a more difficult time with their owners transitioning back to in-person work or other activities that keep them out of the house.
At this dog bar, all the "puptails" have fun names like "Bloodhound Mary," "Barkarita," and "Howlapaw Sling," adding to the overall experience. Swan also noted that the doggy drinks are only made from healthy ingredients, such as raw beets and carrot juice. "We have a Fish Island Iced Tea which is just for dogs. And that's got things like dandelions and burdock which is good for their guts and good for their overall health. So it's about wellbeing and health, as well as just a lot of fun," she explained to Food & Wine. And happy hour wouldn't be complete without a snack! After Bark offers Lick & Mix treats, which are plant-based and can be enjoyed by everyone, including humans.