Aldi UK Just Rolled Out This Massive Sushi In Honor Of The Olympics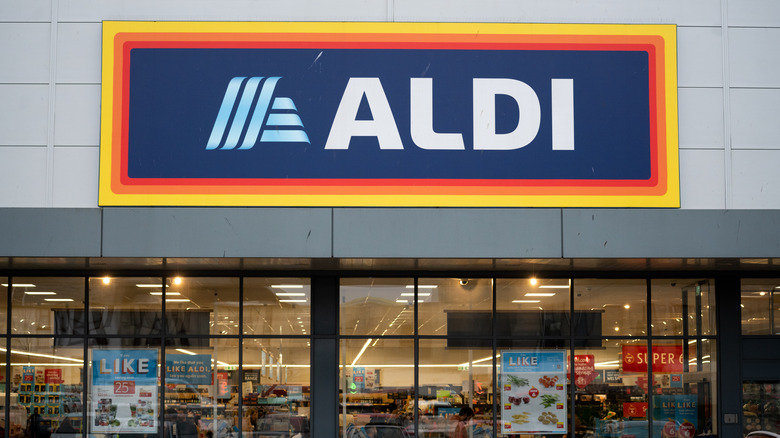 Matthew Horwood/Getty Images
In case you have not noticed, the Olympics are currently underway. To break through the current news gridlock, Aldi U.K. turned to stunts themed after the Tokyo Olympics by presenting a footlong sushi roll as part of its to-go offerings. According to Seafood Source, the roll has two six inch sections — one features smoked salmon, cream cheese, and mixed sesame seeds and the other has katsu chicken, sesame seeds, and crispy onions. It looks like two sushi rolls stitched together Frankenstein's monster-style. Starting from July 22, they have been selling for 2.49£, or $3.42.
One customer recently decided to try Aldi's new giant sushi roll and uploaded his review to YouTube. He decided the roll deserved a score of eight out of 10, since it tasted good and was well priced, but the roll consistently fell apart in his hands and could have used an extra kick. Of course, that is only one review, but store bought sushi rarely elicits the attention that fast food dishes tend to enjoy. 
How to improve your store bought sushi
Store bought sushi has to be graded on a different scale than restaurant sushi. After all, one has to be made well in advance, and so has time to settle into a less than stellar but still edible meal. The other, depending on the restaurant, can be prepared to the order, giving the customer the ideal window to eat the sushi. Still, if you are in a position in which you have purchased a store made sushi, there is something you can do in order to elevate the dish. 
Sora News 24 discovered that if you microwave a two person sushi serving for 30 seconds at 500 watts, it revives some of the fresh mouth feel lost in refrigeration. "Sushi that's refrigerated for a long time at the supermarket loses some of the flavor in the rice, as the vinegar cools and the grains separate slightly, but by heating it in the microwave, the vitality of the rice was brought back to life, resulting in a fluffy, just-cooked texture," the outlet notes. So, if the reviewer microwaves his Aldi footlong sushi roll, it might solve the crumbling with which he took issue.