Magic Bullet's Surprising New Product Has People Talking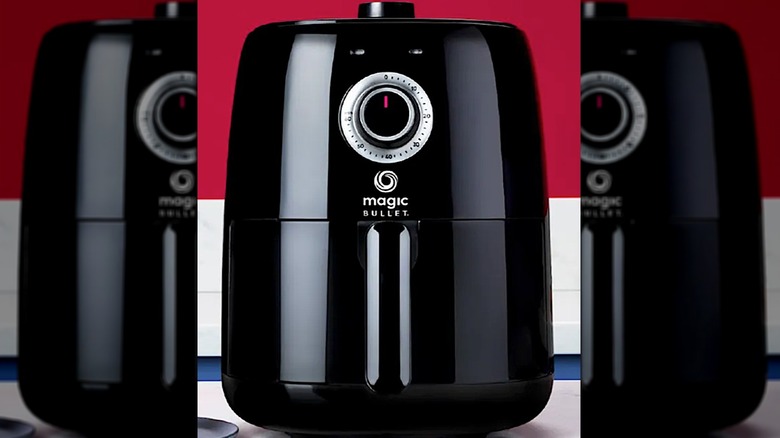 NutriBullet
Unless you're a professional chef or actively practicing home cook, your kitchen cabinets are probably overflowing with gadgets and gear you just had to have, used once, and subsequently stowed in a dark corner to collect dust. There's no shame in that. We all do it. But a new appliance from NutriBullet may be the one that breaks that use-it-and-lose-it pattern.
NutriBullet's new Magic Bullet Air Fryer is a compact powerhouse that uses "360-degree convection technology" to make crispy fried foods using little to no oil (via CNN). The 2.5-quart air fryer doesn't take up much counter space, and its sleek design is something even the most ardent clutter-haters may choose to display. Plus, it's easy to use. 
Although it's new to the market, the Magic Bullet Air Fryers is already garnering rave reviews. A quick look at the company's website shows all 4- and 5-star reviews with lots of comments about its simple operation, stellar results, and easy clean-up 一 like this one from awatty5: "I made chicken wings as the first test and they came out crispy on the outside and juicy on the inside. Plus the cleanup was also quick and easy. Definitely going to make this a staple small appliance in my kitchen."
How does the Magic Bullet Air Fryer work?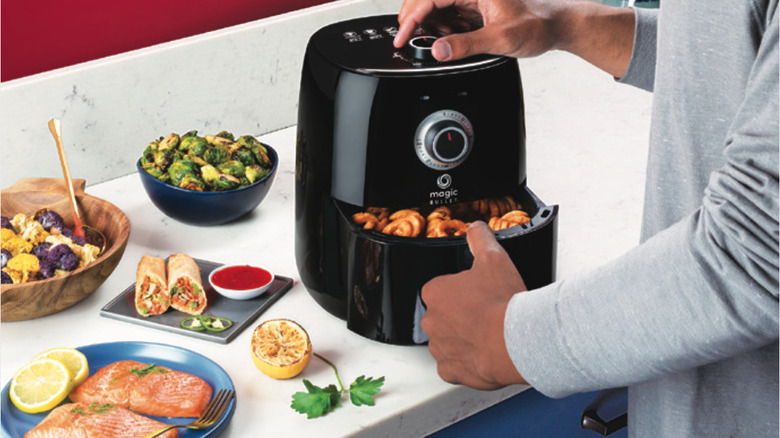 NutriBullet
Taste of Home cut straight to the chase and declared the Magic Bullet Air Fryer possibly the best, easiest air fryer for home cooks. The operating instructions are definitely straightforward. According to the product page on the company's website, it's a plug-and-go appliance with only five primary components: temperature dial, timer, base, fry pot, and crisping tray. To get started, just assemble, preheat, add food, and set the timer. 
Taste of Home says the Magic Bullet Air Fryer is capable of frying all kinds of foods 一 even a full pound of french fries. The display features six settings including vegetables, chicken wings, fries, and fish as well as a temperature range of 180 F to 400 F. And, in the event you get distracted, there's a safety feature that shuts the unit down after it's been running for 60 minutes. To clean up, brush out any crumbs and wipe down with soap and water. New to air frying? NutriBullet offers a downloadable 35-page cookbook with easy-to-follow instructions for cooking everything from french fries and chicken wings to mini churros and roasted pineapple.