Costco Shoppers Are Loving These Belgian Chocolate Mousse Cups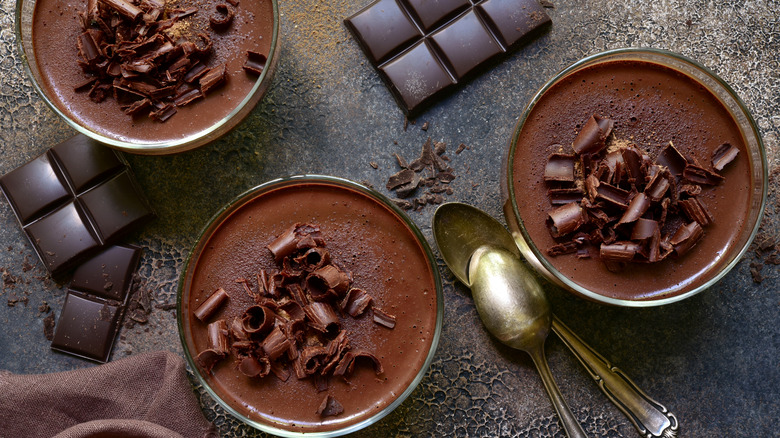 Shutterstock
If you are a fan of chocolate, then chances are you probably have a weak spot for a great chocolate mousse. Creamy and rich enough to be indulgent, yet airy and smooth enough that it doesn't feel too heavy, it's perhaps the perfect dessert to top off a fancy dinner or to treat yourself after a long day. And thanks to Delici Belgian Chocolate Mousse Cups, now at Costco, you can end every dinner like it is an upscale night out, without breaking the bank. 
Made with 70% rich Belgian cocoa and topped with cream and cookie crumbles, this tasty mousse is the perfect dessert to have on hand for just about any occasion. Packs of six of this decadent Belgian chocolate mousse just hit the shelves at Costco, and many of their fans are excited to see the arrival of this sweet and satisfying treat, including the popular Instagram account @costcobuys who alerted their followers to the new find, saying, "Belgian chocolate mousse dessert cups ... don't mind if I do!" adding that "they look AMAZING!"
Costco shoppers can save $3 on these chocolate mousse cups
Many of @costcobuys followers were equally excited to try out this rich chocolate mousse. "Need need need!" @targettakesmypaycheck posted excitedly. Those that had already sampled the dessert seemed to have only good things to say about it, too. Follower @tra1004 raved: "So good and so rich!" The user @lonna1957 agreed, saying, "They are so yummy." 
And that's not all. According to Instagram user @lilmomobigworld, "These are in the new Costco ad booklet and go on sale on Aug 4!" Shoppers can save an extra $3 on their purchase if they buy on or after this date next month. Delicious chocolatey mousse isn't the only thing you'll get when you purchase this six-pack, though. They come served in 16-ounce glasses that are reusable, so you can repurpose them for arts, crafts, or your own baked goods. At just $8.99 for a whole pack, you will definitely be getting more bang for your buck when you purchase this dessert.