Basic Creamed Swiss Chard Recipe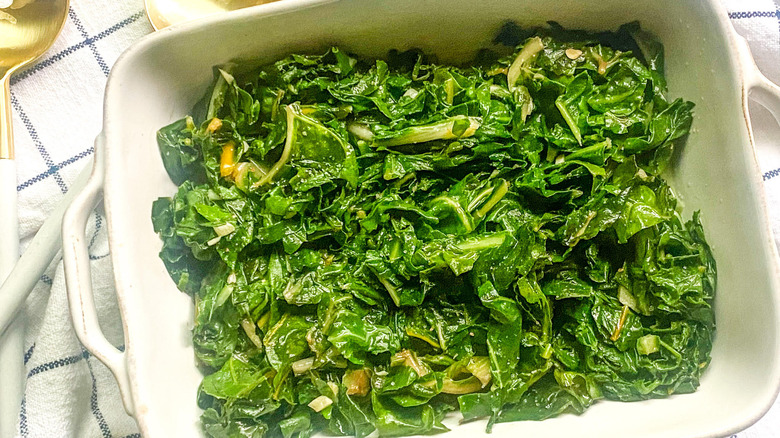 Miriam Hahn/Mashed
Basic creamed Swiss chard is a great side to accompany pretty much any protein. Appropriately, this healthy dish is composed chiefly of chard. According to Healthline, the incredible vegetable is originally from the Mediterranean, despite its name. It's packed with Vitamin A and K. It also happens to be a good source of calcium and magnesium. and on top of all that, it also tastes amazing, so it's pretty much a no-brainer to eat.
Miriam Hahn of YouCare-Selfcare is the brains behind this fantastic side dish. "Chard tastes a lot like spinach," she notes, "just a little bit heartier, but not as tough as collard greens. Some people mix those up." 
"Chard comes in three varieties: red, green, and rainbow," she adds. "It is super easy to grow and anyone who has a garden knows that! I grow it in the winter in Arizona and use it for all sorts of things. I typically just steam it on it's own (like my mom used to do). I also throw it in a green smoothie and add it raw to salads. It is also great sautéed with garlic and olive oil." Yum! 
Her favorite things about this recipe are that it's quick, easy, and healthy. "It's a simple thing to whip up," Hahn raves.
Keep scrolling to find out how to make it!
Gather the ingredients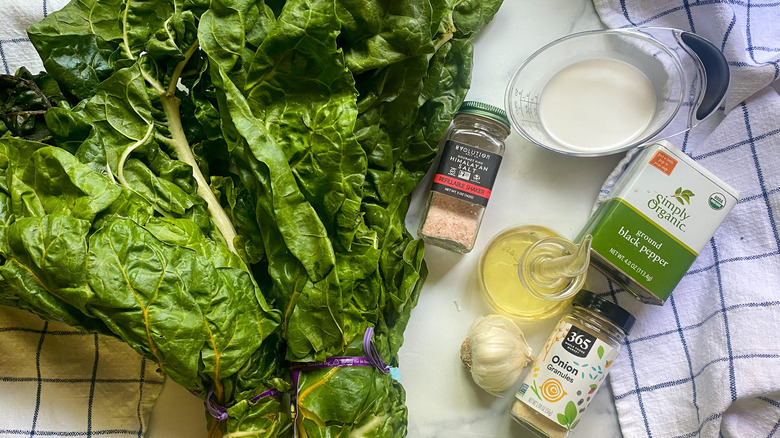 Miriam Hahn/Mashed
For the first step in the process, gather all of the items you will need to whip up this tasty recipe. For starters, you will need two bunches of green, red, or rainbow chard, which should be a no-brainer considering that it is the bulk of the recipe. "One other thing to note is it seems like two bunches is going to be way too much, but it shrinks way down like spinach, so you really need to use a lot!" Hahn says. "Sometimes I will steam an entire bunch and eat it myself." 
In addition, you will need some olive oil and a few cloves of garlic. These items are pretty standard in most recipes, so hopefully you already have them at home. 
Last but not least, grab a cup of cream and then some salt and pepper. The list is relatively simple, and it definitely won't break the bank!
Strip the Swiss chard from its stems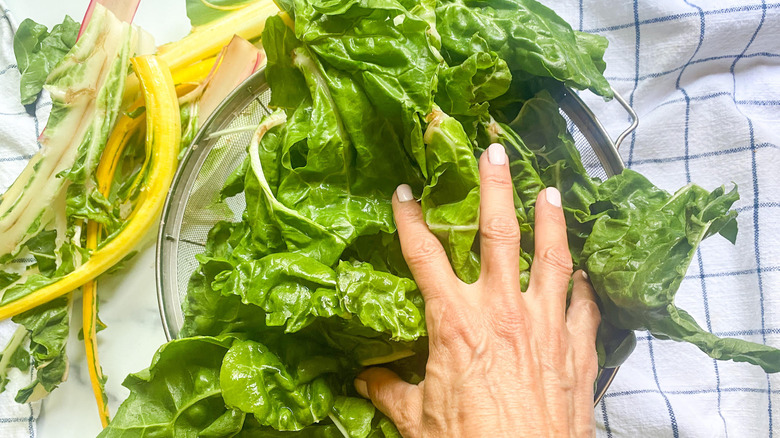 Miriam Hahn/Mashed
Now it's time to begin the cooking process. First, take out the Swiss chard and put it on the counter in front of you. Strip the leaves from the stems and then grab a large bowl. Add the chard to the bowl and then fill it with a generous amount of water. Next, transfer the chard to a colander to drain it. 
Hahn notes that Swiss chard can be very dirty, so make sure to rinse it very well and get off all of the dirt. You can save the stems for another recipe, since those won't be needed for this one (they're great steamed or cooked into stews or stir-fries). 
Cut the Swiss chard leaves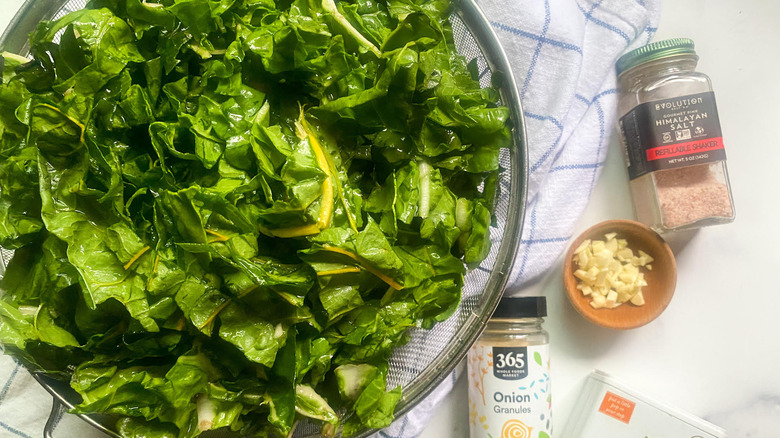 Miriam Hahn/Mashed
Now, it's time to show off your chopping skills! Cut the washed and drained Swiss chard into thin slices. The picture is a great guide to see exactly how the chard should be cut. 
In the meantime, take out a large soup pot and throw in the oil. Turn the heat to medium and then add the garlic and cook the mixture for about a minute.
Next, add in the cream, salt, and pepper. Lower the temperature to a simmer and cook for about five minutes until it starts to thicken. 
Add in the Swiss chard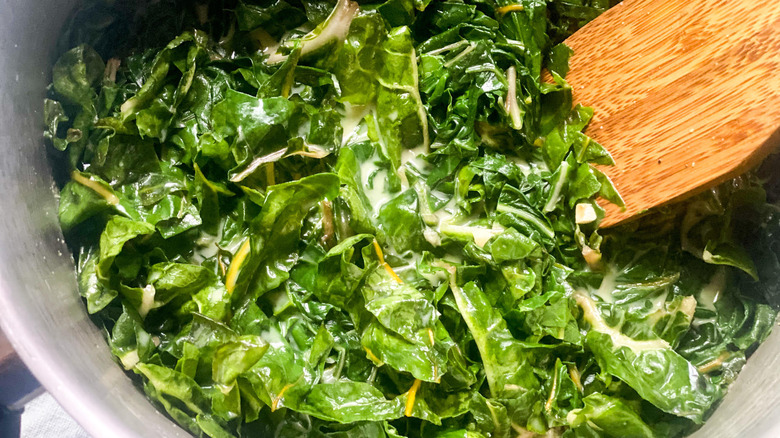 Miriam Hahn/Mashed
Now it's time to add the main ingredient — the Swiss chard! You'll cook this for about five minutes at a low temperature, which is just enough time for all of the chard to wilt and soften. By now, your kitchen should be smelling pretty good, especially thanks to the garlic. 
After the Swiss chard wilts, you can take the pot off of the heat. Be sure to add a little more salt before you do anything else. Don't be afraid to use a little more than you think it needs. 
Serve the Swiss chard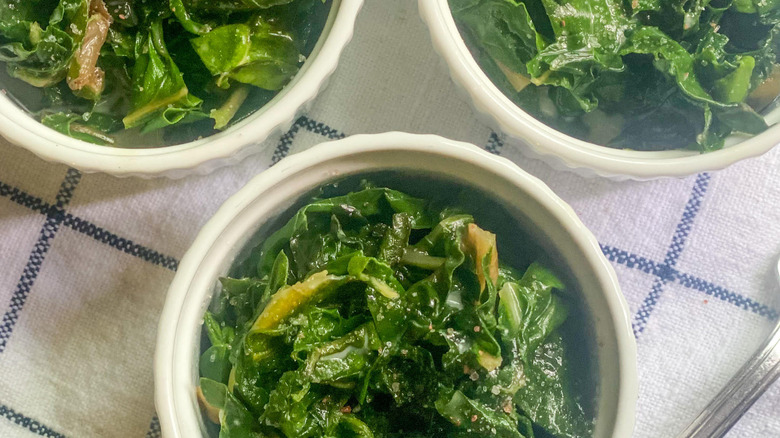 Miriam Hahn/Mashed
The last step is the best step because you finally get to try the dish. Feel free to plate the Swiss chard or put in a bowl, it's all based on your particular preferences! 
As far as main course to accompany it? "This makes a good side dish for just about anything: meat, fish, pasta, panini ... you name it," Hahn says. 
Leftovers will keep, but not for too long. "It is best when it is just made, but you can definitely save it in a sealed container and just reheat," Hahn notes. "I would say for about three days." Enjoy! 
Basic Creamed Swiss Chard Recipe
Packed with Vitamin A and K, this quick and easy basic creamed Swiss chard recipe is a great side to accompany pretty much any protein.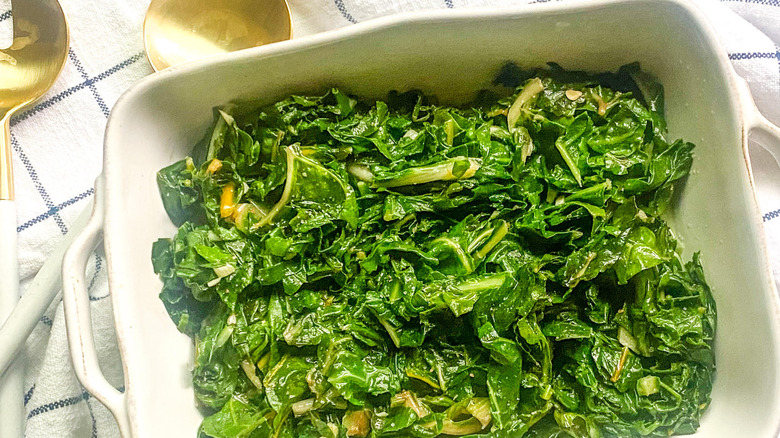 Ingredients
2 bunches Swiss chard
1 teaspoon olive oil
2 cloves garlic, minced
½ cup cream
½ teaspoon salt, plus more for serving
¼ teaspoon pepper
Directions
Strip the Swiss chard from the stems and place the leaves in a large bowl under the sink.
Fill the bowl with water and then pour the leaves and water into a colander.
Cut the washed and drained chard into thin slices.
Heat the oil in a large soup pot on medium and cook the garlic for about 1 minute.
Add the cream, salt, and pepper. Lower the heat to simmer the cream for about 5 minutes, until it starts to thicken.
Add the chard and cook it for about 5 minutes on low, until it wilts.
Top the chard with more salt and serve it!
Nutrition
| | |
| --- | --- |
| Calories per Serving | 158 |
| Total Fat | 12.6 g |
| Saturated Fat | 7.1 g |
| Trans Fat | 0.0 g |
| Cholesterol | 40.8 mg |
| | |
| --- | --- |
| Total Carbohydrates | 9.9 g |
| Dietary Fiber | 3.7 g |
| Total Sugars | 3.3 g |
| Sodium | 602.4 mg |
| Protein | 4.8 g |