We Tried The New Plant-Based Chicken At Panda Express: Here's What You Need To Know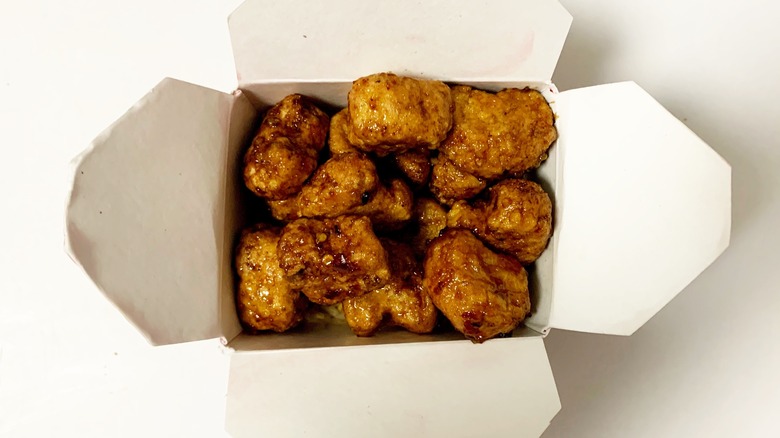 Kaley Roberts//Mashed
Plant-based products are a thing of the present. Perhaps the most widespread trend of the last five years, in food, it's been evident that plant-based alternatives are coming for regular meat for a while now. But there is maybe no greater indicator of their indisputable rise than the latest fast food chain to add plant-based meat to the menu: Panda Express. If that's not a marker of popularity, what is?
Panda Express brought Beyond the Original Orange Chicken to their menu this week, but don't get too fired up just yet — they are simply "testing" the product in select New York City and Southern Californian locations for now. Dipping their toes in the plant-based waters, if you will, by collaborating with Beyond Meat on an item that has historically been beyond reliable for the brand. Panda Express' traditional Orange Chicken is a third of their business — they told KTLA News the chain sold about 100 million pounds of it last year. If there was ever a safe place to start experimenting with plant-based alternatives, Panda Express' Original Orange Chicken would be it. 
We found one of the 13 locations currently serving Beyond the Original Orange Chicken, and got the scoop (okay, technically we got a few scoops). Here's what you should know.
What's in the Beyond the Original Orange Chicken?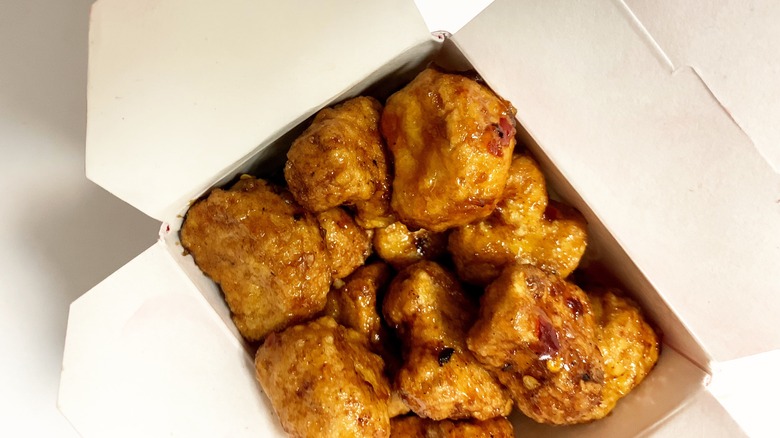 Kaley Roberts//Mashed
The Beyond the Original Orange Chicken only goes beyond in terms of its lack of meat — other than that, this new dish Panda Express is testing is an exact clone of their original, famous, much-beloved orange chicken. For fans of the original meaty version, that means that, yes, you can count on all of the vaguely orange tasting stickiness and the signature crunch. The difference, of course, is that instead of encasing chicken, that decadent fried outer layer now houses Beyond Meat, which is made from largely fava beans and peas.
As far as we can tell, the Beyond the Original Orange Chicken can be subbed into any of the same dishes you might enjoy its real chicken counterpart with. When we walked into the New York City location that's testing the new dish, they had it prominently displayed alongside its animal meat counterpart, ready to be served a la carte or mixed.
How much does it cost?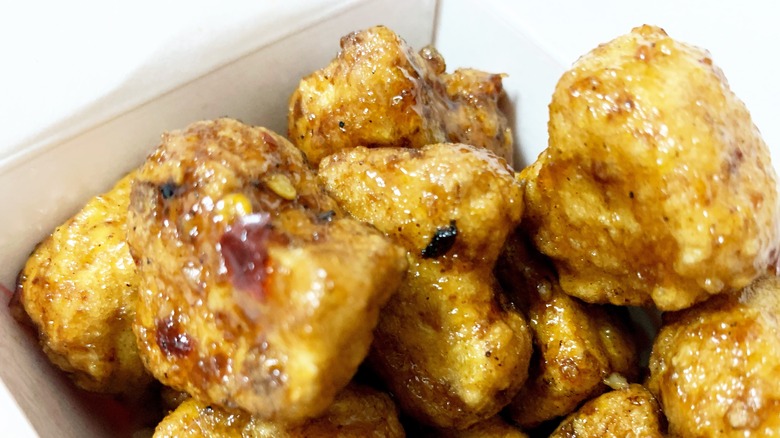 Kaley Roberts//Mashed
One thing you can almost always count on with fast food and fast casual chains is that prices can vary significantly between locations. A $5 box of fried rice in one market could be $3 in the next, depending on a large range of factors. And, that being said, there is perhaps no market with more price inflation than the two areas in which Panda Express is testing their Beyond the Original Orange Chicken: New York City and Southern California.
In New York City, we hopped on the six train and headed to the test location on the Upper East Side. As fans of Gossip Girl know, it's not a cheap area. The Panda Express in that neighborhood serves a side of fried rice for $5.55, and their regular Original Orange Chicken will typically set you back $10.55 for a medium-sized box. We dug into a medium-sized serving of the Beyond The Original Orange Chicken and a side of fried rice, plus the two complimentary fortune cookies, and found the price of the "chicken" to be minimally different: only $11.20, so not even a dollar more than the real chicken version. Thankfully, Panda Express seems to have been able to keep this chicken alternative to a comparable price.
Where and when is it available?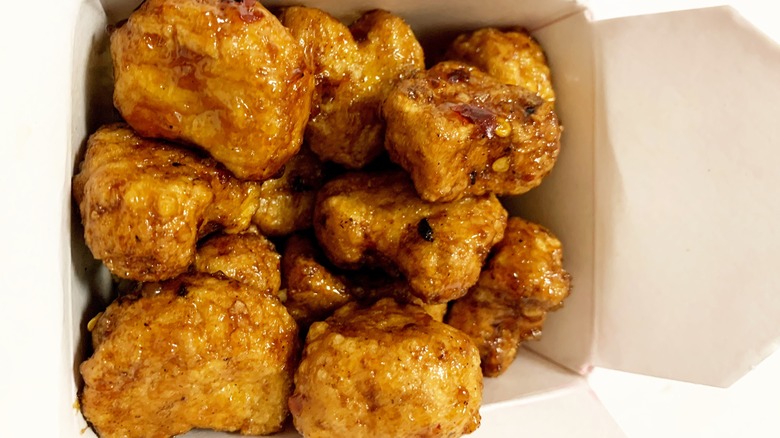 Kaley Roberts/Mashed
That said, any and everything about the Beyond the Original Orange Chicken, including its current price, could be subject to change. The brand new offering is technically just in the very early phases of testing in select markets, for a limited time, while supplies last. The roll out of this test began earlier this week, on Monday, June 26, and it sounds like the popularity of the plant-based venture will be the deciding factor as to how long you'll be able to snag a sample for.
Panda Express proudly set up an entire webpage dedicated to specifying which locations are serving the Beyond the Original Orange Chicken, which include 10 in Southern California and three in New York City.
It's worth noting that when we tried to have our Beyond the Original Orange Chicken delivered, delivery services hadn't updated their Panda Express menus to reflect the temporary new addition. Odds are, if you want to get your hands on this special, you'll need to commit to a trip to the brick and mortar restaurant.
How does it compare to the original orange chicken?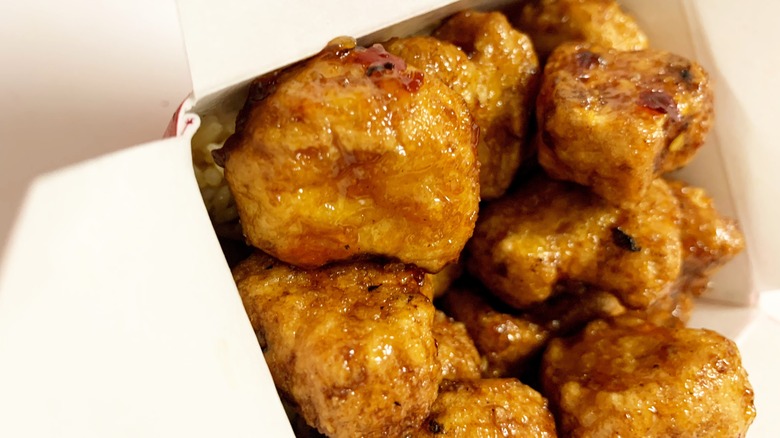 Kaley Roberts/Mashed
There are online rumblings that the Beyond the Original Orange Chicken tastes just like the legendary Original Orange Chicken. We disagree strongly with those rumblings. While, yes, the fried outer layer is identical, the nature of the difference between the plant-based meat alternative and actual chicken is enough to make them two very distinct menu items.
For example: a signature aspect of the classic Original Orange Chicken is that each bit of chicken is uniquely shaped, with grooves and dips that hold the orange chicken sauce differently. These Beyond the Original Orange Chicken bites, while incredible, are much more standard and consistent in shape. They're nearly all rectangular and similarly sized, and are notably missing any type of interesting texture. The "meat" itself is also inarguably not chicken — while you can't taste the fava beans and peas, persay, the flavor definitely gives away the plant-based nature of the dish.
What's the nutritional value?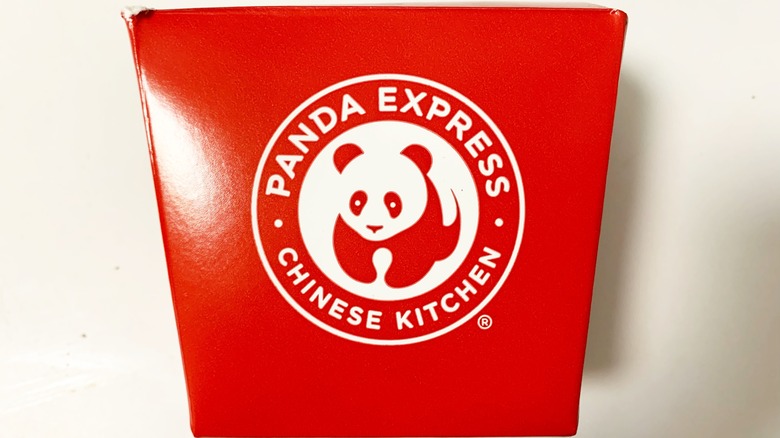 Kaley Roberts/Mashed
The plant-based nature of the dish, though, is doing good things for the dish when it comes to nutrition. The Beyond the Original Orange Chicken packs a slightly lower punch in terms of calories, plus it contains less salt. But the key health difference, between the Original Orange Chicken and its new Beyond sister? While Panda Express' signature original contains 80 mg of cholesterol, the Beyond the Original Orange Chicken contains almost none (according to KTLA). So, if you're a person with an aim to cut back on cholesterol, there's no question: the Beyond the Original Orange Chicken is your friend.
That said, the slight health advantages to the Beyond the Original Orange Chicken are not enough to qualify it as a health food. The new dish still has the same signature breading, which is fortunate in terms of flavor but unfortunate for health purposes. While exact nutrition facts on the Beyond the Original Orange Chicken likely won't be released until (and if!) it officially hits the menu, it's safe to assume that the amount of sugar — 19 grams per serving — and fat — 23 grams — won't vary much.
But did we like it?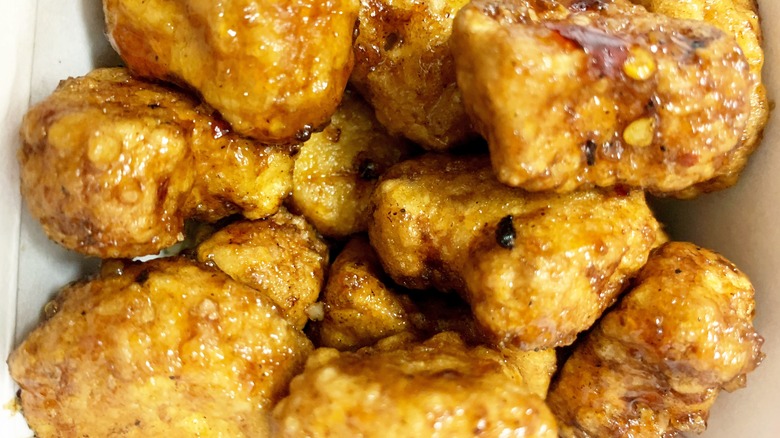 Kaley Roberts/Mashed
Believe it or not, the Beyond The Original Orange chicken is easily our new go-to Panda Express favorite. While it tastes almost nothing like chicken, the crispy fried aspect mimics the real meat rendition perfectly, and the sauce is unchanged, so it's just as sticky, sweet, and tangy as Original Orange Chicken lovers would not only hope, but expect. 
The pieces of the Beyond the Original Orange Chicken themselves, which can only be described as plant-based bites, are compact and dense. They are more reminiscent of tofu than chicken, but there was a definite lack of greasiness as a result of that distinction — a positive, in our book. Any potential dryness that we may or may not have detected was easily remedied with a douse of soy sauce, and we also found that these delightful bits mixed really well with Panda Express' fried rice. 
The ultimate strength, though, lies less with the in-the-moment flavor and more with the aftermath. We've come to expect a certain type of stomach-turn in the wake of crushing a box of Original Orange Chicken (if you know, you know), but the plant-based alternative did not affect us the same way. We're crossing our fingers this limited-time test becomes a permanent menu item, pronto.