You Can Now Pre-Order Snacks On This Airline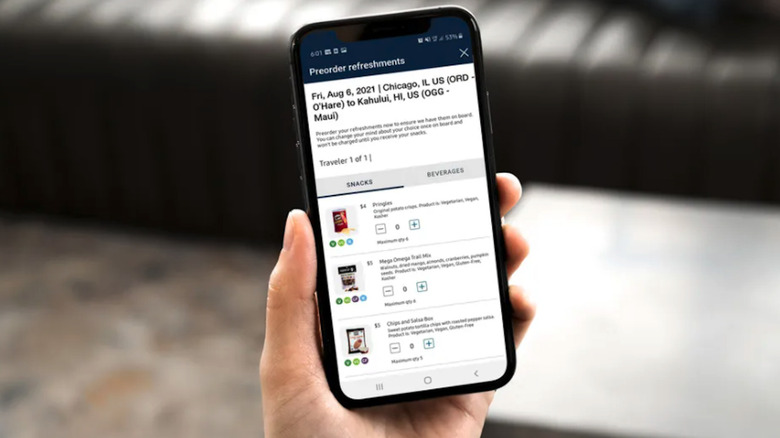 United
U.S. airline premium-cabin passengers fared reasonably well during the height of the global pandemic. Sure, safety protocols meant trading multi-course, chef-designed menus for pre-packaged meals, but at least they got some form of sustenance on long flights (via Thrifty Traveler). By and large, though, passengers traveling in the back of the plane — and paying standard fare prices — were left to fend for themselves. They were often caught between a rock and a hard place, navigating TSA regulations for bringing food through security and the pandemic-related closure of most airport restaurants (via The Points Guy). As Food & Wine reports, United Airlines is stepping into the void, offering passengers an opportunity to pre-order meals, snacks, and drinks via its mobile app.
"Our new pre-order option reflects the customer experience transformation taking place at United — customers in our economy cabins will have an easy, convenient way to choose their snack or drink, and our flight attendants can move through the cabin faster, delivering more personalized service," Toby Enqvist, United's chief customer officer, said in a statement issued by the airline. "This new feature also builds on our existing contactless payment technology, which has enabled us to safely resume our inflight food and beverage program on select flights."
How does United's pre-order snack system work?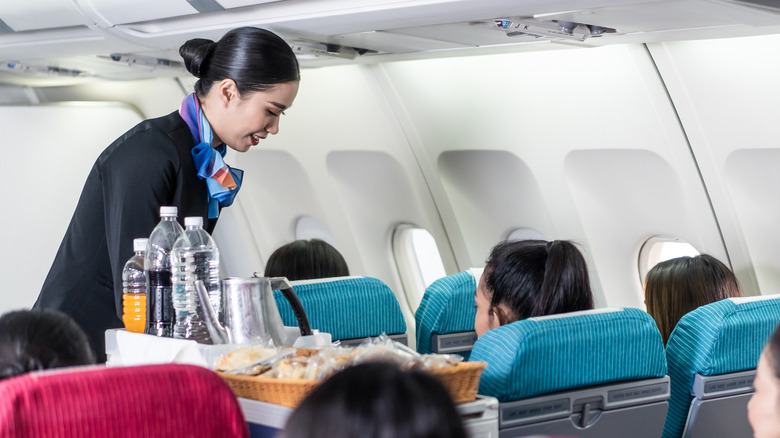 Shutterstock
Even pre-pandemic, most airline passengers had experienced the trend toward cashless in-flight transactions. Airlines offering in-flight amenities for sale began implementing the strategy to take the burden of collecting money and making change off the cabin crew, according to the Los Angeles Times. United's new pre-order system takes this a step further, ensuring it's as contactless as possible and alleviating the need for passengers to rifle through their purses and pockets in close quarters trying to find their debit or credit card.
United's statement notes that under the new system, passengers will receive an email notification five days before departure. At that point, they will be able to access a pre-order tab in their reservation file. The tab will show only food and beverage options available on their specific flight. They can then place an order and enter their card information. They will receive an order receipt 一 but the charge will not post until they receive their pre-ordered items on board. Pre-order is now operational on select long-haul flights from Chicago (ORD) to Orange County (SNA), Sacramento (SMF), and San Diego (SAN) with plans to expand to all United flights more than 1,500 miles in coming months.