The Surprising Way Beyond Meat Celebrated National Chicken Tender Day
July 27th was National Chicken Tender Day. While you might have expected famous chicken purveyors like Popeyes or KFC to get into the mix, it may surprise you to hear that one meatless food company also got involved in the festivities. Beyond Meat, the meat-alternative brand behind the popular plant-based Beyond Burger, announced plans to celebrate National Chicken Tender Day the Beyond way.
According to The Beet, the Beyond brand partnered with the delivery service DoorDash to help promote their newest plant-based product, the Beyond Chicken Tender. And what better time to roll out the new item than on National Chicken Tender Day? To help vegans and vegetarians celebrate the holiday, Beyond Meat and DoorDash offered a $15 DoorDash credit to anyone who adds the Beyond Chicken Tenders to their order. Beyond Meat took to social media to promote the special one-day-only deal. "A little birdie told us it's #nationalchickentenderday. To celebrate, we're giving you the tendies of your dreams ... on us. Check the @doordash app to find participating restaurants near you," the company posted to its Instagram. Even if you missed out on the offer, you can still capitalize on the tenders.
Beyond Chicken Tenders can be found in almost 400 restaurants nationwide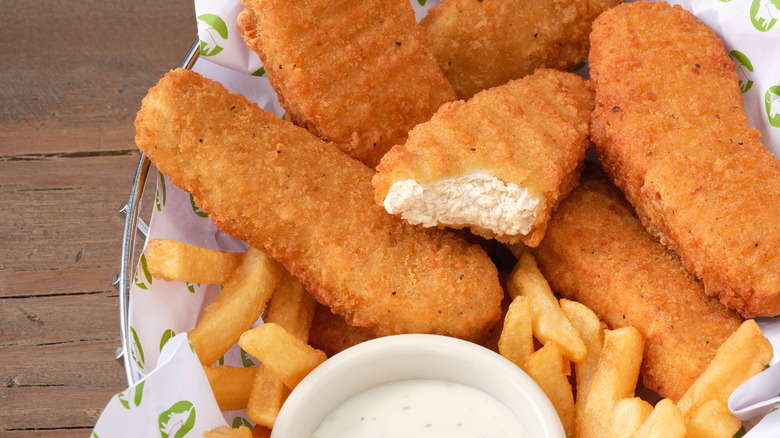 Beyond Meat
The new faux-chicken item is made with a blend of pea protein and faba beans, which give it an authentic taste and texture, while still remaining entirely plant-based. Almost 400 restaurants nationwide have already added the new Beyond Chicken Tenders to their menus, so, while the celebration may be a bit of a surprise, it certainly seems like National Chicken Tender Day can be considered a success for vegetarians and vegans across the country.
A  Beyond Meat representative explained to VegNews, "Our mission is to make delicious, better-for-you plant-based options accessible to everyone. We are excited about all the positive taste reviews that have started to roll in following our launch of Beyond Chicken Tenders across the country, and knew we had to find a way to give more consumers the opportunity to try and enjoy our latest product innovation." The company joined forces with "DoorDash because the added convenience of on-demand delivery allows even more consumers — particularly Gen Z and Millennials — to try Beyond Chicken Tenders this National Chicken Tender Day." But, clearly, the company is hoping consumers will flock to those tenders well beyond the holiday.