Good News For Fans Of A&W's Spicy Papa Burger
A&W fans, get ready for the heat as the chain welcomes back the Spicy Papa Burger Combo this summer (via Chew Boom). This popular meal deal features a classic Papa Burger spiced up with jalapeños and served alongside an order of onion rings with Spicy Papa dipping sauce (via A&W). Fans are already excited about the development, as seen on social media, with one person exclaiming, "Oh yeah‼️ With a float to calm the heat, of course!" paired next to a flame emoji (via Instagram). A&W replied to the commented "They're the perfect pair for a hot summer day" alongside a sun emoji. 
It's true. Our pick would be a sweet and icy root beer float to pair with the meal and cool down the heat. But, you should probably rush to A&W if you are craving this spicy combo, as it's only available for a limited time. 
A complete meal to please hungry A&W fans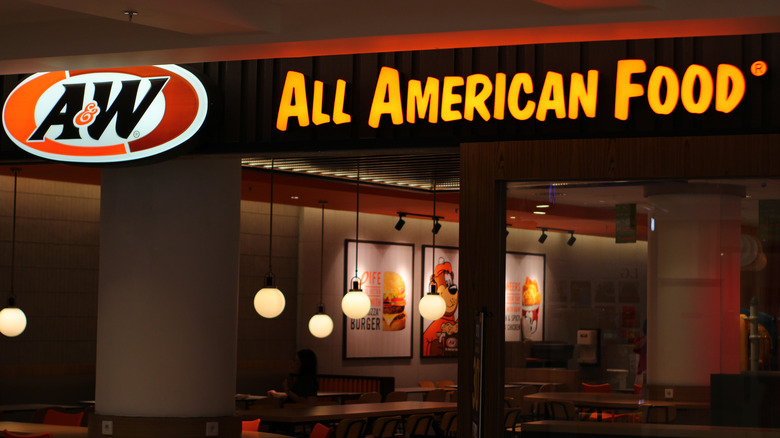 Shutterstock
The original Papa Burger includes two juicy 100% US Beef patties each topped with a slice of American cheese and stacked atop a lightly toasted burger bun (a facet that Anthony Bourdain would likely approve of). The toppings include lettuce, tomato, onion, pickles, and the classic A&W Papa Sauce plus the spicy jalapeños. But with the add-ons, you'll get quite a meal. The onion rings are made with white onion and a crispy batter that you can also dip into a side of the Spicy Papa Dipping sauce — the ingredients include a chipotle mix made with red pepper, chili pepper, chipotle pepper, and smoke flavor (via A&W).
On social media, another fan asked, "Alright! A spicy papa burger. Will you have a vegan burger?" And unfortunately, there doesn't seem to be a timeline on that non-meat idea for this fast food chain like Burger King has implemented recently. So, those with egg, milk/dairy, wheat, soy, and gluten issues or tose wanting to avoid those ingredients might want to choose another item on the menu.