West African Peanut Stew Recipe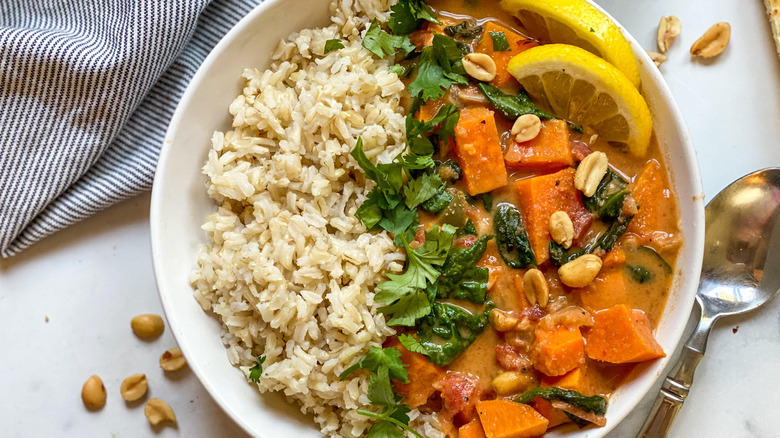 Miriam Hahn/Mashed
West African peanut stew is a great recipe to cook for a crowd. If you haven't heard of this recipe yet, then you are missing out. According to Our Everyday Life, this dish dates all the way back to the 16th century, after the groundnut came to Africa via South America. The stew is filled with veggies and spices and the flavor is incredible and unique. 
Recipe developer Miriam Hahn came up with this wonderful recipe that is sure to become one of your new faves. "When I first heard of this stew I wasn't sure how I would like a soup/stew with peanut butter in it, but it is surprisingly delicious. Such an interesting combination of flavors! " she raves. Hahn also shares that her favorite part of the dish is sweet potatoes, not only for the flavor, but also for all of the health benefits. "They are filling, satisfying, and jam-packed with fiber, tons of vitamins, and minerals," Hahn says. "Plus, if you have a stocked spice cabinet, you really just need a few produce items to whip this meal together."
Keep reading to find out how to make this yummy stew.
Gather the ingredients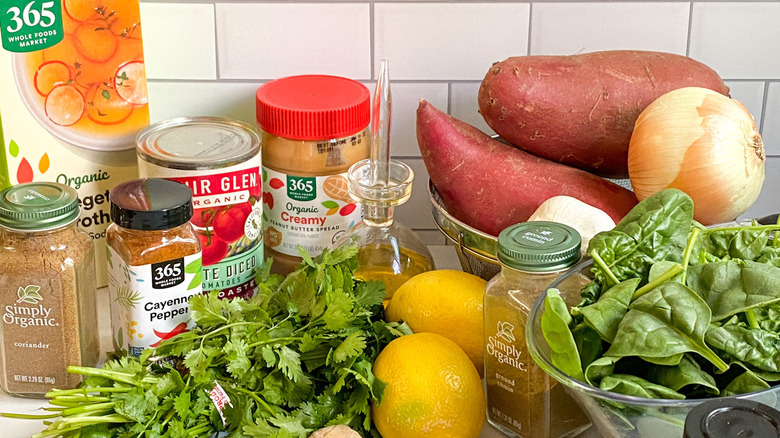 Miriam Hahn/Mashed
It's time to start by gathering what you need to throw this recipe together. For starters, you will need oil, an onion, and garlic. Make sure to dice the onion and mince the garlic ahead of time. You will also need grated fresh ginger and a diced jalapeño pepper (you should remove the seeds). The two main veggies in this recipe include five cups of sweet potatoes cubes (about two large sweet potatoes) and a can of fire-roasted diced tomatoes.
You'll want to grab vegetable broth and a few spices, including coriander, cumin, salt, and cayenne pepper (feel free to leave out the cayenne if you don't want it spicy). The recipe also calls for smooth peanut butter, four cups spinach, lemon juice, cilantro, and peanuts. 
A note on the peanuts and peanut butter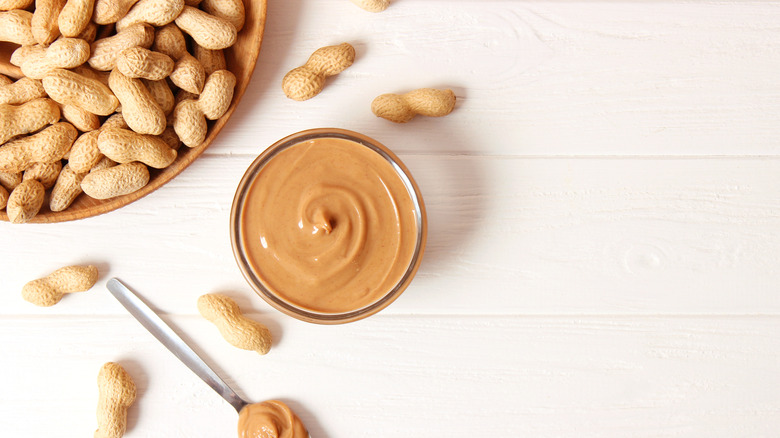 Shutterstock
Hahn shares that this can be made allergen-friendly if you have a peanut allergy. "You can easily substitute the peanut butter for sunflower seed butter. You can find this at most stores," she says. Alternatively (though not for anyone with a nut allergy), you can use almond butter instead.
Another thing to note is that when you are selecting peanut butter, be sure to check the ingredients. "When buying peanut butter, I always look for one that only has one ingredient: peanuts," Hahn shares. "Lots of brands add palm oil, sugar, and salt, which of course make it a less healthy alternative. If you are using a natural peanut butter, you may want to add a little more salt to the dish." 
Sauté the veggies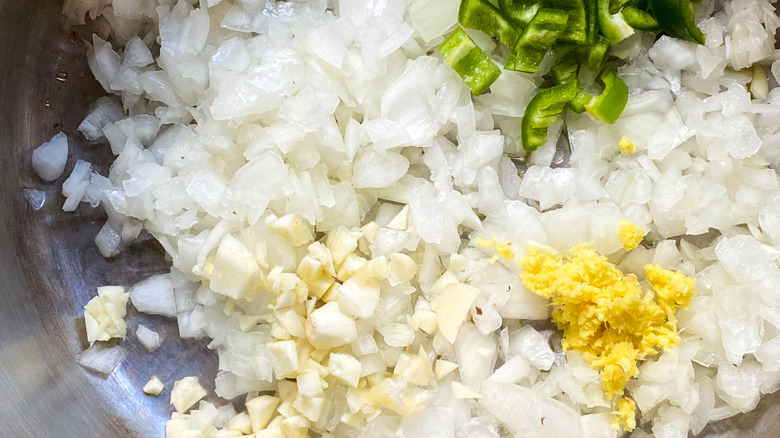 Miriam Hahn/Mashed
First, take out a large soup pot and turn the heat to medium-high. Add in the oil first. Next, toss in the onions, garlic, and ginger. The last item to throw in is the jalapeño, which will provide just the right amount of spice. Remember that you should have diced all the veggies ahead of time. 
It should only take about five minutes to sauté the veggies. Remember to stir the mixture frequently so that nothing sticks to the bottom. Once the five minutes are up, you can move onto the next step.
Add the sweet potatoes, tomatoes, broth, and spices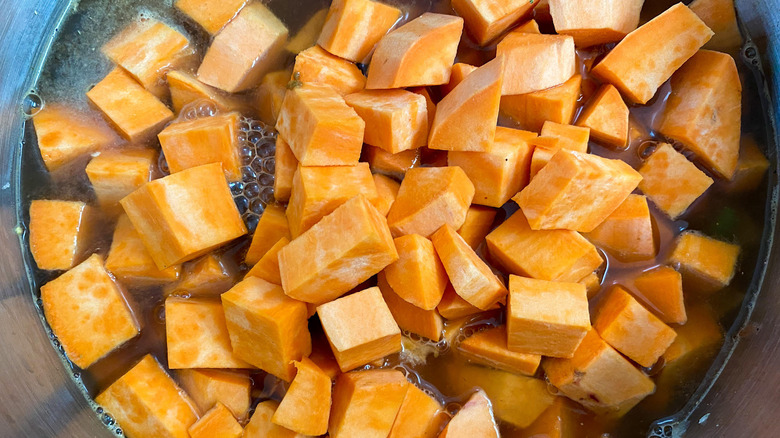 Miriam Hahn/Mashed
Now it's time to add more to your pot. We like to go with the "more the merrier" mentality because the more veggies and spices, the better the flavor. 
Throw in the sweet potatoes (which you should have already diced) as well as the tomatoes, broth, coriander, cumin, salt, and cayenne pepper. Another thing to remember is that you do not need to drain the canned tomatoes.
Then, bring the pot to a boil. Once you see bubbles, you can turn the heat lower to simmer the stew. Set your timer for 20 minutes (it could take up to 25) and cook until the sweet potatoes get soft.
Add the peanut butter, spinach, and lemon juice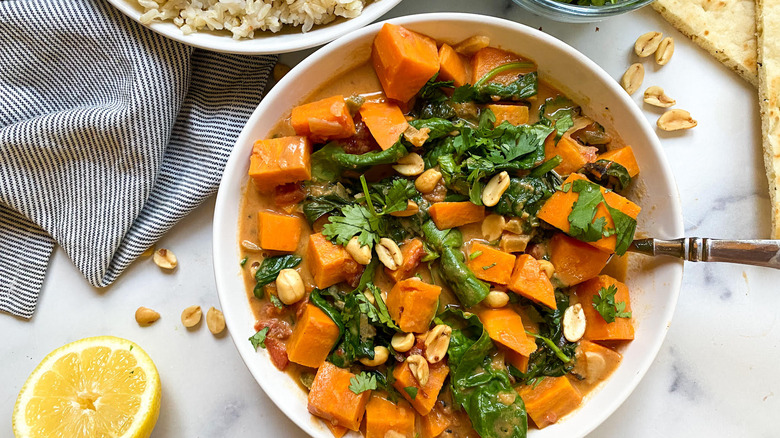 Miriam Hahn/Mashed
It's time to remove the pot from the heat. Now, add in the peanut butter, spinach, and lemon juice. The spinach will soften in the residual heat, so there's no need to keep cooking it. Give everything a few good stirs to combine. Remember, you can add almond butter or sunflower seed butter instead if you have an allergy to peanuts.
You can serve this alone or over rice and garnish it with cilantro and peanuts. "I have seen some recipes with added chicken, so you can feel free to add that in, but it is very hearty without it," Hahn says. On its own, it's completely vegan. 
Leftovers should be sealed in a glass container and they will last for about five days in the fridge. 
West African Peanut Stew Recipe
Healthy, filling and jam-packed with flavor, fiber, vitamins, and minerals, this West African peanut stew recipe requires just a few ingredients and spices.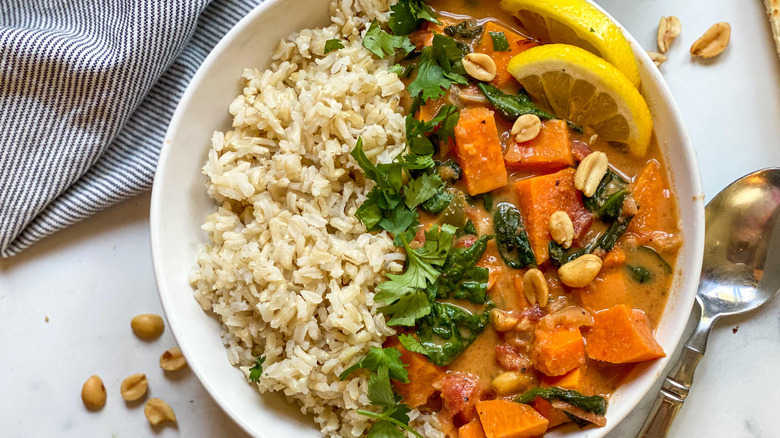 Ingredients
2 teaspoons oil
1 onion, diced
3 cloves garlic, minced
1 tablespoon fresh ginger, grated
1 jalapeño pepper, diced
2 sweet potatoes, cut into ½-inch cubes (about 5 cups)
1 can fire roasted tomatoes, undrained
3 cups vegetable broth
1 tablespoon coriander
1 teaspoon cumin
1 teaspoon salt
¼ teaspoon cayenne pepper
½ cup smooth peanut butter
4 cups spinach, large stems removed
Juice of 1 ½ lemons
Cilantro and peanuts for garnish
Directions
Add the oil to a large soup pot and heat it to medium high.
Sauté the onions, garlic, ginger, and jalapeño for 5 minutes, stirring frequently.
Add the sweet potatoes, tomatoes, broth, coriander, cumin, salt, and cayenne pepper.
Bring the stew to a boil and then lower the heat to simmer for 20 to 25 minutes, until the sweet potatoes are tender.
Remove the pot from the heat and add the peanut butter, spinach, and lemon juice. Stir to combine.
Garnish with cilantro and peanuts.