Snickers' New Almond Brownie Flavor Is Turning Heads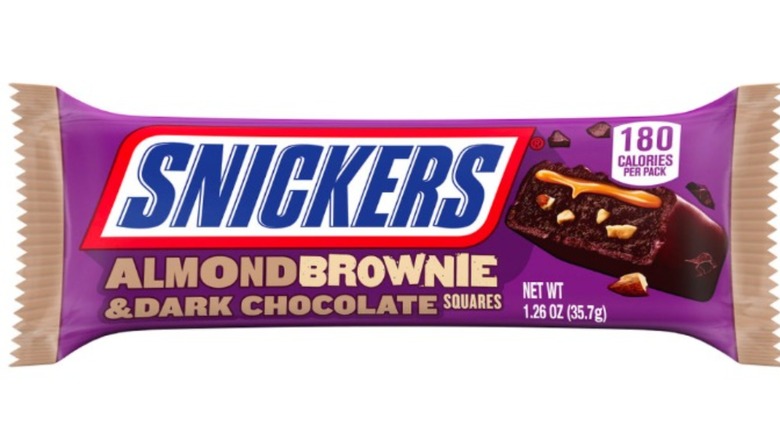 Snickers
Snickers are the world's best-selling candy bar, according to its manufacturer, Mars Wrigley Confectioner. "Crammed with peanuts, caramel and nougat then coated with milk chocolate," Snickers bars were introduced in 1930 and have been "satisfying" fans who know "you're not you when you're hungry" (via Click2Houston). But that hasn't stopped the company from introducing new Snickers varieties from time to time, such as hazelnut, almond, peanut butter, and many limited-edition flavors with holiday and special-event themes. 
The company has also tweaked the size of Snickers bars from time to time over the years to better jive with the desires and expectations of its customer base. During April of this year, Mars Wrigley had yet another exciting announcement for Snickers fans, not to mention fans of gooey, moist chocolate brownies studded with almonds (via Press Release). And that is that come August, Snickers would be introducing its latest innovation — Snickers Almond Brownie flavor. Well, August has arrived, and here's why Snickers' new almond brownie flavor is turning so many heads.
Snickers' new flavor offers almond brownie satisfaction in a brownie-like shape
"Just when you thought we couldn't get more satisfying, we put a brownie in a Snickers," the Snickers official Instagram account announced on July 31 (via Instagram). Followers of the post were quick to weigh in with their own thoughts with one writing, "Oh my flipin goodness! Is that even real!" Another fan added, "That sounds so filling! I need it." According to the press release, the newest Snickers flavor, boasts a brownie filling, mixed with chopped almonds and is topped with a layer of caramel that's coated in dark chocolate. 
"After seeing unparalleled excitement for the Snickers Peanut Brownie and Snickers Peanut Brownie Ice Cream launches, we're excited to deliver on our purpose of better moments and more smiles by unveiling a delicious variation of the bar for our fans," said Michelle Deignan, Mars Wrigley senior brand director. "The new Snickers Almond Brownie offers a deeply satisfying treat, with a taste and texture only Snickers can deliver on." Like the Peanut Brownie flavor candy bar, the Almond Brownie flavors feature a new shape, in addition to its new flavor profile, coming in brownie-like squares, as opposed to a candy-bar shape, thus delivering a more true brownie-like experience.