Blaze Pizza Has Good News For Fans Of Its Cheesy Pesto Garlic Bread
What is there not to love about garlic bread? With the pleasant blend of crunchy, baked bread and tasty seasonings, it is the perfect side for dipping into sauces or just enjoying on its own. And with Blaze Pizza's Pesto Garlic Cheesy Bread, you get all the flavor of a traditional slice of garlic bread, plus extra cheese and a drizzling of nutty, savory pesto sauce. It has become a popular item with fans of the chain – or at least, with those who could get ahold of the tasty side. 
While Pesto Garlic Cheesy Bread seems like a no-brainer for any restaurant in search of a surefire crowd-pleaser, Blaze Pizza has apparently only been serving its Pesto Garlic Cheesy Bread at a limited number of locations. At least until now. According to Chew Boom, Blaze Pizza has just announced it will be releasing its new Pesto Garlic Cheesy Bread on a much wider scale. 
Blaze Pizza's Pesto Garlic Cheesy Bread will be available at locations nationwide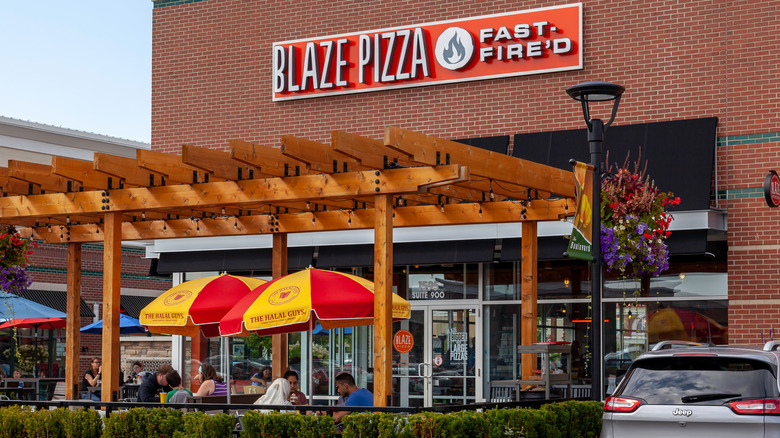 Shutterstock
Introduced during a test run earlier this year, the new garlic bread turned out to be so popular that Blaze Pizza decided to extend the offer across the country. So now, no matter where you are living in the country, you will be able to give this cheesy, flavorful garlic bread a try.
The new Pesto Garlic Cheesy Bread contains shredded mozzarella cheese, chopped garlic, oregano, and a drizzle of pesto. Customers can even customize the bread for maximum enjoyment by removing toppings or even swapping in vegan cheese for the mozzarella.  It comes with a red dipping sauce that can be replaced with a spicier alternative, according to The Fast Food Post. The price for an order of Pesto Garlic Cheesy Bread varies by location, but Chew Boom and The Fast Food Post place it between $4.95 and $5.95.