29% Agree This Is The Worst Sandwich At Jersey Mike's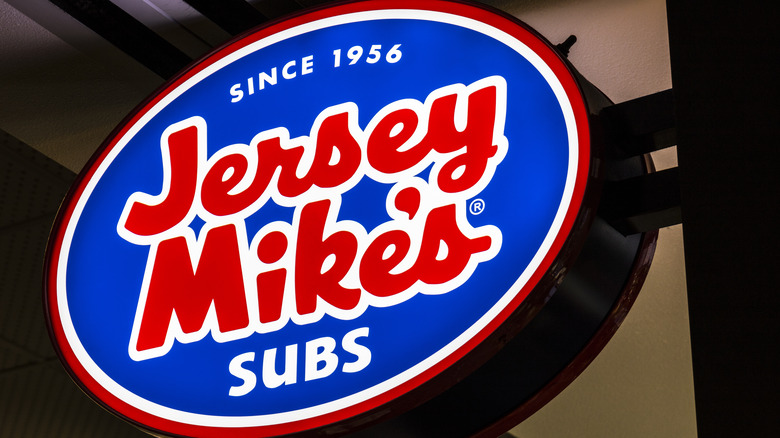 Shutterstock
Calling all sandwich lovers, we've got some news on the sub ranking front. For years, people have compared the hoagies made at top sandwich shop competitors like Subway, Jimmy John's, and Jersey Mike's, and then gone on to rank the sandwiches at individual shops, too. It's difficult to name a definitive winner for any of these so-called competitions, primarily because everyone has different preferences in what makes a good sub. 
For example, this article from Business Insider ranked Jimmy John's as the clear winner when compared with Subway and Jersey Mike's, but this article from the Huntley Voice declares Jersey Mike's the clear winner. We may never have a true answer, but we can tell you which sandwich from Jersey Mike's was the majority loser when compared to other sandwiches from this chain. In a survey conducted by Mashed, we asked 642 participants in the U.S. what they considered to be the worst Jersey Mike's sandwich, and there was a definitive answer. 
What people voted as the worst sandwich might surprise you
The tuna fish sandwich came in at the top with over 29% of votes. This isn't altogether surprising, especially considering that "the salad is made up of more mayonnaise than the healthy fish" (via Eat This, Not That!). What is a bit surprising, however, is that The Veggie came in second place, with nearly 25% of votes for the worst sandwich, followed by the recently added Grilled Portabella with just over 15% of votes. The Mushroom and Swiss scored similarly, with just under 14% of participants voting it as the worst sandwich, while the Famous Philly and Chicken Philly landed in a close tie with around 6% of total votes each. 
The Jersey Shore's Favorite, with ham, provolone, and cappacuolo, landed at the bottom with only 4% of votes — meaning people like it the best. When offered the choice between a Philly Sandwich, the Jersey Shore's Favorite, or tuna fish sandwich swimming in mayonnaise, the choice isn't exactly a difficult one for most of us, but this article from NJ.com ranking sandwich places in New Jersey proudly stated that "the tuna sub [at Jersey Mike's] — fresh-tasting, chilled — was one of the best subs on this entire mission." It truly does seem to come down to a matter of preference, but we're pretty sure that when compared to the other menu items, the tuna fish sub is probably not a stiff competitor.