Reese's Puffs' New Cereal Boxes Double As Musical Instruments. Here's How They Work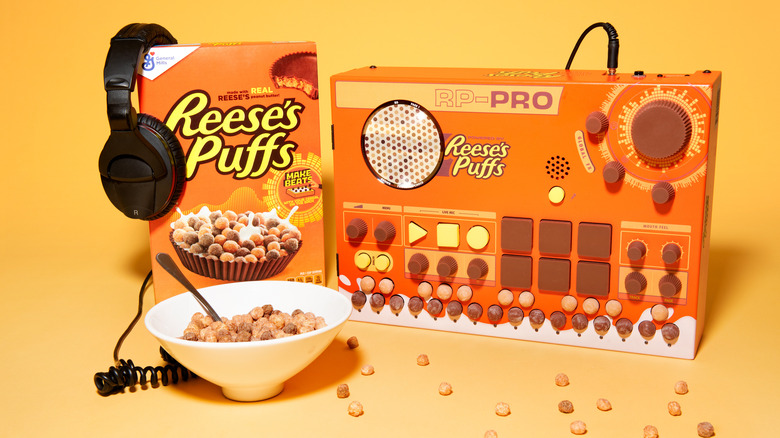 General Mills
If we were living in the magical world portrayed in Disney's Toy Story movies, where toys come to life when their humans aren't looking, the toilet-paper-roll kazoos and paper-towel-roll flutes would be standing on the sidelines in awe of the new Reese's Puffs cereal box keyboards. General Mills, the company that makes Reese's Puffs, revealed in a recent press release that they have debuted a collection of special-edition cereal boxes that double as keyboards. As in keyboards that make real music. The box comes in two versions — RP-FX and RP-PRO. According to the company, RP-FX is available in three versions — Crunchy Drum Machine, Creamy Lead Synth, and Chocolatey Bass Synth. To create a breakfast-inspired soundtrack, fans of the cereal simply place individual Reese's Puffs into placeholders located on the box, access the accompanying app at PuffsFX.com, and follow the prompts using the Puffs-turned-keys to lay down a track. The company says the RP-FX boxes use augmented reality technology to detect where the Puffs are placed. If they're so inclined, cereal box prodigies can share their musical creations via customizable Reese's Puffs-inspired music videos.
RP-PRO: Is it a box? Is it a keyboard? It's both!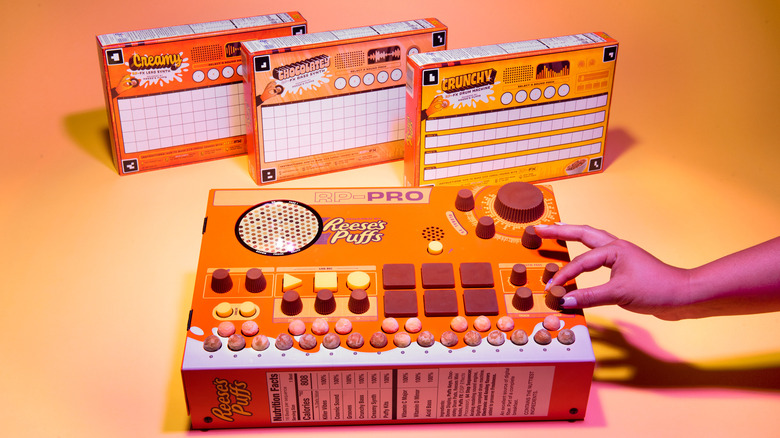 General Mills
While the Reese's Puffs RP-FX boxes are available to amateur musicians in grocery stores, the company is enlisting some of the country's top recording artists to try out the RP-PRO. That's because it's a real synthesizer — not a cardboard toy — designed to look like a box of Reese's Puffs cereal. The RP-PRO features dials that look like Reese's Peanut Butter Cups, keys that look like Reese's Puffs, and buttons that look like chocolate squares. There's also a "secret" panel perfectly sized to hold a small bag of Reese's Puffs for inspirational snacking.
Mindy Murray, senior marketing manager at General Mills, told FoodSided that the limited edition boxes build on an existing connection between Reese's Puffs and music, including a collaboration with hip-hop artist Lil' Yachty and the Reese's Puffs Rap. She says, "The RP-FX boxes are a fun way to inspire creativity through music, technology and, of course, Reese's Puffs cereal." We don't have the details yet, but General Mills is promising an RP-PRO giveaway to a few lucky fans as well.