Over 25% Think This Is The Best Waffle House Breakfast Item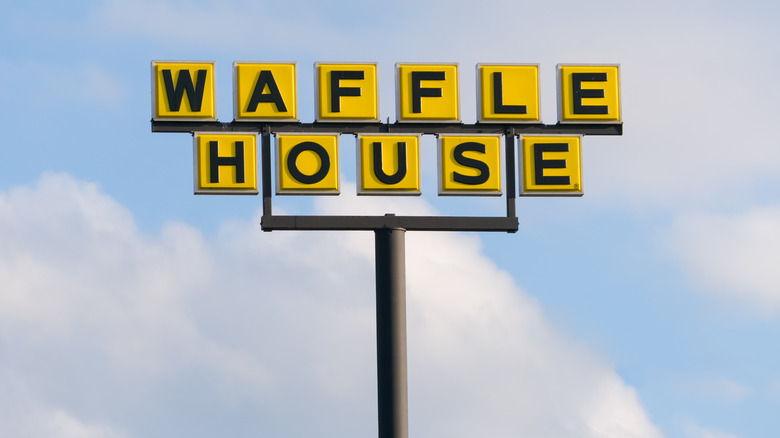 Shutterstock
Ah, waffles. The delicious breakfast treat that can magically transform your day and put you on a good path. As a brand, Waffle House appreciates the role that waffles play in our lives and leaves nothing to chance to please its customers. Its origins can be traced back to the 1950s when its founders decided to open an eatery that would cater to hungry diners 24 hours a day (via WHU Registration). Waffle House continues to follow this policy and has thousands of 24/7 outlets spread across the U.S. The brand says, "Whether you are a Waffle House Regular, or this is your first time experiencing our restaurant, we welcome you with open arms." Sweet.
In terms of breakfast options, you're spoiled for choice. You can opt for eggs, hash browns, melts, biscuits, waffles, or something else. If you're curious about the most popular breakfast pick for fans of the brand, we have some answers for you. Here's a helpful tip: It's a classic menu option.
The Chocolate Chip Waffle is a crowd favorite
A survey conducted by Mashed that included 591 participants across the country revealed that the most enticing breakfast at Waffle House for many customers is the Chocolate Chip Waffle, which got 25.72% of the vote. Wow! Next up was the Bacon, Egg and Cheese Hash Brown bowl at 23.18%, closely followed by the Texas Bacon, Egg, and Cheese Melt with 20.64% of the vote. Other breakfast food items include Biscuits and Gravy (14.21%), Peanut Butter Chip Waffles (8.80%), and the Cheesesteak Omelet (7.45%).
The Chocolate Chip Waffle is a simple but yummy sweet cream waffle that is topped with chocolate chips, according to Waffle House's website. A Redditor hit the nail on the head when they wrote, "Something about the chocolate chips is magical." Another commenter wrote that they would eat the dish every single day without hesitating. Yep, it's that good. The next time you're at Waffle House and need a sweet treat for breakfast, you know what to do.