Good News For Fans Of The French Toast Sticks At Carl's Jr.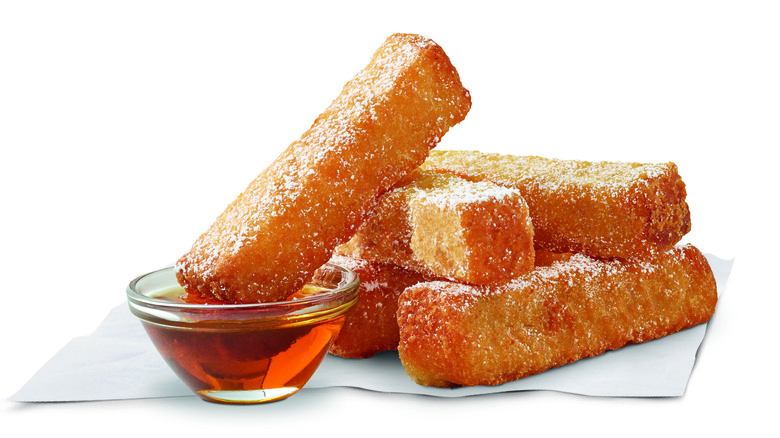 Carl's Jr.
While Carl's Jr. and Hardee's are owned by the same company, not every menu option is available at each location (we know, it's totally not fair). 
But now, there's great news for people in love with the French Toast Dips from Carl's Jr. The ooey, gooey bites drenched in syrup are now going to be available at Hardee's, the parent company said in an announcement. The breakfast sticks have been such a fan favorite over the years that the brand had to bring them back after they were originally taken off the menu in 2016, according to QSR. And now, the company is spreading the love to other parts of the US by giving the sticks their due spot on Hardee's menus, too. 
And it comes at the perfect time for the new school year when breakfast on-the-go is important. The golden brown sticks of perfection will be available for about $2.99 per pack of five, though the price may vary by location. 
What's so great about the French Toast Dips?
Picture this: Five pieces of sweet French toast, cut into an easy-to-eat form. They are sprinkled with powdered sugar and served with a side of syrup. Could there be a better way to get your day started? We think not. 
According to Brand Eating, a site that reviews food, these treats should not be skipped. Usually fried upon ordering (so as to not be soggy or saturated), the dips seem to have a "funnel cake vibe" while the syrup provides an "interesting" contrast to the flavor, says the site.
And, if you love these so much but can't get your hands on them at Hardee's, there are a few great copycat recipes out there, too. Some add cinnamon instead of the powdered sugar, while this copycat of Burger King's French toast sticks is another solid one (and it only uses five ingredients!). Either way, both are a great way to get your French toast fix at home.