For Cast Iron Cooking, One Skillet Set Stands Above The Rest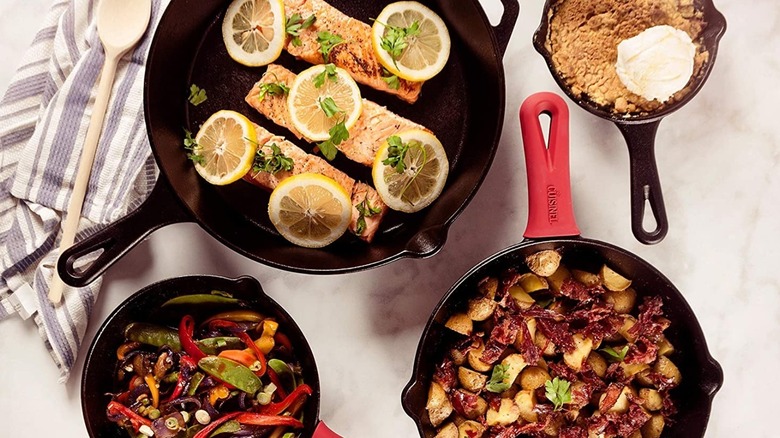 Cuisinel/Amazon
We may receive a commission on purchases made from links.
Modern cast iron cooking is about way more than cornbread (although the classics are still fully delicious). Cast iron today can produce everything from entire meals in one skillet to delectable desserts. That said, it takes just the right cast iron skillet to turn out the best possible result.
A beloved cooking tool since 600 BC, this Chinese invention is made by using molten metal that reaches upwards of 2,500 degrees Fahrenheit at times during the process, according to America's Test Kitchen. The metal is poured into a sand mold. Once cooled, the mold is broken off, producing a brand-new cast iron skillet. Once a staple in every household, cast iron use took a downturn as nonstick aluminum pans became readily available at a lower price point. Aluminum pans have come under fire recently, however, thanks to health concerns related to nonstick coatings, so cast iron is in the midst of a renaissance.
Looking to make the switch to cast iron? The Cuisinel cast iron skillet set comes with four chef's pans in varying sizes (6-inch, 8-inch, 10-inch, and 12-inch), plus four heat-resistant, non-slip handle covers. The latter is pretty important, since cast iron gets super hot during the cooking process.
The cast iron pan set that amateur chefs love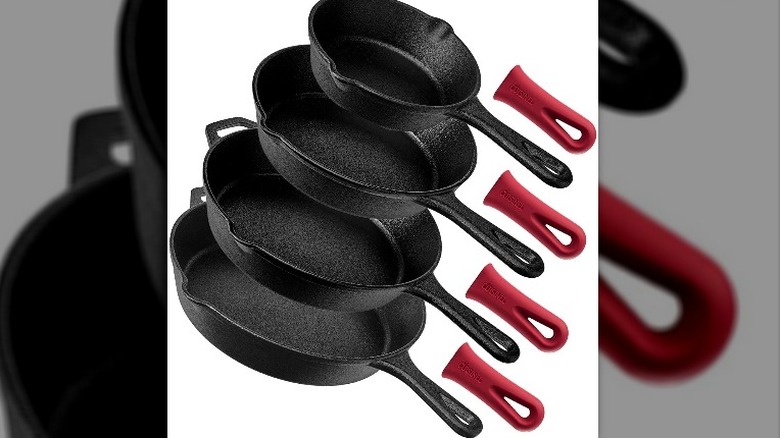 Cuisinel/Amazon
With 4 ½ stars and nearly 5,000 ratings on Amazon, the Cuisinel cast iron set is raved about on the regular. It's pre-seasoned and safe for indoor/outdoor use with grills, stovetops, and induction. The manufacturer raves about the product's even heat distribution on any cooking surface, plus it comes with a lifetime warranty.
But of course, the manufacturer is going to be pretty pleased. What do the customers think? "I followed the directions that came with them to get them started and all of them are now rusted. No matter what I do, they don't get any better," lamented Kristi, per Amazon reviews. For what it's worth, the manufacturer says pans will rust if left to air-dry. After use and/or washing, the company says to wipe dry with a towel, or heat the clean pan on the stove until condensation has evaporated.
Commenter MonkeyWrangler has a much more positive take. "These are outstanding for the price! I got a set for my girlfriend because she asked me and I had no idea what to get. After reading up on them I found that they can get pretty expensive but that it wasn't necessary to buy expensive, over taking care of them," MonkeyWrangler explained. "Since we've had them we both have cooked with them and take good care oiling them, etc. they make amazing steaks, omelettes,etc. We've really been happy with them and I didn't break the bank." Another customer added, "I was very hesitant buying 'new' cast iron. These are sturdy, thick and great! I officially love them."
Purchase the Cuisinel Cast Iron Skillet Set on Amazon for $69.99