Le Creuset's Infamous Factory Sale Is Back. Here Are The Deals You Won't Want To Miss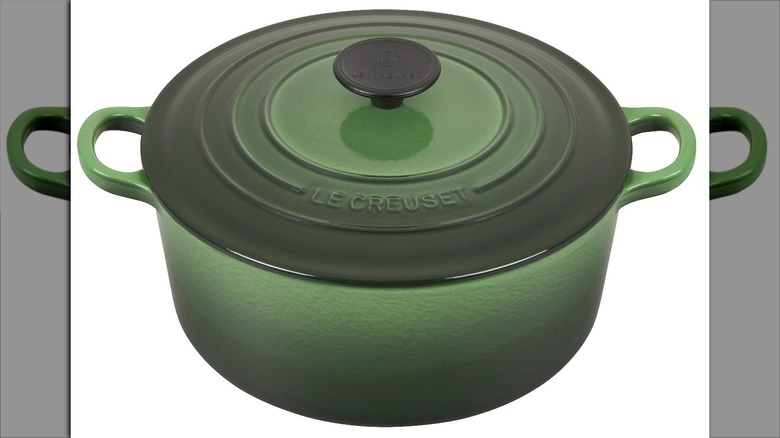 Le Creuset
Le Creuset is one of the most prestigious and famous kitchenware brands around, and it's no secret that their items make the dream want list for many home cooks. While Le Creuset products can be quite pricey, their annual Factory to Table sale is just the time to scoop up any pieces you've been waiting to spring for and have in your kitchen. Fortunately, that time of year is here again.
The Factory to Table sale will take place throughout the entire month of August, but it will be broken up by two different start dates, according to a press release received by Mashed. The first sale is for in-store purchases only at Le Creuset Signature Boutiques and Outlet Stores, which kicks of Friday, August 6. You can use their store locator to find a participating location near you. The in-store sale will run all month until August 31. For online sales as part of the Factory To Table deal, that begins Wednesday, August 18 on the Le Creuset website.
These are a few of the Le Creuset items you can find on sale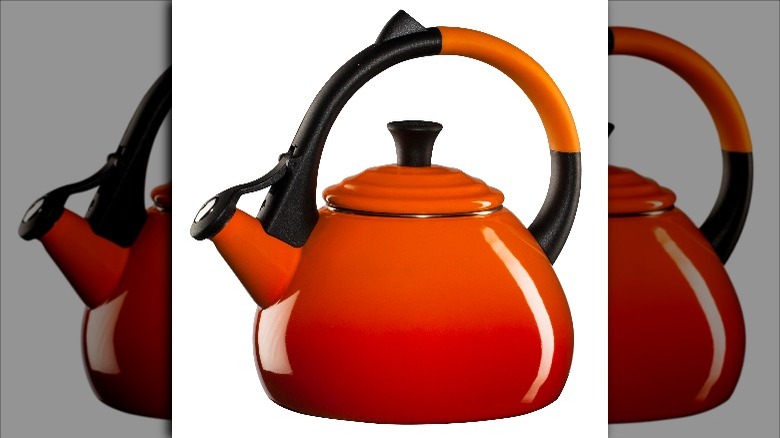 Le Creuset
Le Creuset gave Mashed a sneak peek at what's in store for customers that shop the sale. It will include regular stock items as well as unique and limited-quantity items. However, the goods that will be available will vary by location. Best of all, prices will be marked down, up to 50% off.
The first item to be included in the sale is an iconic staple, Le Creuset's 4.5-quart round enameled cast iron Dutch oven in an emerald green color. It's normally $345, but you can get it for $207 during the sale. Le Creuset Dutch ovens are perfect for frying, roasting, slow-cooking, and much more — and look beautiful in your kitchen.
Next up is the Oolong Kettle. Of course, this steel tea kettle features a coating of Le Creuset enamel. Inspired by Chinese Oolong tea, this kettle is available in a wide range of colors that will brighten up any morning. Usually priced at $90, it will be marked down to $54 during the sale. According to the brand, in addition to brewing tea, it's also idea for French press coffee, making oatmeal, and other purposes.
Finally, the 12-inch Le Creuset nonstick fry pan will also be on sale. Designed for everyday use, you can wipe it clean after searing, sautéing, and browning thanks to its nonstick feature that's triple-reinforced and PFOA-free. Typically priced at $140, the pan will be just $84 during this opportunity.
Clearly, this isn't a sale to miss. So, mark your calendar and make a list of everything you'd love to pick up before they're gone.