Aldi Shoppers Can't Believe How Cheap These Eggs Are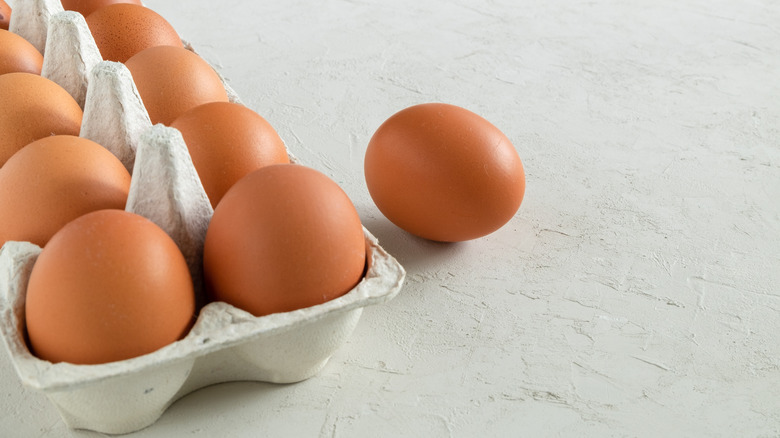 Shutterstock
Eggs, along with many other grocery staples, increased in price during the pandemic (via NPR). Then in 2021, other factors, such as severe winter storms and rising feed prices, continued make eggs more expensive, part of an overall trend that's expected to increase food prices in 2021, with egg prices expected to increase an additional 1.5% in 2021 (via Eat This, Not That!). So when shoppers are able to find eggs for cheap, it's pretty big news. Such was the case when someone was able to find a dozen Goldhen Grade A Large eggs for just 52 cents at their local Aldi in Philadelphia, which they shared in a post to Reddit under r/Aldi.
Aldi shoppers were impressed, with some remarking that they hadn't seen those prices since pre-Covid days. One commenter noted that in San Diego, the best price they had ever seen "is $1 and it's currently $1.35," only for another commenter to respond that they just bought eggs for 41 cents. A few people questioned whether Aldi's large eggs were as large as comparable eggs sold by other grocery chains, with one commenter responding that the FDA had clear guidelines on egg sizing and labeling.
What shoppers need to know about Aldi eggs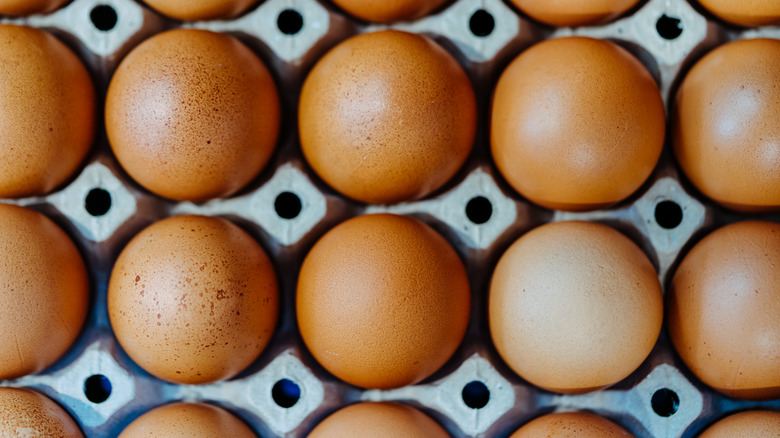 Shutterstock
However, shoppers may want to think twice about buying eggs at Aldi, despite how cheap they are. While the discount chain is known for their incredibly low prices across a wide range of grocery and other items, not all items are created equal, and there are some best and worst things to buy from Aldi. Eggs fall into the latter category, and you shouldn't buy eggs from Aldi until 2025. That's when Aldi has committed to selling 100% cage-free eggs (via Aldi website). Hens raised in traditional cages have little space and are in great pain, which can disrupt the laying process (via Vox).
Aldi's cheap Goldhen eggs are sourced from Rose Acre Farms, which has a questionable history, including a 2018 salmonella outbreak that sickened 45 people across 10 states. The outbreak led to a recall of more than 200 million eggs and an FDA finding of unsanitary conditions that same year (via Food Safety News). Aldi does offer other types of eggs, including cage-free, organic, and free range (via Aldi Reviewer). And while these other options will cost more, they are still likely to be cheaper than comparable eggs found at other markets.