Gordon Ramsay's Fish And Chips Recipe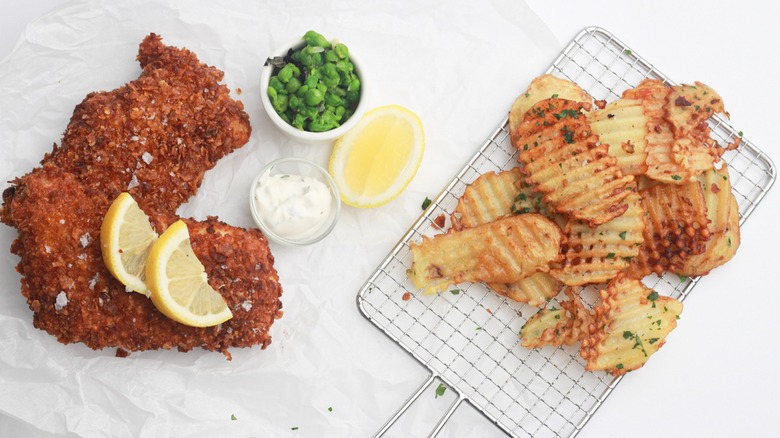 Susan Olayinka/Mashed
No one will deny that Chef Gordon Ramsay has a lot of strong opinions. The acerbic face of "Hell's Kitchen" and other notable culinary TV programs has made a name for himself as someone who isn't afraid to be outspoken and sometimes angry. That's not to say the man is constantly in a state of rage — there are plenty of things Ramsay feels passionate about in a positive way. 
One such thing is fish and chips. The chef now has two restaurants dedicated to the fried English dish: one in Las Vegas and one coming to Orlando.
Susan Olayinka, a UK-based recipe developer who runs the blog The Flexible Fridge, has taken Ramsay's fish and chips recipe and put her own creative spin on it. It's definitely not the kind of recipe you can spontaneously throw together in one pot and 30 minutes, but the end result will be crispy, savory, and definitely worth the effort.
Assemble your ingredients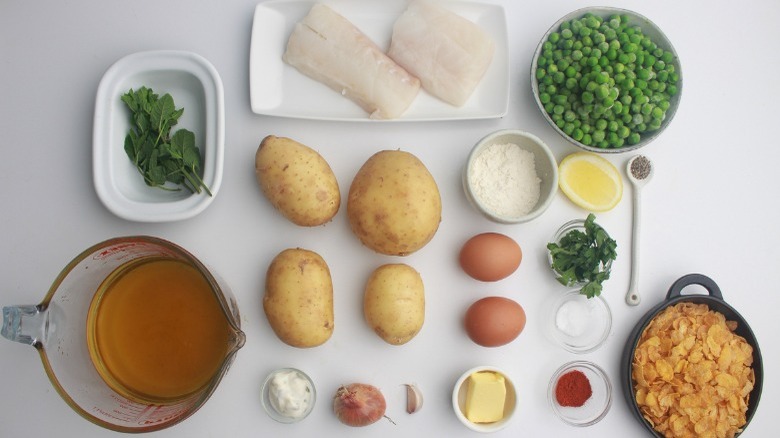 Susan Olayinka/Mashed
This recipe essentially makes an entrée and two side dishes, so it does involve a lot of ingredients. For the fish, you'll need nine ounces of cod fillets (approximately two fillets), cornflakes, flour, and eggs. The chips obviously require potatoes, plus paprika and chopped parsley. For frying the fish and chips, you'll need plenty of vegetable oil — a little over four cups of it. And for the peas, you'll need butter, one chopped shallot, fresh chopped mint leaves, and minced garlic, plus some frozen peas, which you might already have in your freezer. 
Then you'll need some lemon slices and tartar sauce for serving the dish with, and finally, don't forget to have salt and pepper on hand!
What did we change?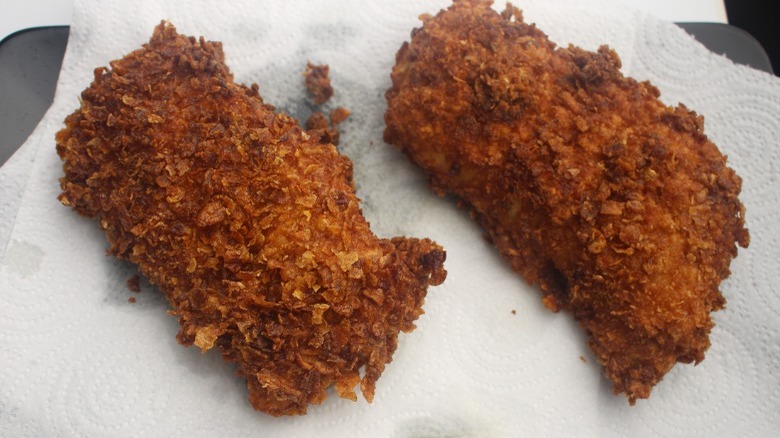 Susan Olayinka/Mashed
This isn't just any fish and chips recipe. It's based off Gordon Ramsay's exceptional fish and chips recipe, which is available on his YouTube channel and comes with the traditional side dish of mushy peas. 
Ramsay's recipe calls for a beer batter, while Olayinka mixes things up a bit by breading the cod with cornflakes and serving it with waffle fries instead of your standard chips. "I have done this breading before on chicken and thought, what a great idea [for] the soft cod," Olayinka explains. As for the fries? "I also think everything tastes better waffle-shaped!" she says. 
Prep the potatoes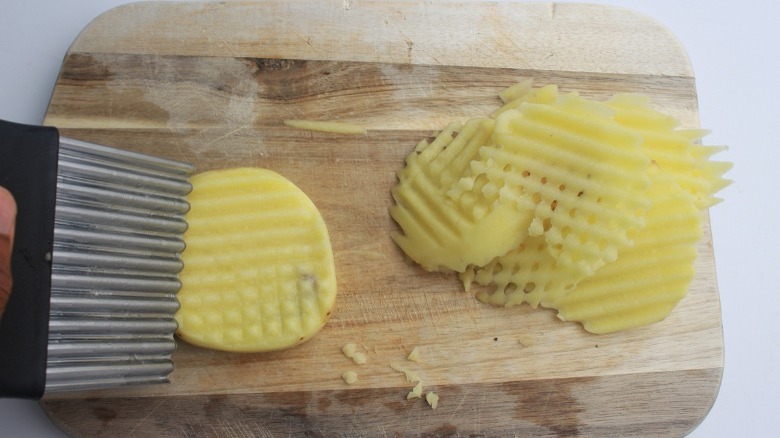 Susan Olayinka/Mashed
Again, there are a lot of moving parts here, so it's important to have everything prepped before you get cooking. For the chips, start by peeling your potatoes — any medium-sized potato will do; in his recipe, Ramsay uses Yukon gold, and Olayinka suggests Maris Piper, a potato variety common in the UK. 
Then, cut them up using a waffle cutter. Olayinka notes that if you don't have a waffle cutter, it'll be tough to make waffle fries, but ensures they will still be tasty if you cut them like regular fries.
Crush the cornflakes and bread the cod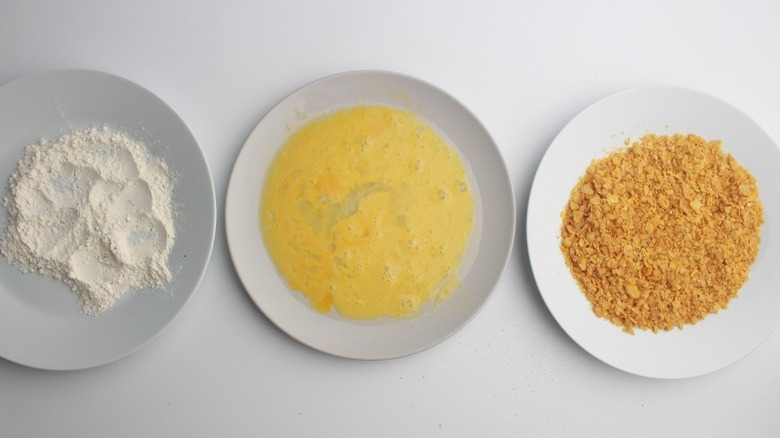 Susan Olayinka/Mashed
You can't fry something until you've breaded it — well, you can, but it might not be as crispy. To start this process, put the cornflakes in a big plastic blag and crush them with a rolling pin or something similarly-shaped, like a wine or vinegar bottle. Then, put the crushed flakes in a bowl. 
Get out two more mixing bowls, and crack your two eggs into one, mixing them as you would for scrambled eggs. In the third bowl, stir together the all-purpose flour, salt, and pepper.
Then, get your cod fillets. Pat them dry with a paper towel if they look damp. Then, coat each piece in flour, then eggs, then cornflakes, then dunk it in an extra layer of egg and cornflakes. This second application of breading "makes it super, super crispy and ensures that all parts of the fish are covered," Olayinka explains.
Cook the mushy peas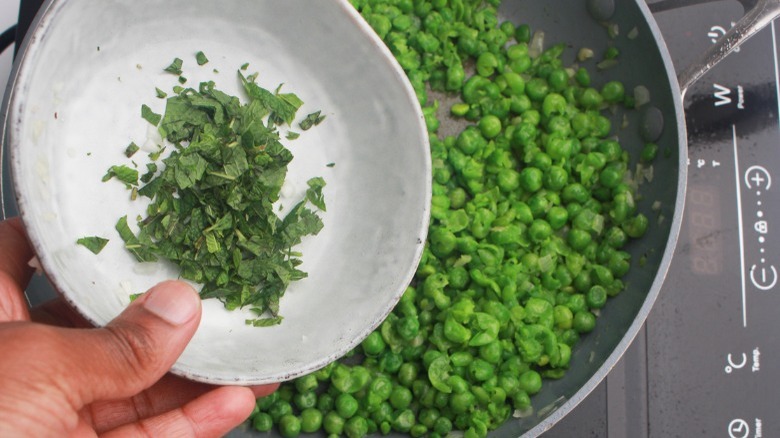 Susan Olayinka/Mashed
It's now time to prepare the mushy peas, which are packed with flavor thanks to a delicious mix of herbs and alliums. Plus, their soft texture provides a great complement to the crunch of the fish and chips. First, heat a pan over medium-high heat, and add a bit of vegetable oil followed by your frozen peas. Once that's beginning to cook, add in the shallots, garlic, butter, and salt and pepper and let everything get soft and fragrant. After a few minutes, take the peas off the heat and stir in the mint.
Fry the fish and chips to perfection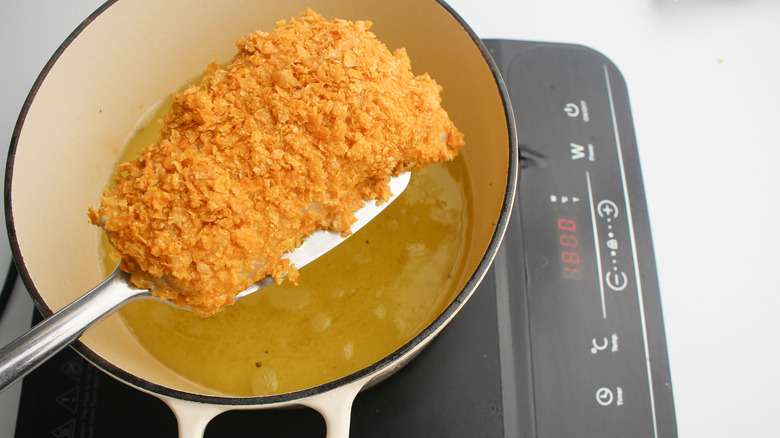 Susan Olayinka/Mashed
It's deep-frying time! Put four cups of vegetable oil in a big pot like a Dutch oven. Heat the oil to medium-high — if you have a deep-fry thermometer, you're looking for the oil to be between 350 and 375 F, according to Food Network. Once the oil is heated, gently lower in your breaded cod and let them fry until golden brown, then let them drain on paper towels. Make sure your oil's temperature hasn't dropped too much, then fry the chips and toss them in a bowl with paprika, salt, and parsley. You want to do this as soon as possible after frying so the seasoning sticks to the chips.
If the pot you're using to fry is on the smaller side, work in batches. Overcrowding the pot could drop the temperature of the oil and interfere with the cooking process.
Time to serve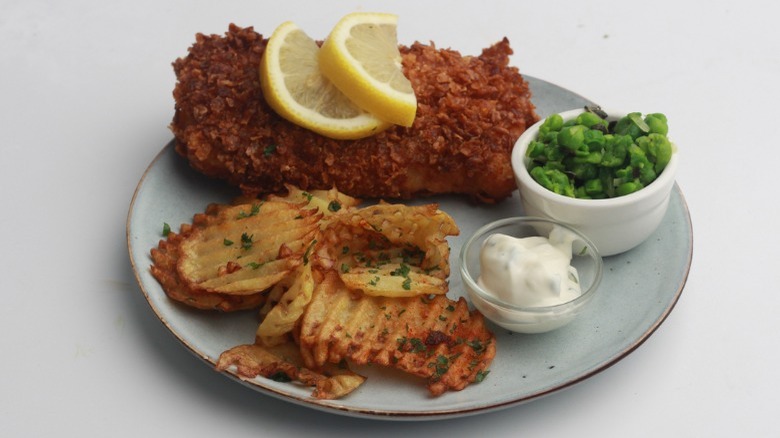 Susan Olayinka/Mashed
Congrats! It's now time to plate and serve your beautifully fried creation. Get two plates, and place on each one a fillet of fried cod, a serving of seasoned chips, and some mushy peas. Add some lemon slices and a small bowl of tartar sauce, and you're ready to rumble.
One of the best things about this dish is that it's a full meal in and of itself. You don't need to scramble to think of additional side dishes to serve it with; you've already got fish, chips, and peas right there just waiting for you to dig in. What could be better than that?
Gordon Ramsay's Fish And Chips Recipe
This Gordon Ramsay's fish and chips recipe with a twist takes Ramsay's classic and makes it, we think, even crispier. The result is definitely worth the effort.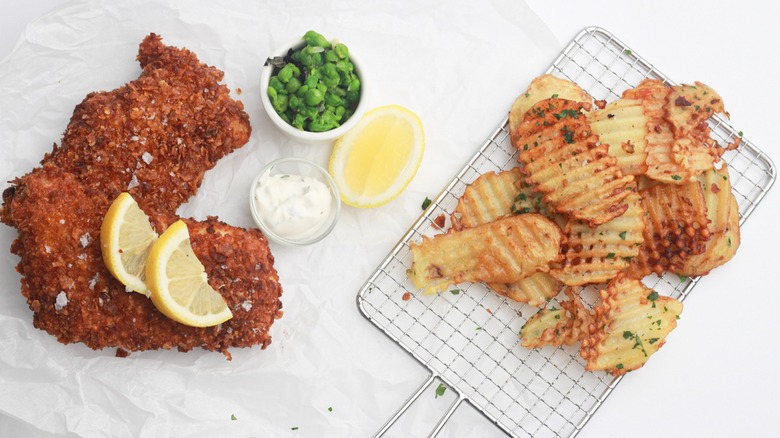 Ingredients
4 potatoes
1 shallot
1 tablespoon minced garlic
1 tablespoon chopped fresh parsley
1 tablespoon chopped fresh mint leaves
2 cups cornflakes
3 tablespoons all-purpose flour
1 ¼ teaspoon salt, divided
⅛ teaspoon pepper
2 eggs
2 (4.5-ounce) cod fillets
4 cups + 2 tablespoons vegetable oil, divided
4 cups frozen peas
1 tablespoon butter
1 teaspoon paprika
Optional Ingredients
Lemon slices, for serving
Tartar sauce, for serving
Directions
Peel the potatoes, then use a waffle cutter to slice them into waffle fries. Set these aside.
Chop the shallot into fine pieces.
Mince the garlic.
Finely chop the parsley and the mint.
Cut a lemon into slices, then set aside.
Pour the cornflakes into a Ziploc bag, removing any air. Roll a rolling pin over the bag to crush the cornflake pieces.
Get 3 mixing bowls. Into the first one put the all-purpose flour and 1 teaspoon each of salt and pepper. Mix them together.
Into the second, put the eggs and scramble them together.
Into the third, put the crushed cornflakes.
Place one cod fillet into the all-purpose flour mixture, then the egg mixture, then cornflakes, then back to the egg mixture, and then finally the cornflakes mixture again.
Set the fillet aside and repeat the process with the rest of the cod.
Heat a frying pan over medium-high heat. Add the vegetable oil and frozen peas and stir for 1 minute.
To the peas, add ⅛ teaspoon salt, pepper, chopped shallots, minced garlic, and butter. Cook, stirring, for 3 minutes.
After 3 minutes, remove the pan from the heat. Add the sliced mint and mix.
To a saucepan, add 4 cups of vegetable oil and bring it to medium-high heat.
Once the oil is hot, put in 2 cod fillets. Cook them for 7 minutes, or until golden brown.
Next, fry the chips for 5 minutes, then place them in a mixing bowl and toss them with the paprika, ⅛ teaspoon salt, and the chopped parsley.
Place each piece of fish on a plate followed by the seasoned fries, mushy peas, tartar sauce, and a lemon slice.