Easy Spicy Coleslaw Recipe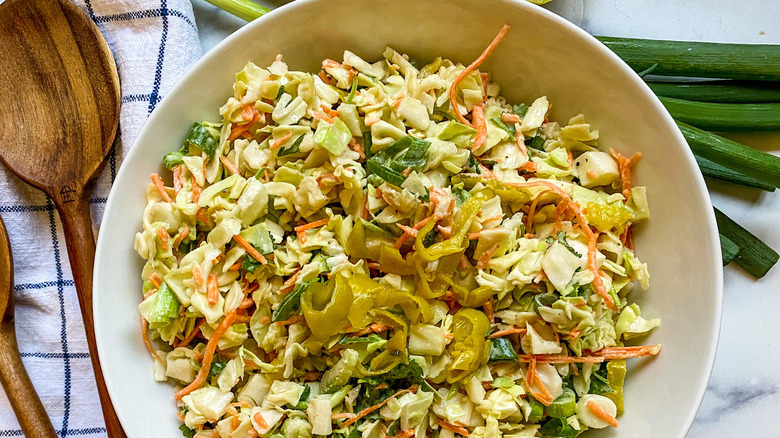 Miriam Hahn/Mashed
Do you love coleslaw? If you're like the rest of the people in the world, chances are, you do. Coleslaw is a great side to accompany anything from barbecue fare, to sandwiches, to everything else in between. In addition, coleslaw is excellent when enjoyed all by itself, and it also comes in a variety of flavors. Recipe developer Miriam Hahn of YouCare-SelfCare came up with this recipe for spicy coleslaw that is not only easy, but it's also great for the spice lovers out there.
Hahn shares that she prefers her version over traditional coleslaw for several different reasons. "First off, the dressing for this recipe uses tahini instead of traditional mayonnaise. When you mix tahini (which is just ground sesame seeds) with lemon, Dijon, maple syrup, and spices, it becomes this incredible tangy, addicting dressing," Hahn notes. "[It's] so much better than a standard mayonnaise dressing. It is actually a great dressing for other salads, too! Homemade dressings make all the difference and don't take long to make."
Hahn also notes that the pepperoncini give it a good amount of spice without making it "jalapeño hot." Keep reading to find out how to make this spicy coleslaw that will add a great kick of heat to your tastebuds.
Gather the ingredients to prepare spicy coleslaw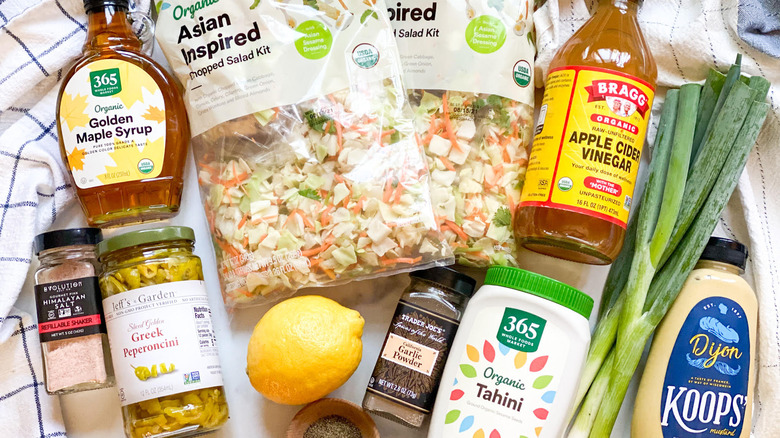 Miriam Hahn/Mashed
For starters, grab all of the ingredients that you need to make this recipe. You will need a few bags of coleslaw mix and three chopped scallions. In addition, you will need some pepperoncini for spice. Adding some tahini, apple cider vinegar, and the juice from one lemon provide this coleslaw with another layer of great flavor. You will also need to gather Dijon mustard, maple syrup, salt, and pepper. To complete your list, get 3 tablespoons of water ready, in addition to garlic powder. Red pepper flakes are optional.
Mix the scallions and pepperoncini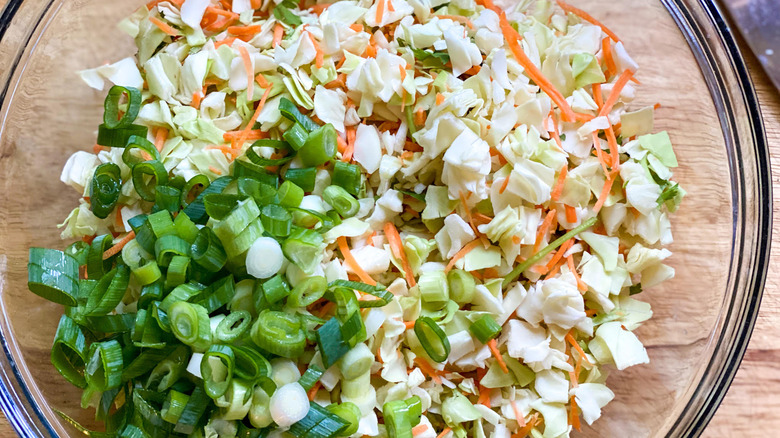 Miriam Hahn/Mashed
Now that you have all of the ingredients you will need, it's time get things started. Luckily, this recipe requires just five minutes of prep time, making it super simple to whip up when you're pressed for time. 
Take out a large bowl that's big enough to mix together all of the items. First, add in the slaw mix, followed by the scallions. Remember that you should have already chopped the scallions ahead of time, so that should save you some time here. Then, toss in the pepperoncini. Once you've done that, you can set the bowl to the side, because you will need it in a few minutes.
Mix up the dressing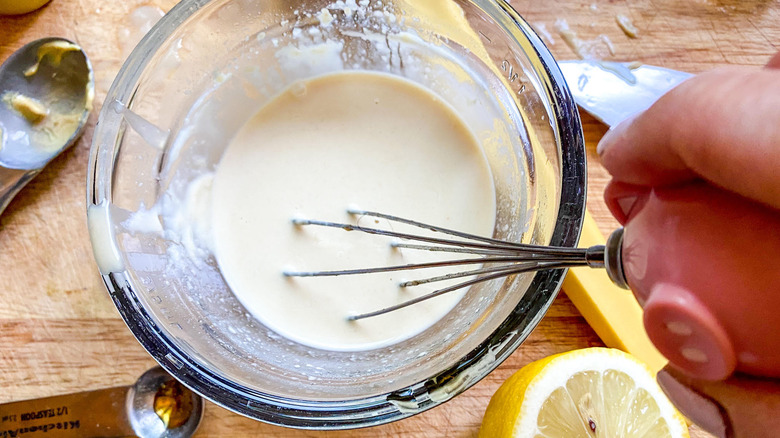 Miriam Hahn/Mashed
Now that you have mixed up the slaw, it's time to make the dressing that goes on top of the coleslaw. Take out a small bowl, and add in the tahini and vinegar. Next, add in the mustard, maple syrup, and water. That should do it for the liquids. Last but not least, add a little bit of spice, including the salt, pepper, and garlic powder. 
Using a whisk, mix all of the ingredients together, and now you have your coleslaw sauce. Keep the sauce out, because you will need it for the next step.
Combine the slaw and the dressing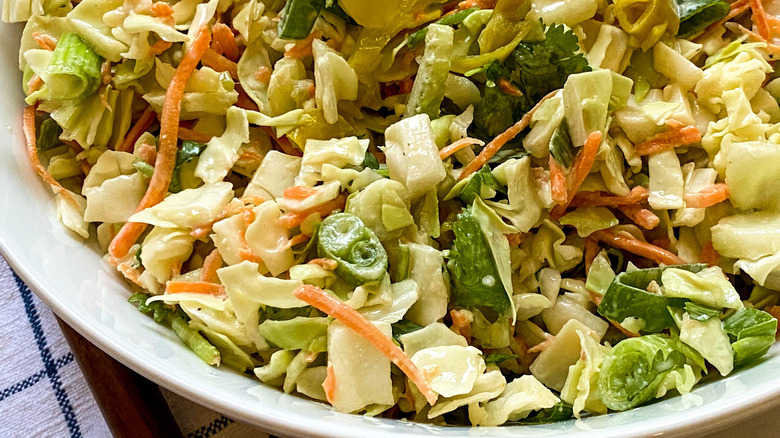 Miriam Hahn/Mashed
Here's the last part to complete the recipe, and it couldn't be easier. Dump the dressing over the slaw, and then mix everything together with a spoon. If you want to add even more heat to the recipe, sprinkle some red pepper flakes over the top. If you'd prefer to use green tabasco instead, you can also sprinkle some of that on the top for an extra bit of spice. Remember to taste as you add spice, and then you will avoid adding too much.
Serving suggestions and leftovers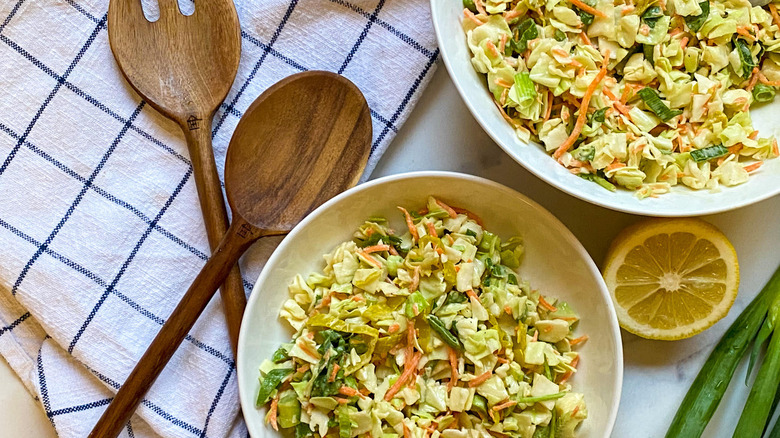 Miriam Hahn/Mashed
There are plenty of ways to serve this coleslaw, and the possibilities are truly endless. "This goes great with burgers, veggie burgers, Sloppy Joes, paninis, [and] wraps. [It's] great [to include in] a barbecue spread (and it can sit out longer because [there's] no mayo)," Hahn says. And if you have any leftovers, no worries, because they will last. "This will last fine for up to five days in the fridge. I love that it is a good make-ahead recipe," Hahn shares.
We hope you enjoy this recipe as much as we do! It's a great twist to your traditional coleslaw, and like we mentioned earlier, it's perfect for spice lovers.
Easy Spicy Coleslaw Recipe
This spicy coleslaw recipe is not only easy, but it's also great for the spice lovers out there.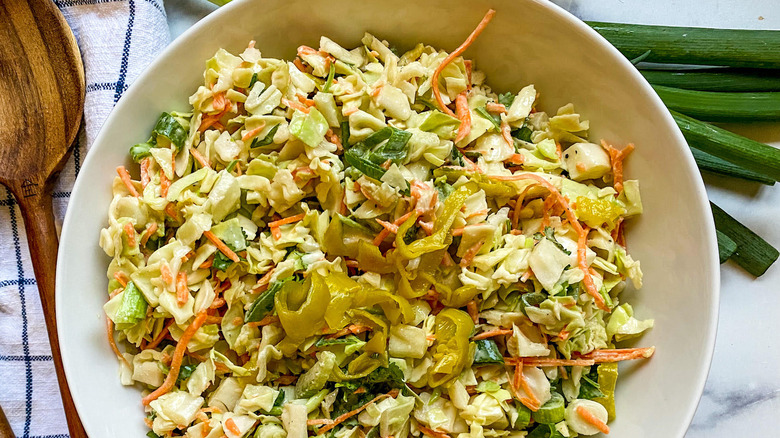 Ingredients
2 bags (9.5 ounces) coleslaw mix (or Asian slaw)
3 scallions, chopped
¼ cup pepperoncini
3 tablespoons tahini
1 tablespoon apple cider vinegar
juice of 1 lemon
1 tablespoon Dijon mustard
½ teaspoon maple syrup
½ teaspoon salt
¼ teaspoon pepper
½ teaspoon garlic powder
3 tablespoons water
Optional Ingredients
Directions
Add the slaw mix, scallions, and pepperoncini to a large bowl.
In a small bowl, whisk together the tahini, apple cider vinegar, lemon juice, Dijon mustard, maple syrup, salt, pepper, garlic powder, and water.
Toss the coleslaw and veggies with the dressing, and sprinkle with red pepper flakes, if desired.
Nutrition
| | |
| --- | --- |
| Calories per Serving | 186 |
| Total Fat | 13.0 g |
| Saturated Fat | 1.9 g |
| Trans Fat | 0.0 g |
| Cholesterol | 2.7 mg |
| | |
| --- | --- |
| Total Carbohydrates | 16.1 g |
| Dietary Fiber | 3.4 g |
| Total Sugars | 9.4 g |
| Sodium | 315.4 mg |
| Protein | 3.2 g |