Fans Are Loving Jamie Oliver's Silly Post For Son's Birthday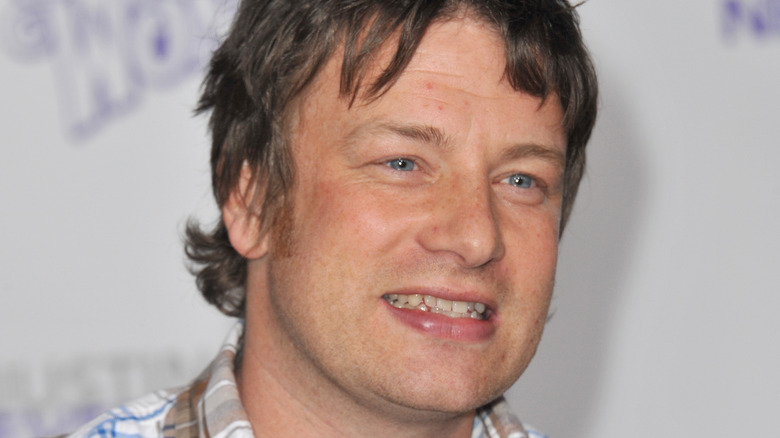 Shutterstock
Jaime Oliver recently shared the sweetest birthday post for his young son, and fans are swooning over this adorable family pic. Oliver wrote, "Happy birthday to my darling baby River !! Happy birthday Oh what a tonic you are to this Bonkers world we live in !! Your amazing Happy birthday son may your dreams all come true sweet boy [heart emoji, handclap, handclap, hooray, hooray, hooray, hooray]" (via Instagram). In the image, the father-son pair's hair sticks out wildly as they smile widely.
To describe how much fans love this post, we'd need to list an even longer string of happiness emojis because some fans appeared to be speechless at how cute this family is. Even Jennifer Aniston liked this post. Birthday wishes poured in along with a stream of compliments about River's cuteness. "Such a cutie!!" exclaimed one commenter. "Aww the cutest," echoed another. Someone dubbed the child "Ray of River Sunshine" while another user posted, "Happy faces – the perfect tonic."
Proud mom Jools simply added to the adorableness in a post of her own, sharing, "Night night little River your first day of being 5 we hope you loved every minute big hugs" (via Instagram). River, more fully known as River Rocket Blue Dallas, is the youngest of 5 children. The littlest Oliver is joined by siblings Buddy, Petal, Daisy, and Poppy (via Hello!).
Just as interesting as his name, little River's personality appears to be quirky and never boring.
A father-son duo that's oh so sweet
Jamie Oliver has described the joy of being River's dad in the past. The famed chef said in a 2020 interview, "River is phenomenal, keeps me on my toes. He breaks a lot of stuff I'm telling you, there's stuff broken everywhere!" (via Foxtel). Young River illustrated that point by interrupting the interview to explain that he had "broken the pain," to which his dad commented that the youngster tends to have accidents. 
When not leaving an adorable trail of destruction, River might be busy making cute mud tracks. In a pic posted by their mother earlier this year, he and an older sibling are seen embracing the muck of the outdoors. Jools is clearly head over heels for her little boys and enjoys sharing pictures of outdoor fun and boisterous play. In the aforementioned post, she wrote, "Morning my little boys [heart emoji] never not muddy or properly dressed! Just the way we love you [snail and monkey emoji]" (via Instagram). You'll also find Jools describing epic games of dress-up as well as posting pictures of pet snakes and mud-filled play. 
People simply love seeing parents like Jamie and Jools Oliver loving their children and sharing in their happiness. Aww, we just can't get enough. Happy birthday little River!