Here's How Much Antonia Lofaso Is Really Worth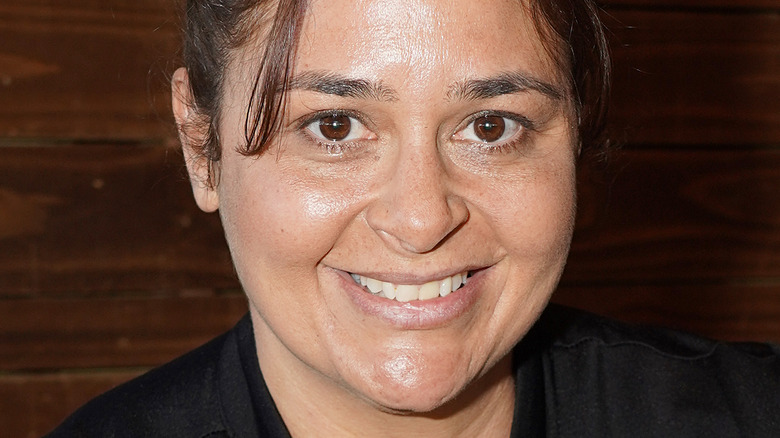 Alexander Tamargo/Getty Images
Celebrity chef Antonia Lofaso has managed to become a household name in a few years, thanks to her exceptional culinary skills. She has a lot to be proud of: She has appeared on many popular TV shows and assisted scores of home chefs with her nuggets of wisdom through the years (via the Food Network). She's best known for her appearances on shows like "Top Chef," "Cutthroat Kitchen," "Man vs. Child," "Restaurant Startup," and more. 
For chef Lofaso, it's important to find ways to reach out to her fans and understand what they're looking for. As per her official website, it has also been crucial for her to explore her Italian-American roots through her dishes. It's safe to say that ​the dynamic culinary sensation has many achievements under her belt, including a robust food enterprise and a cookbook titled "The Busy Mom's Cookbook: 100 Recipes for Quick, Delicious, Home-Cooked Meals."
As per Full Celebs, Lofaso is undoubtedly one of the most successful chefs in the industry. So, how does that translate to her bank account?
Chef Antonia Lofaso is doing well for herself
As highlighted by Full Celebs, chef Antonia Lofaso is rather impressive, with a net worth of approximately $2 million. Whew! What has perhaps helped Lofaso the most is that she has explored several opportunities in the culinary space, instead of restricting herself to stereotypical options. Clearly, Lofaso doesn't mind pushing herself out of her comfort zone. 
She told Parade in 2008 that she knew how competitive the food industry would be for her, sharing, "When I turned 30, it was a turning point in my life. I wanted to push myself in every capacity. Chefs are very competitive and, just like when you were a kid and raced to the corner on your bike, we all want to be told that we're the best."
Well, the chef has come a long way since 2008. As per her Instagram page, she's currently the executive chef at Scopa Italian Roots and is also a part of several other food establishments, such as Black Market Liquor Bar, The Local Peasant, and more.