How This NYC Pop-Up Let Customers Take Their Taste Buds To The Olympics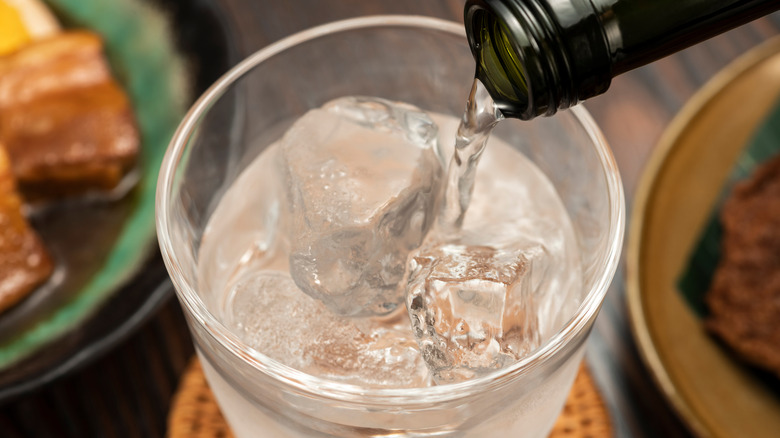 Shutterstock
With the Olympics now ending, the chance to enjoy them at an NYC pop-up bar will close today as well. However, even though most of us will not have had the chance to experience the fun, we might get some value from it still. Namely, it will introduce us to shochu. 
Writing on August 6, Foodbeast reported that Katana Kitchen, a Japanese-styled bar located in lower Manhattan, invited customers to enjoy KK Wagyu Dogs on brioche buns and Fish and Wonton Chips with akami tuna while feasting their eyes on the Tokyo Games as they played out on a projector screen. Perhaps the brightest highlight was that Katana Kitchen collaborated with iichiko, a leading shochu producer, to create a cozy bar with signature cocktails for a substitute Japanese viewing experience.
The two special cocktails were the Mugi Sour and the Yuzu-Shio Chu-Hai. The first features iichiko Saiten, passionfruit, lemon, soba honey, and egg white. The second has iichiko Saiten, yuzu citrus, sea salt, and bergamot. The iichiko Saiten is the company's award-winning shochu for the modern bartender (via the iichiko website). Last year, it won double gold at the 2020 San Francisco World Spirits Competition. So, despite the fact that shochu is not a commonly mentioned spirit in the United States, it seems like something anyone interested in hard alcohol and gold medals should know. 
So, what is shochu?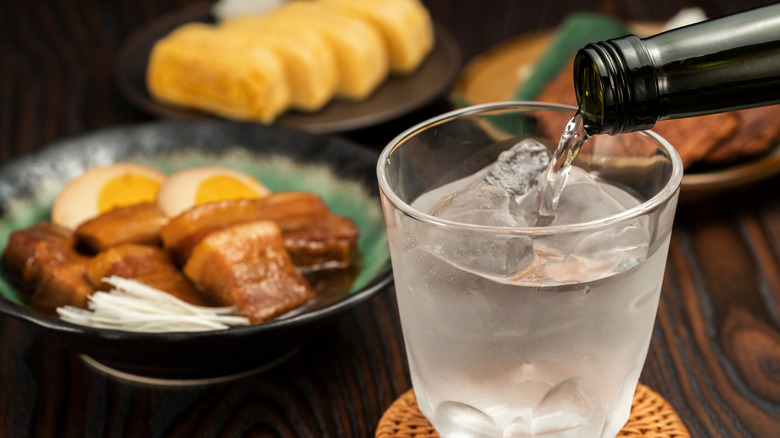 Shutterstock
In its explanation of shochu, Boutique Japan begins with a fact that may surprise you. Despite the image of Japanese people drinking sake in the Western imagination, shochu is actually more popular than sake in Japan.
The piece continues by listing the differences between the drinks. Sake is fermented while shochu is distilled. Sake comes from rice while shochu comes from potatoes. Shochu tends to have a higher ABV content of 25-30%. Favy states that the real comparison is to soju, which is essentially shochu made in South Korea.
However, Favy also says that while soju is typically drunk straight, shochu is enjoyed in all the ways you can enjoy most spirits. You can have it on the rocks, with a soda, or mix it with some tea. So, even though the pop-up bar and the Olympics have ended, you can watch recordings with a glass of shochu. It will be as if you missed nothing.