Easy Balela Salad Recipe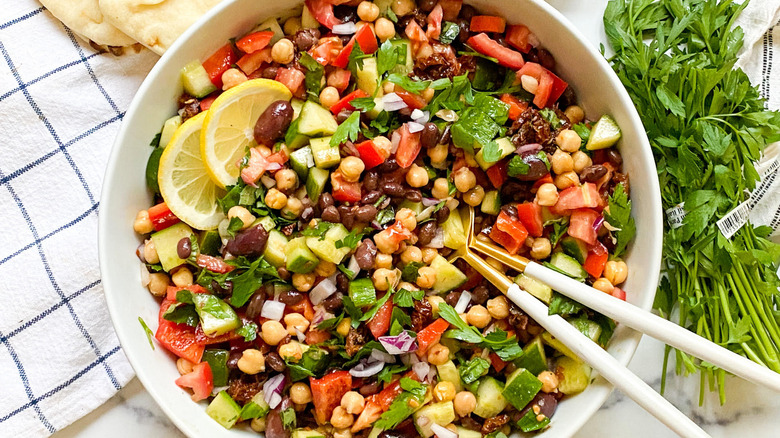 Miriam Hahn/Mashed
There's nothing that is quite as refreshing as a salad on a hot summer day, but honestly, this easy balela salad recipe hits the spot any time. Fall, winter, and spring are just as good of a time as summer to eat this scrumptious salad. This Middle Eastern bean salad is made with chickpeas, aka garbanzo beans. 
Recipe developer Miriam Hahn shares that she loves this recipe for various reasons, including the fact that it is filled with so many fresh ingredients. "I have so many salad recipes that are similar to this, but this is honestly one of my favorites," Hahn says. "The fresh herbs make it scream 'fresh,' and the sun-dried tomatoes combined with fresh tomatoes add a really great flavor. Oh, and the kalamata olives are amazing in this. I also love that it is super quick. Just a little chopping and mixing, and you are good to go." 
If that's not enough reason to make the salad, then we don't know what is! Keep reading to find out how to put this delightful salad together. 
Gather the ingredients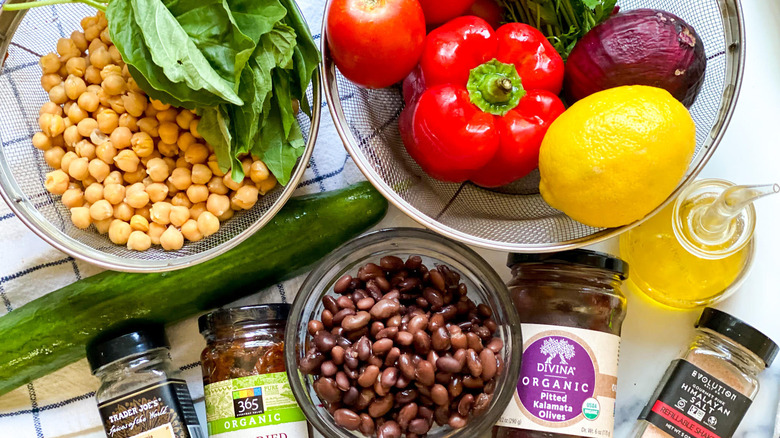 Miriam Hahn/Mashed
There are quite a few items that you will need for this recipe, but trust us when we tell you that it will all be worth it in the end! First, add red onion, cucumber, bell peppers, and Roma tomatoes (or other tomatoes) to your list. Remember that you need to chop all of these items ahead of time before you start the recipe.
You will also need to grab a few herbs, including fresh basil and fresh parsley. Like the other items, be sure to chop these ahead of time. The last few items you will need are sun-dried tomatoes packed in oil, kalamata olives, garbanzo beans or chickpeas, and black beans. In addition, add olive oil, one lemon (or two if your lemon isn't that juicy), salt, garlic powder, and pepper to the list.
Combine the veggies and beans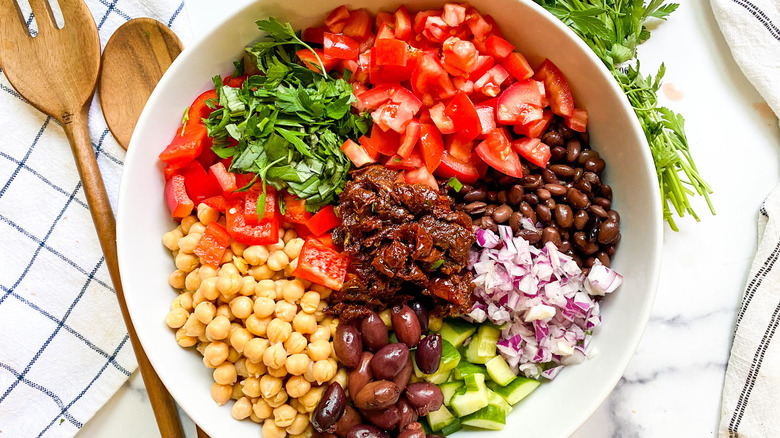 Miriam Hahn/Mashed
There aren't a lot of instructions to this salad. Basically, you take out a large bowl and throw in the veggies. 
We'll break it down for you, though: Combine the onion, cucumber, red pepper, and tomatoes to start. Then toss in the basil, parsley, sun-dried tomatoes, and olives. Last but not least, add the garbanzo beans or chickpeas, and the black beans. Those last two items don't need to be chopped, but you should rinse and drain them ahead of time so they're not watery.
Hahn notes that you can easily make some ingredient swaps based on what you have. "You can use scallions instead of red onion," she says. "You can omit the black beans and just use garbanzo. You can use different herbs like mint, cilantro, or oregano. This recipe has lots of variations!" 
Add the dressing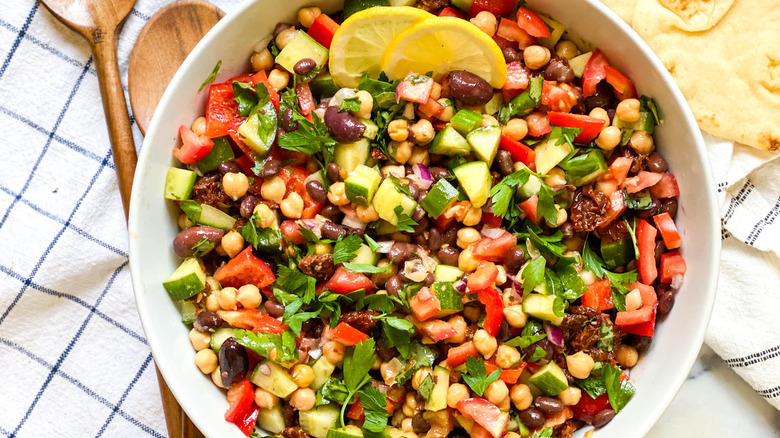 Miriam Hahn/Mashed
Once you have all of the other items added to the bowl, it's time to add the seasoning, citrus, and oil. First, put in the olive oil and lemon juice. These will both add a light flavor to your veggies. Next, sprinkle in the salt, garlic powder, and pepper. Give the mix a few good tosses to combine. You could also use a spoon instead if you want. 
That's it! Now, you can serve the salad to your lucky guests or just enjoy it on your own!
Serving suggestions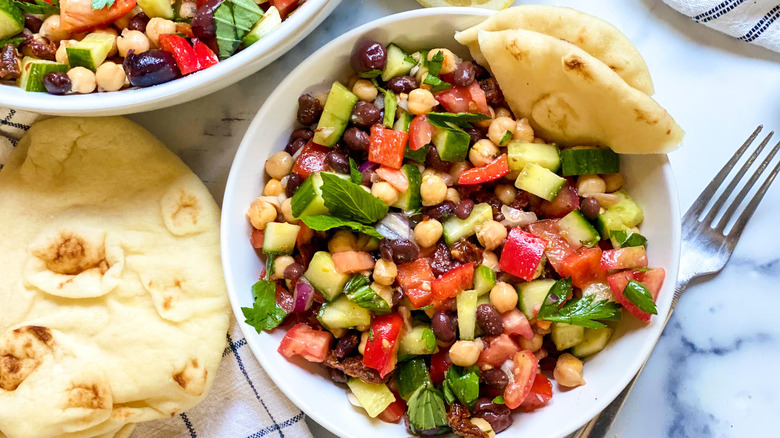 Miriam Hahn/Mashed
This salad is great by itself, but you can also serve it as a dip to accompany tortilla chips, or take one of Hahn's suggestions: "My husband puts it in a wrap. You can stuff it in a pita. You can add it to a green salad. So many options!" Hahn raves, adding that it's "great for a barbecue or luncheon."
It's also incredibly good for you. "It is so healthy that you don't need to limit portions ... eat until you are satisfied. I love nutrient-dense versus calorie dense so I can eat to my heart's content!" she says.
The leftover situation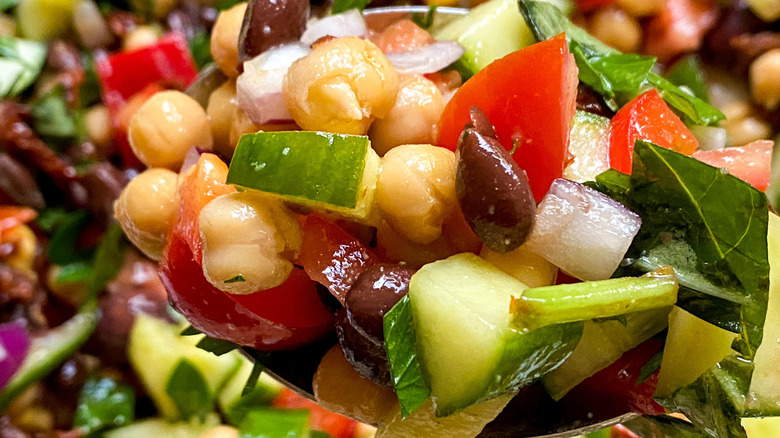 Miriam Hahn/Mashed
Another great part about this recipe is that leftovers will be good after you make the salad, even with the dressing on it. "I think it is best within 48 hours because of the fresh tomatoes and cucumbers, but some people are fine with that," Hahn shares. "Up to five days is fine!" 
That means if you want to make it a day ahead of time, you can. We love prepping things ahead so it's pretty much a no-brainer if you want to throw the salad together a day before a party. 
We hope you enjoyed this recipe as much as we do!
Easy Balela Salad Recipe
Fall, winter, and spring are just as good as summer to make this Middle Eastern easy balela salad recipe with garbanzo beans and so many fresh ingredients.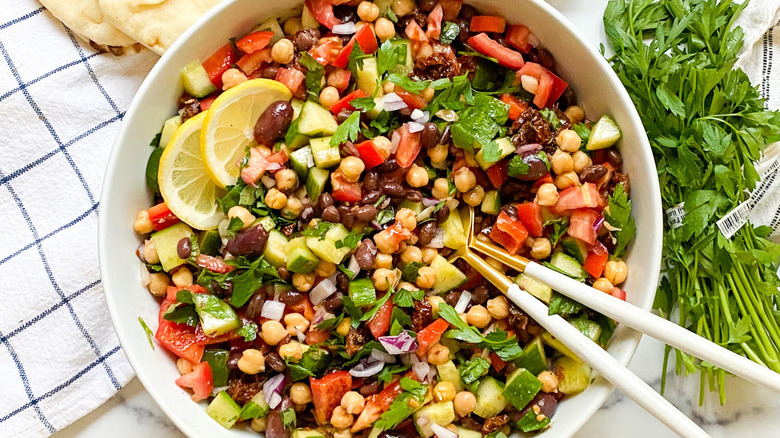 Ingredients
¼ cup diced red onion
1 English cucumber, chopped
1 red pepper, chopped
3 Roma tomatoes, chopped
½ cup fresh basil, chopped
½ cup Italian parsley, chopped
½ cup sun-dried tomatoes packed in oil, chopped
½ cup kalamata olives, chopped or whole
2 cans garbanzo beans or chickpeas, drained and rinsed
1 can black beans, drained and rinsed
3 tablespoons olive oil
Juice of 1 large lemon
1 teaspoon salt
½ teaspoon garlic powder
¼ teaspoon pepper
Directions
In a large bowl, add the onion, cucumber, red pepper, tomatoes, basil, parsley, sun-dried tomatoes, olives, garbanzo beans, and black beans.
Add in the olive oil, lemon juice, salt, garlic powder, and pepper.
Toss to combine, and serve!
Nutrition
| | |
| --- | --- |
| Calories per Serving | 311 |
| Total Fat | 10.9 g |
| Saturated Fat | 1.4 g |
| Trans Fat | 0.0 g |
| Cholesterol | 0.0 mg |
| | |
| --- | --- |
| Total Carbohydrates | 43.7 g |
| Dietary Fiber | 13.7 g |
| Total Sugars | 8.8 g |
| Sodium | 739.3 mg |
| Protein | 13.1 g |