Domino's New Delivery Promo Is Surprising Customers With Free Food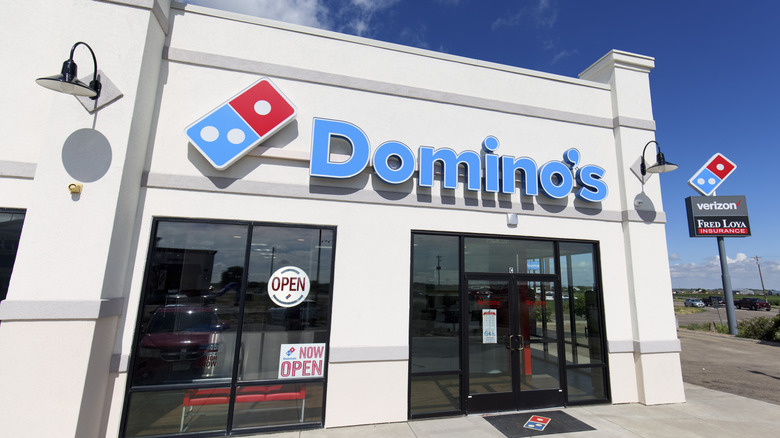 Justin Edmonds/Getty Images
Sometimes it feels like pizza can sell itself, but that hasn't stopped the big chains from breaking out the deals to try to get you to grab a pie (or three) for dinner. According to Thrillist, Pizza Hut currently has a promotion to get people to buy their stuffed crust pizza, while Ledo Pizza, as of this writing, plans to give away pies to anyone who has recently received their first COVID-19 vaccine dose. Meanwhile, Hungry Howie's has a promo code that can score a full meal. While these offers prove tempting, none of them hold a candle (or a pizza oven flame) to what Domino's has in store for hungry customers.
According to Chewboom, Domino's doesn't want pizza fans to feel down when faced with "surprise fees" when they order through a third-party app, so the chain decided to give their them something to cheer about. The chain rolled out a promo dubbed "Surprised Frees" and the deals could make anyone drool. From now until November 21, Domino's plans to randomly select US-based diners and surprise them with free items whenever they order online. Lucky winners can plan to bring home free Hand Tossed Pizzas, Lava Crunch Cakes, Stuffed Cheesy Bread, and much more.
A good reason to get excited for delivery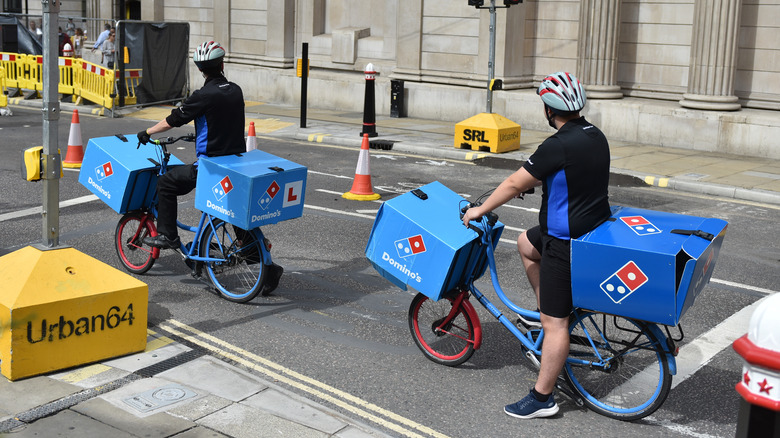 John Keeble/Getty Images
If you count yourself as a Domino's fan, this promo has your name all over it. The chain plans to give away over five million items over the course of the deal, totaling up to $50 million (via Chewboom). If you still wonder exactly how to claim some free food, you just have to order online and cross your fingers that you win some free items. Selected winners get a notification after ordering online and get notified via email and on their order's confirmation page. Surprise items also come with stickers, so no one has any doubt about if they walked away with some "Surprise Frees."
Domino's launched the promotion in response to DoorDash and similar companies raising delivery fees in major cities (via CNN). The company claims to have never made money on their delivery service and their product has carried them through the years. The move intends to counter any ill-will brought on by rising delivery costs and executives hope to give something back to a dedicated fan base that has kept the pizza chain going strong. If you count yourself as a Domino's lover, make sure to order through the chain's website and try to score some free food while this deal lasts.