Starbucks Is Once Again Requesting All Customers Wear Masks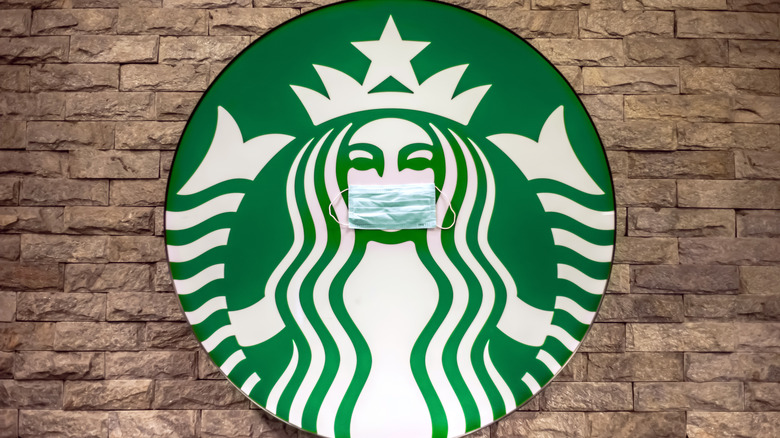 Shutterstock
It's been over a year since the Covid-19 pandemic spread like wildfire around the world. And for a few months in 2021, as vaccinations increased and people started going out again, it seemed like we had turned the corner, and some sense of normality was returning (via Boston Globe). In many areas, indoor dining returned and mask mandates relaxed. In May 2021, the CDC stated that individuals who were fully vaccinated did not need to wear masks or socially distance while outdoors or indoors (via NPR).
However, in light of the recent surge of cases due to the Delta variant, the CDC has reversed course, and in July, started recommending that even fully vaccinated people wear masks in public indoor settings if they are "in areas of substantial or high transmission" (via the CDC website). Several states and cities have implemented their own mask mandates, including California, Nevada, New York, and Connecticut (via U.S. News & World Report). Major retailers, including  McDonald's and Starbucks, have also started following suit (via Food & Wine). In early August 2021, Starbucks updated its Covid-19 response page, stating, "Where mandated by local law or regulation, Starbucks will require customers to wear masks while in our stores."
Starbucks is strongly recommending the use of masks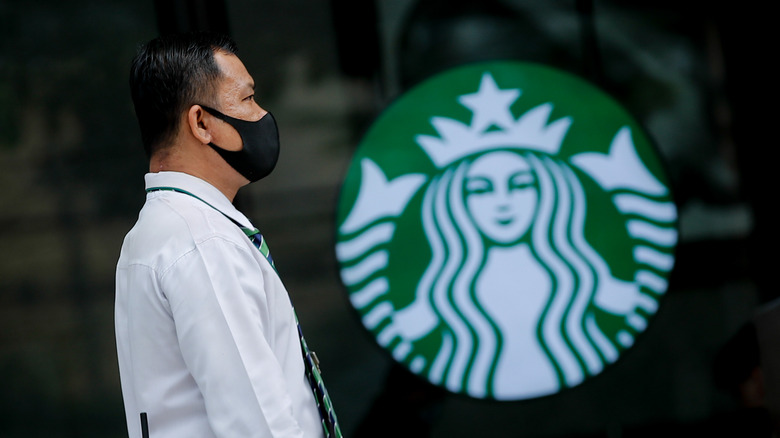 Shutterstock
Even in areas where there is no mask mandate, Starbucks still "strongly recommends customers wear facial coverings while visiting our stores, regardless of vaccination status," in alignment with the latest CDC guidance regarding masks (via Starbucks' Covid-19 response page). Starbucks has largely been following government guidelines throughout the pandemic. In July 2020, it asked walk-in customers to wear masks before updating its policy in May 2021 and making masks optional for vaccinated customers in accordance with the CDC's stance at the time (via Food & Wine).
Some restaurants are already requiring proof of vaccination for diners. As Delta and other variants continue to spread, many restaurants may start mandating the use of masks again.  Given the inconsistent approach and regulations taken by different cities and states, it may take the concerted efforts of big chains like Starbucks and McDonald's, as well as small restaurants all over, to help slow the spread of Delta or other Covid-19 variants if they arise.