What Ben & Jerry's VIP Tour Is Really Like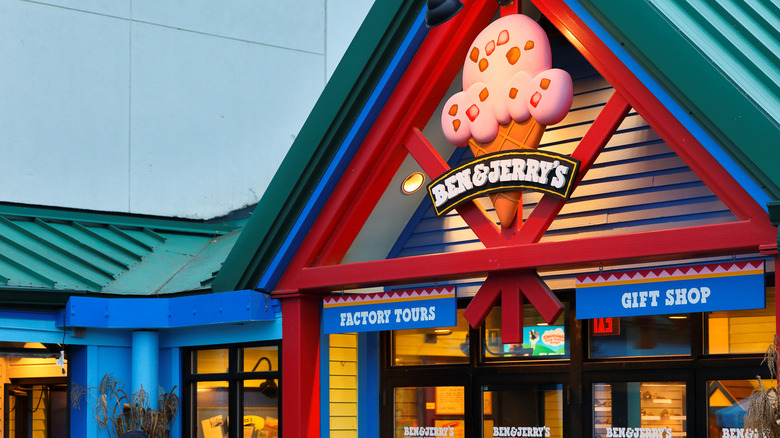 Shutterstock
If you're a hardcore fan of Ben & Jerry's ice cream (and really, who isn't?), then maybe you've considered making the trip out to Waterbury, Vermont, to see where the magic happens. Waterbury is where the Ben & Jerry's factory was built in 1985, and in present times the factory pumps out an impressive 350,000 pints each day according to the beloved brand's website. There is also a Scoop Shop on site where you can purchase your favorite flavor (Half Baked? Chunky Monkey?) scooped into a waffle cone or 20 of your favorite flavors if you're with pals (or not) scooped into a Vermonster Sundae topped with banana slices, cookie and brownie pieces, hot caramel and fudge, and ten spoonfuls of chopped walnuts (via the Ben & Jerry's website). If by chance, your favorite flavor has had an untimely departure, you can even pay your respects in the Flavor Graveyard. 
For those looking for more of an elite ice cream encounter, Ben & Jerry's also offers a two-hour VIP Experience with private tours where you and your crew can get the lowdown on the company's history and ice cream-making process, according to the VIP Experience webpage. At the end of the tour, participants get in on the action at the Flavor Lab. This is where participants work with a Flavor Guru in a 45-minute ice cream-making session that "includes tasting but not taking" the ice cream. Of course, for $225 you'll want more than just a "tasting" of ice cream.
What a ticket to Ben & Jerry's VIP tour gets you
In addition to the tour and Flavor Lab fun, the VIP tour ticket includes some extra perks, according to Ben & Jerry's website. While you're in the Flavor Lab, the staff-turned-Paparazzi will take photos of you wearing an awesome tie-dyed lab coat. Not only do you get to bring home a flash drive of those fabulous photos, but you'll also take home that sweet coat. After two hours of looking at ice cream, you're definitely going to want a full scoop all to yourself. Your ticket includes a scoop of your choice (Phish Food? Americone Dream?) in a waffle cone from the Scoop Shop. It also comes with a 25% discount on purchases from the gift shop and a coupon for a free pint of Ben & Jerry's once you get home.
We love a good cause, and perhaps the sweetest part of the Ben & Jerry's VIP Experience is the portion of the ticket that goes to the participants' pick of one of three non-profits: The Children's Literacy Foundation (CLiF), Clarina Howard Nichol's Center, or Outright Vermont. Unfortunately, all factory tours are currently on hiatus due to Covid-19, but the Ben & Jerry's website makes an optimistic promise for the return of the VIP Experience: "We don't have a set date for our VIP Experience to resume yet, but rest assured that when it does, there will be chunks & swirls a plenty!" Until then, we'll settle for a spoon, a pint, and that inevitable smile.