For Baking, This Digital Scale Stands Above The Rest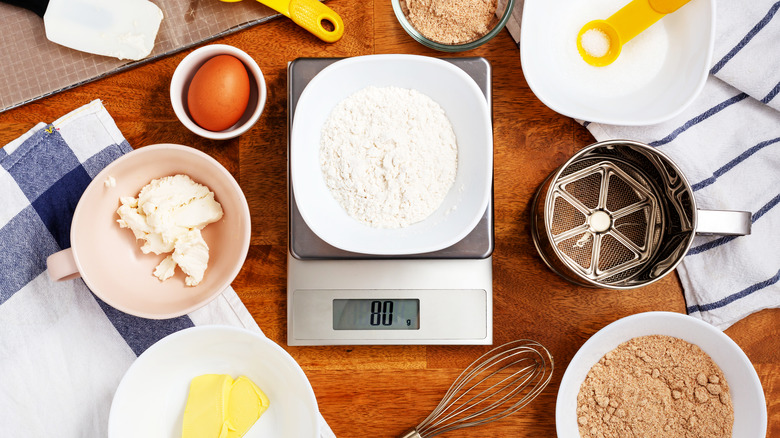 Shutterstock
We may receive a commission on purchases made from links.
The baking process doesn't have to be particularly complex when you have the appropriate kitchen or cooking tools in your arsenal. And, as Food 52 suggests, gadgets like a digital scale can go a long way in helping you whip up the perfect dessert, especially when it comes to measuring the ingredients you'll need for your recipe. Without a scale, you may end up scrambling when you make a rookie mistake like, say, adding too much flour. After all, we know excess flour can turn your cookies from soft, chewy delicacies to crumbly and dry throwaways.
Plus, weighing your ingredients beforehand makes everything a lot quicker. As an added advantage, you'll have to use fewer tools and won't have to wash as many dishes later. In a market that's full of options, it's important to choose wisely, though. One of the best picks? A beautifully designed digital scale from Nicewell that, per Amazon, offers precise measurements in seconds.
It's a nifty tool
The Nicewell Food Scale is one handy tool that can make cooking a lot more fun. The product is sturdy and made of tempered glass and stainless steel. Oh, and did we mention it's fingerprint resistant? In addition, it provides accurate measurements for food items ranging from 0.1 ounces up to 22 pounds, according to Amazon. If you've had trouble in the past reading the dial on mechanical scales, the massive LCD display on the Nicewell Food Scale is a vast improvement and super convenient. Per Don't Waste Your Money, the tare feature on this scale makes it easy to find out exactly how much your ingredient weighs by eliminating the weight of the bowl or container. Neat! 
As The New York Times' Wirecutter reports, most digital baking scales can range from $35 to $50. Well, the Nicewell Food Scale is just as accurate and has similar features as those scales, but it's a lot less expensive, making it the perfect gift for you and your baking friends. This scale comes highly recommended by Amazon reviewers. It currently boasts a five-star rating and over 24,000 reviews. "Makes food measuring a breeze," wrote one satisfied customer. "Consistent weighing, slim yet large enough to fit a variety of bowls/plates to measure food on. Definitely recommended." Meanwhile, another Amazon reviewer added that the scale is solid enough to remain in good condition, even with frequent use and flour-coated hands.
Purchase the Nicewell Food Scale on Amazon for $21.99.