Rodney Scott Revealed His Famous Barbecue Sauce Secrets
People are serious about Rodney Scott's barbecue. Many fans of the James Beard Award-winning pitmaster, who include the late Anthony Bourdain and Andrew Zimmern, have traveled from far and wide to Rodney Scott's Whole Hog Barbecue restaurant in the North-Central neighborhood of Charleston. And, every day, lines form around the block before they open. 
Whether it's thick slabs of spice-rubbed ribs, pulled pork, barbecue chicken, or juicy brisket, all of the meats at the Whole Hog are "pit-cooked" over hardwood coals under traditional methods Scott learned as a child working at his family's barbecue joint in Hemingway, South Carolina (via Rodney Scott).
One of the biggest celebrities of Whole Hog is Scott's Rodney's Sauce. Called a mop sauce, Scott uses a traditional cotton, string-headed mop to rub the vinegar-based sauce over all the meats cooked in the pit. Although the recipe was previously a tightly-held secret, Scott shared details of the amazing sauce in his book, "Rodney Scott's World of BBQ," which was released in March 2021.
Secret sauces are an essential part of barbecue. On PBS' "Nourish," Dr. Howard Conyers, a NASA rocket scientist and barbecue enthusiast, told Scott, "Barbecue sauce is the pitmaster's ... signature on their pork," and Scott agreed. "That's definitely their signature, their secret, and a lot of 'em don't even write it down. And they still don't want you to see how they make it," he noted.
Rodney Scott's recipe is surprisingly simple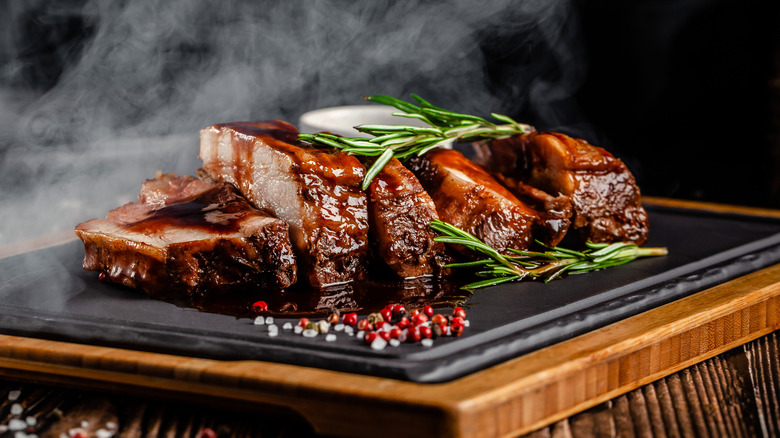 Shutterstock
While one might assume that there is a complicated recipe for the sauce, there are actually just six ingredients. As Martha Stewart's official website shared, all you need for Scott's mop sauce is distilled white vinegar, thinly sliced lemon, sugar, black pepper, cayenne pepper, and red pepper flakes. And, as Scott added during an interview with Barbecue Tricks, he also throws in "a whole lotta love."
In the world of BBQ, there are many different types of causes, including vinegar-based, tomato-based, and mustard-based. As for the difference, Epicurious said that a vinegar-based sauces like Scott's mop sauce aren't used to coat the meat like a tomato-based sauce would. Instead, it is a thin sauce that's supposed to help keep the meat moist while bringing out the essential flavors in the spice rubs and smoke to help them penetrate the meat. Then, after cooking, a separate barbecue sauce can be applied.
Rodney Scott has other tips for making great sauce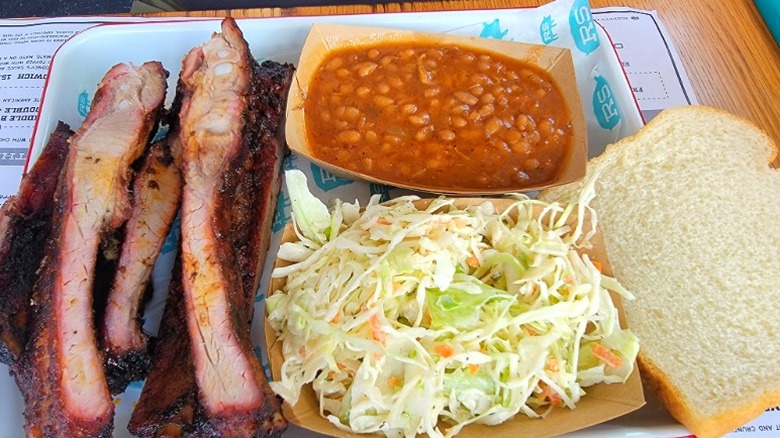 Michael Kelly
Along with the formerly secret ingredients, Scott shared some additional tips for making the perfect sauce with Garden and Gun. The first, don't be afraid to add citrus, particularly lemon, which helps tenderize the meats and also tempers the bitterness of the vinegar. He also suggests trying different vinegars, from regular white vinegar to apple cider vinegar, though he suggests skipping the lemon with the latter so it doesn't get too "funky." Finally, the spice combination of cayenne, paprika, and dark chili powder are go-tos, he says, for any good sauce, with pepper and pepper flakes as optional add ins.
But pit-cooked meat isn't the only thing Scott recommends using his Rodney's Sauce for. One notable recipe is his barbecue collard greens simmered in garlic, onion, rendered pork, and pork skins (via Explore Parts Unknown).
While bottles of Rodney's Sauce adorn the tables in Whole Hog Barbecue, it's not the only sauce they provide. There are also three other sauces available, including the mellow White Sauce, Rodney's Other Sauce, and Kathy's Sauce, a sweeter, flavored sauce. All of the sauces are available for purchase, along with different dry rubs and seasonings, on the Rodney Scott's BBQ site.