How Candice Brown's Life Changed Since The Great British Bake Off - Exclusive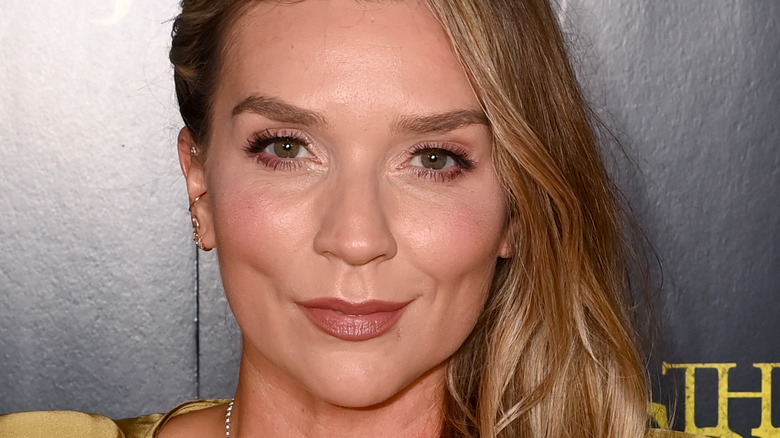 Dave J Hogan/Getty Images
We may receive a commission on purchases made from links.
Candice Brown started baking when she was just four years old. She would regularly drag a chair from the dining room into the kitchen so she could stand beside her grandmother (better known as "Nan") and help prepare pastries, butterfly cakes, muffins, and more. And while she remained an avid baker throughout her childhood and into early adulthood, it was not until she became a contestant on and eventual winner of Season 7 of "The Great British Baking Show" that her passion for baking led to a flourishing career.
Asked during an exclusive interview with Mashed how her life has changed since the show, her answer was emphatic. "I mean, more than I can probably explain, really," Brown said. "I was a teacher, so when I was on 'Bake Off,' I was looking after a special educational needs group within the school, a secondary school. I'm a trained PE teacher, and worked with a lot of students with behavior problems and things like that. And cooking was my solace, cooking was my [comfort] when days were stressful, because it's tough being a teacher. And then I entered this show that I loved so much and I never thought I'd get on it, let alone win it. And then, all of a sudden, things just changed, and now I'm able to use food, that has become a hobby, [as] a job".
"And I've met heroes, I'm friends with some of my food heroes," Brown went on. "I own a pub with my brother, I write for a national newspaper, I've written two books, I made a cameo in a little film, I've been on television programs." The list goes on, and Brown knows she owes it all to one baking show. Well, to that and years of hard work and dedication to her craft, too.
Candice Brown doesn't take anything for granted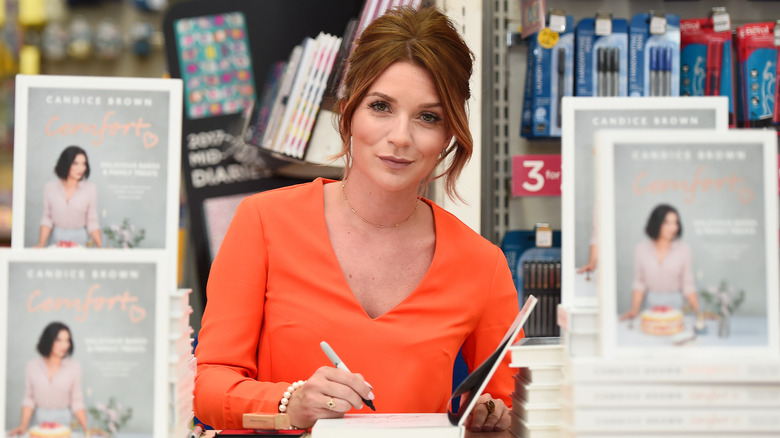 Eamonn M. Mccormack/Getty Images
Even after myriad appearances on TV, two cookbooks, co-ownership of a pub that survived the pandemic, and more projects in the works every day, Candice Brown remains humble and thankful for all of her success (via Penguin Books). "Every day, it is mind-blowing, and I know how lucky I am, and I never take any of that for granted," she said. "I loved the 'Bake Off.' ... I always give a hundred percent because I know how lucky I am and I know it could go at any time." Brown continued: "But to say, I think, that whole cheesy line of, 'It's been a whirlwind,' but it really, really has. It's been like a hurricane, whirlwind, and a whole heap of flour mixed in. I'm very, very lucky indeed. But I work hard and I love learning and I will continue pushing myself."
Brown pushes herself not only because she loves baking, but also because the kitchen has always been her safe space. "I've suffered with mental health issues for quite a few years now, probably going on seven, eight years, suffering with clinical depression, PTSD, phobia. And more recently, I got diagnosed with ADHD ... But I realized very early on that baking was what I did when I was feeling pretty blue or pretty sh***y or gray, whether that was for myself, whether it's for the process. And I just wanted to be all consumed by something that, I don't know, that took care of my hands, that took care of my head." Today, she's using everything she took from her big "Bake Off" win and hopes to help others find that same therapeutic side to baking, with projects like her new book, "Happy Cooking." 
To follow along with Candice Brown's baking adventures, visit her Instagram or pick up a copy of her book "Happy Cooking."