Twitter Is Strongly Divided Over Gordon Ramsay's 'Perfect Cut Of Beef' Post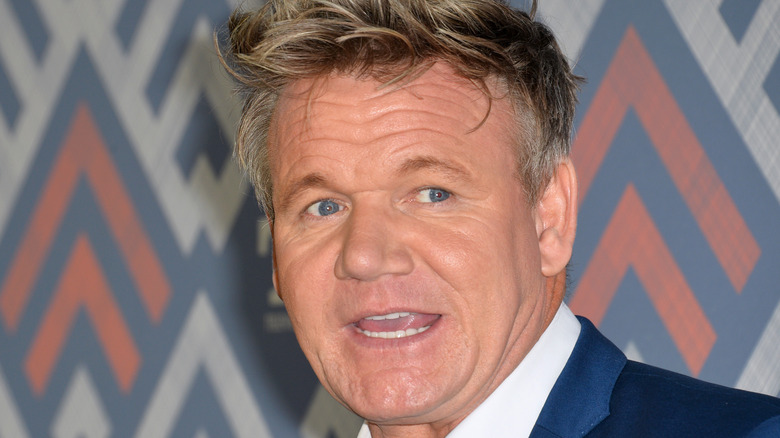 Shutterstock
There was a good reason that the French used to call their rival English "rosbifs" ("roast beefs") a few hundred years back (via The Spruce Eats). The British Sunday roast, which has historically featured beef, is a "sacred" undertaking, according to renowned chef Jean-Christophe Novelli (via The Independent). And while the ritual of getting together on a Sunday appears to be challenged across much of the country as the years go by, the roast arguably still has a sacred quality to it – if not in its consumption, then at least in the way it is made.
Nowhere was this more evident than in Gordon Ramsay's innocuous Twitter post, where he gave his restaurant, Gordon Ramsay Bar and Grill, a shout-out by posting a photo of a pair of hands slicing through a succulent piece of roast beef. "The best Sunday roasts start with the perfect cut of beef at Gordon Ramsay Bar and Grill !! @GordonRamsayGRR," he raved. Some might say the cut of meat appeared marbled, buttery soft, and cooked to medium. But not everyone would.
It appears Ramsay's post went down as well as a mediocre round on "Hell's Kitchen" because some social media users decided to pile on top of the Michelin-starred chef for his take on the traditional meal, perhaps suggesting that nothing is sacred, after all.
Twitter cut Gordon Ramsay little slack for his social media post
Reactions to Gordon Ramsay's post ranged from the critical to the appreciative, with little middle ground. "Sorry, mate, but if I put that in front of my hubby, he would throw it at me. A band aid in the right place could get it up on its feet again... too pink still!" a member of the Twitterverse sniffed.
"So you burnt the outside and forgot to cook the middle, thought you were some kind of top chef, get it back in the oven!" another social media user said. "Maybe unpopular opinion but that meat looks terrible," a third opined. Others decided it would be a good time to post photos of enticing Sunday roasts to Twitter while inviting Ramsay to sample their cooking.
But not everyone responded with biting remarks and backhanded invites. One user said of the beef, "This looks delicious." While multiple people called it underdone and others called it overcooked, one commenter simply replied with "Perfect !" A different poster wrote, "Gordon come over to my house and make that for my family and you can be my best friend for life." Some who agreed with Ramsay expressed serious doubts about whether the critics understood what they were criticizing. As one Twitter user put it, "Love how all the comments are from people who have no idea how to cook this cut of beef."