Aldi Shoppers Can't Get Enough Of These Keto Friendly Bagels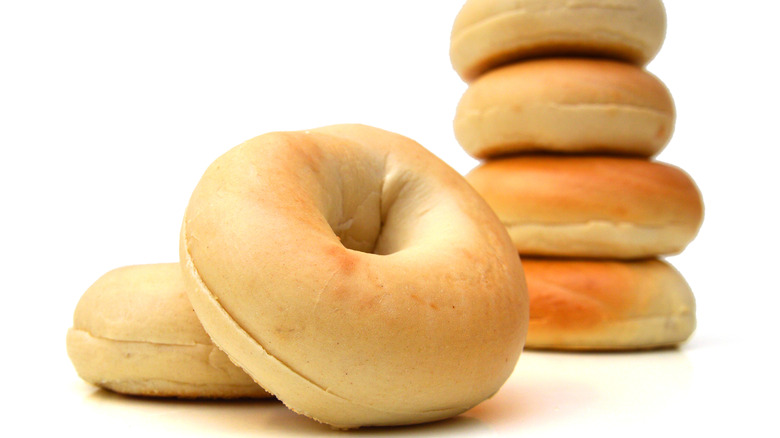 Shutterstock
While many people who follow the keto diet swear by it for weight loss, it does mean that there are a number of popular foods that they are no longer able to eat like they once did. Keto followers eschew sugar and carbs in favor of a high-fat, moderate protein diet, which means that foods like nuts, avocados, and seafood are a great option, but carb-heavy foods like chips, breads, and bagels are off the table. Or, at least, that was the case, until now.
Aldi shoppers who are trying to eat keto will be excited to see that the store is now selling L'oven Fresh Keto Friendly Bagels, which are low-carb and completely keto friendly, so they no longer have to give up their morning bagel while trying to lose weight. Not only are these bagels keto, with just 11 grams of protein, 0 grams of sugar, and 2 grams of net carbs per serving, they are also vegan and contain just 90 calories, which means just about anyone can enjoy this breakfast bagel, no matter which diet they are following, per Aisle of Shame.
Aldi shoppers raved about the L'oven Fresh Keto Friendly Bagels online
Aldi shopper @adventuresinaldi was so excited to see these L'oven Fresh bagels in the store that they just could not help but alert their Instagram followers to the find. "KETO BAGELS!! My hubby found these for me & I'm so happy he snapped a pic too! I haven't tried them yet, but I'm going to make a bagel sandwich for lunch today. Can't wait!!!" they posted to the social media site, asking, "Have you guys tried these yet!? I've heard they are pretty dang good but I'd love your take! Even if you don't eat low carb or keto, they could be a good option since they are 90 calories!"
Many of their followers were definitely pleased to see this Keto-friendly brand hit Aldi's shelves. "LOVE their keto friendly bread and buns – SO awesome they now have a bagel version!" follower @nataliecottonwilson raved. "I have been getting these for a little over a month now. And they definitely satisfy the bagel cravings! I love them. Not as chewy as a regular bagel but I'm not complaining!" @staceydawn762019 agreed, while @sdnil427 replied, "90 calories is MAGICAL for a bagel." And at just $3.49 for a package of five bagels, these L'oven Fresh bagels are a healthy choice for both your diet and your wallet (via Aldi).