This Viral Weight Loss TikTok Has People Arguing About American Food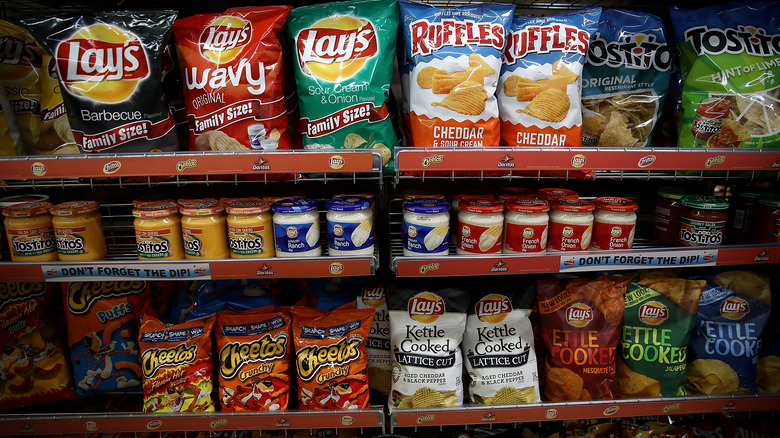 Justin Sullivan/Getty Images
Forget keto, paleo, or even intermittent fasting. The new diet fad that's being talked about is eating at least two of your three meals a day from 7-Eleven. TikToker Sunnie Cherie did it and lost 25 pounds in the process, according to Indy 100. However, there's one small caveat here — she did it in Japan. Cherie's TikTok about the process, which so far has garnered over 1.6 million views, thousands of comments, and over 450 thousand likes, struck a chord with viewers. 
The video ignited a familiar debate about the discrepancies between Japanese and American culinary cultures, and impassioned arguments were made on both sides in the comments section. In fairness, Cherie's message was pretty accusatory, "I knew America was literally killing me with its food when I went to japan and ate konbini every day for a month and lost 25 lbs," the text read, over a video of Cherie wearing Ray-Bans and nodding her head. There's a lot to unpack there, so let's look at the facts. 
Japanese convenience stores offer healthy options
It turns out that a Japanese 7-Eleven and an American version are two very different things. Not legally, maybe, but esoterically. Where a convenience store diet in the U.S. might consist of too many giant pretzels and cinnamon buns, living off of the food you pick up from a Japanese convenience store is not all that crazy. According to Bokksu, Japan convenience stores serve a similar purpose as Circle K and QuikTrips in America — pay a bill, use the ATM, borrow the wifi. But in Japan, each locations offers far healthier fare than the beef jerky found at U.S. convenience stores. "Konbini foods are always fresh and flavorful," Bokksu points out, before listing anpan (a red bean bun), rice balls with seaweed paper and grilled salmon, and cold soba among popular store offerings.
The TikToker noted that she was able to eat this "junk" found in Japan and still able to lose multiple pounds. One user saw her post and commented, "I'm not defending America, but it's mostly the lifestyle. People in other countries walk more etc." But in other videos, Cherie not only breaks down the type of food she got from the konbini during her time teaching English in Japan, but addresses the dubious among her followers. And, of course, the haters. A follower seemed to think the problem stemmed from how much meat Cherie was eating in her native Arizona to which she responded, "I've been vegan for 8 years babes."