Costco Fans In The US Are Jealous Of Canada's New Chicken Sandwich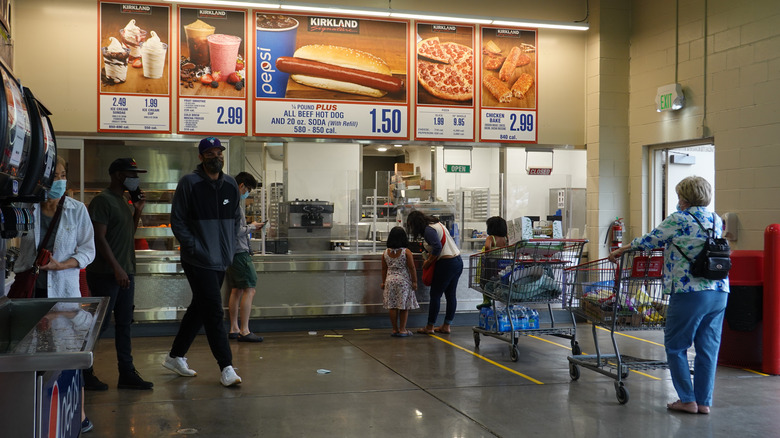 Shuttershock
People take the Costco food court very seriously. When you think about it, the fact that Costco even has a food court is reason enough to get excited. When you go to the warehouse store, it's really primarily for the purpose of nabbing the low prices on everything you could possibly need, often in bulk. Doing so is a time-saver and a money-saver, and it's often worthy of making a whole afternoon out of it. So, how great is it that you can take a break and have some lunch? And how much greater is it that the lunch promises to be delicious and super cheap?
Here in the United States, people particularly love Costco's Chicken Bake and frozen yogurt. Shoppers also love the hot dog so much that there are entire websites dedicated to it, like Costco Hot Dog – thanks, in no small part, to the fact that you can get the frankfurter and a soda for just $1.50. Then there's the gooey cheesy pizza, which gets even better when you add pepperoni. Even Costco employees favor the pizza, according to Business Insider.
Now, Costco has added some items to its menu, with one debut in particular making big news. The only problem for shoppers in the US is that this hot new item is currently only available at locations in Canada.
Costco is joining the "Chicken Sandwich Wars"
For a couple of years now, the fast food "Chicken Sandwich Wars" have raged on between contenders like Popeyes, Chick-fil-A, and Wendy's. And, now, you can add Costco to that list — but only in Canada.
When a Reddit user posted a photo of the new Costco menu additions in Canada, which included chicken wings but — even more prominently — a chicken sandwich, Costco fans in the States instantly felt jealous and snubbed. Also for the fact that the sandwich comes on Costco's tasty cheesy bun that makes it officially stand out. As one commenter wrote, "Those cheese buns are amazing microwaved for 29 seconds. I can only imagine how it would be with a piece of crispy chicken." Others replied with quips like "Lucky Canada," "We're still stuck with pizza and hot dogs. No sandwiches at our local Costco yet," and "S**t, if it wasn't so cold, I'd be planning the move now." 
Some people were also incredulous that this addition happened in Canada instead of the US first: "Damn how is this in Canada before the Southeast USA?!" one user asked. But another Redditor had a good point in their response: "Because Chick-fil-A, Church['s], Hardee's, McDonald's, Zaxby's, KFC, Wendy's, Burger King, Bojangles, and Popeyes all offer some form of a crispy chicken sandwich." So, could it be that Costco isn't confident enough to go up against the heavyweights in the Chicken Sandwich Wars — or maybe they want to go after a new market?
So far, the reviews from Costco shoppers in Canada that have tried the sandwich are mixed, so the first theory could be true. Maybe Costco is waiting to perfect the sandwich before expanding its presence? Either way, US shoppers will be watching.