Steven Carter-Bailey Shares His Number One Cake Baking Tip For US Bakers - Exclusive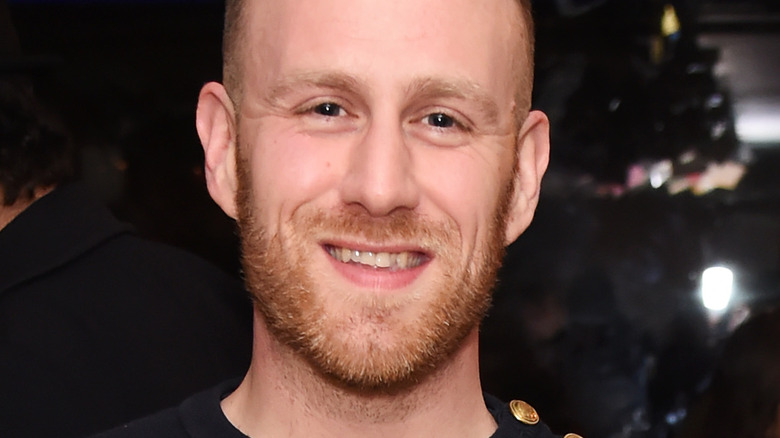 David M. Benett/Getty Images
You have spent hours mooning over Steven Carter-Bailey's amazing cakes, right? Because one look at the Rubik's cube cake on his Instagram, and you know he's a wizard at cake design. As the baking master pointed out in an exclusive interview with Mashed, "The Great British Bake Off" is intense — or, in his words — "from application through to completion, 'The Great British Bake Off' has been compared to a dissertation for a post-degree." So while the 2017 runner-up and "Great New Year Bake Off" 2019 champion might not have been to not have trained at Le Cordon Bleu, do the math. Suffice to say, you can — you should, you must — take Steven Carter-Bailey's advice to heart.
Maybe you, like Lucy from "I Love Lucy," have panic attacks every time you peak in your oven door to see how things are going in there (via YouTube). Perhaps, like Octavia Spencer, your 3-ingredient peanut butter cookies come out looking like ... peanut butter pancakes (via US Weekly)? If you're based in the United States, Carter-Bailey told Mashed that he can "guarantee that 90% of the time," it's because you're doing this.
Steven Carter-Bailey thinks you're measuring things wrong
For Steven Carter-Bailey, it's as simple as having the right tools in your kitchen. "If something has failed in terms of baking, I can guarantee that 90% of the time it's because cup measurements were used," Carter-Bailey told Mashed. "It's such an inefficient and irregular way of measuring baking ingredients." While the GBBO champion was quick to clarify that when cooking, cup measurements might do the trick, baking requires much more precise measuring methods. Trust him, he's tried baking with cups, and has never gotten consistent results. "A cup is a sort of a vague amount," Carter-Bailey explained, "It's so hit and miss that it can literally be the difference between a failure or perfection. I would always, always, always weigh out using digital scales." 
Carter-Bailey also thinks it's worth checking on whether your oven is as hot as it says it is. "Older ovens misfire and whilst the dial might save 375, it might be 400 in there. It might be 325 in there," he cautioned. "I would always get a little oven thermometer that you can put into the oven." Last but not least, don't get too creative. As much as you might like to be, you're probably not Buddy Valastro or Adriano Zumbo or even Steven Carter-Bailey in the kitchen, yet. That means, says Cater-Bailey, you should "always, always, always follow the recipe to the letter." In other words, trust the baker who made it. "When I design a recipe, I don't just pick numbers out of my head and go that'll work. They are tested between five and 15 times for consistency, for different oven types, for flavor."
For regular baking inspiration, be sure to follow Steven Cater-Bailey on Instagram. To follow his recipes to the letter, check out the GBBO alum's website.