Air Fryer Fried Pickles Recipe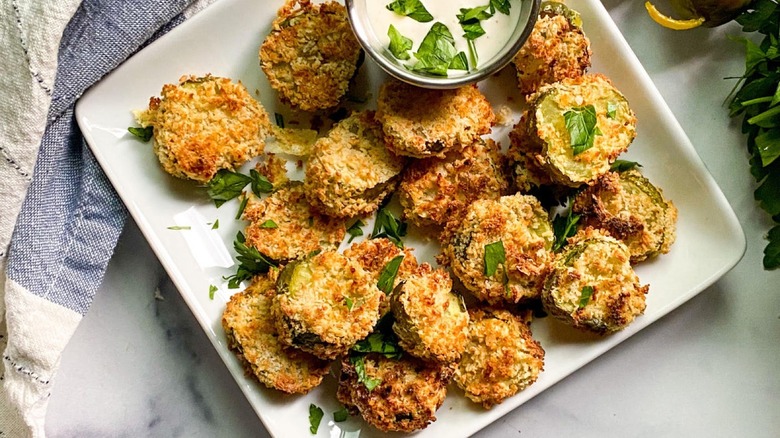 Miriam Hahn/Mashed
It will probably surprise no one that deep-fried pickles have their roots in the American South, where an enterprising Arkansas drive-in owner named Bernell Austin — aka "Fatman" — stumbled upon the idea while he was looking for a hook to bring people to his establishment, according to THV11. Austin's son David Smith told THV11. David said his father's creation was inspired by his industrial neighbor from across the highway: the Atkins Pickle company. "He come (sic) up with the idea of taking a whole dill pickle and slicing it himself and he worked on the breading to get where it's at today. Where it sticks to it, it comes out a good golden crunchy brown," said Smith.
That was in the summer of 1963. Fast forward to today, and wellness coach and recipe developer Miriam Hahn says, "I first had fried pickles in Atlanta years ago. I had never heard of doing this before, but when I tried it, I loved it." 
For this recipe, she's bringing this 20th-century treat into the 21st century with her healthy take on the mouthwatering snack. "The air fryer is a perfect tool to use for this and the ingredients are good, making it a very healthy alternative to the deep-fried versions," she says. 
Here's what you need to fry pickles in an air fryer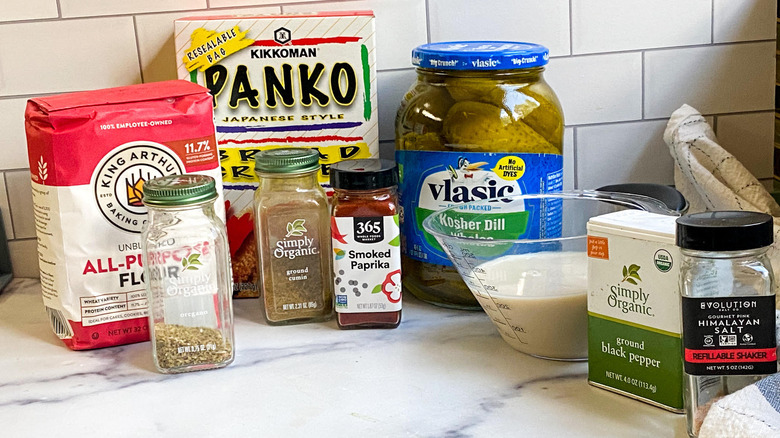 Miriam Hahn/Mashed
In order to make air fryer pickles, you'll need medium-sized dill pickles to start off with — six is the magic number for this recipe. The pickles' crusty outer layer is spiced with flour, cumin, smoked paprika, oregano, salt, and pepper, and to coat the exterior, you'll need panko (Japanese-style breadcrumbs) and milk (and kind). 
If panko is difficult to find, don't stress, as Hahn says breadcrumbs are an easy swap.
Slice your pickles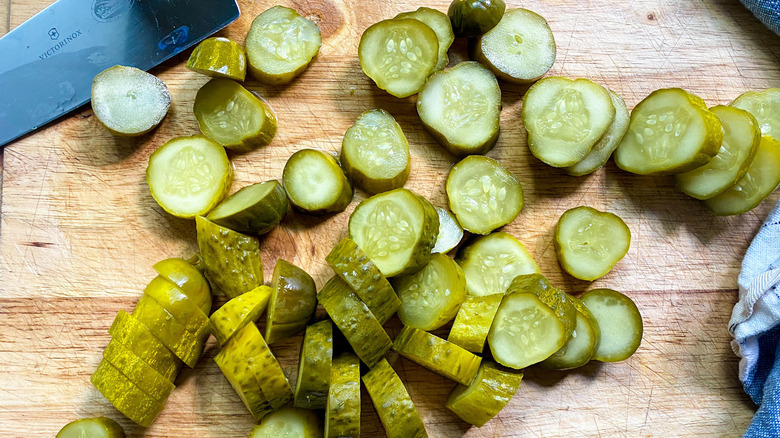 Miriam Hahn/Mashed
To begin, slice up your pickles so they are about a quarter-inch to a half-inch thick, so you get little rounds instead of long spears. Once the rounds are ready, put the pickle slices on sheets of paper towel to dry. An additional layer of paper towels on top of the pickle slices will help make sure these will be dry enough, and so they'll be ready to be dipped in the spice mix.
Make the spice mix for your air fryer pickles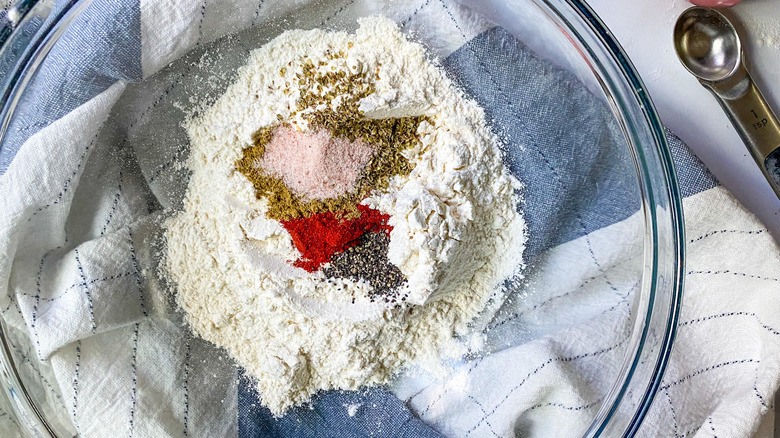 Miriam Hahn/Mashed
The next step in prepping your air fryer pickles involves pulling all your spices into a bowl that can accommodate the pickle slices comfortably. You'll want to mix the flour, cumin, smoked paprika, oregano, salt, and pepper in a medium-sized bowl, and pour the milk into a bowl and the panko in another.
Some people might choose to skip the milk in this step, but its important to remember that milk is a good binder for any starch-based coating because it holds all the dry ingredients together (via LeafTV).
Lay your pickle slices in a single layer in your air fryer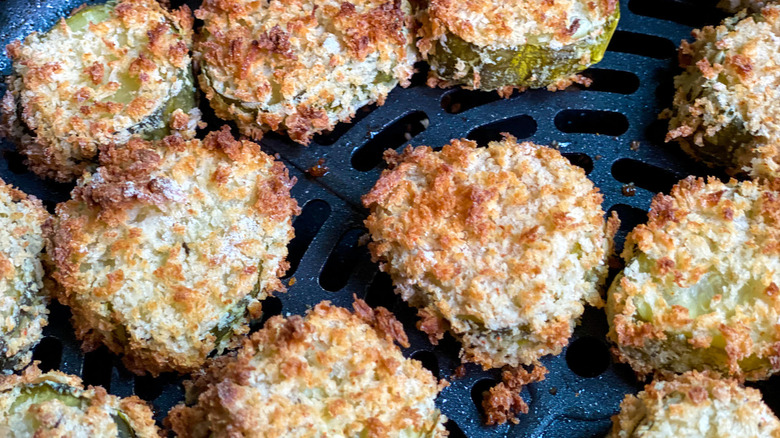 Miriam Hahn/Mashed
Once all the prep work is done, coat your pickle slices one at a time with the seasoned flour, give them a quick milk bath before finishing with panko or regular bread crumbs, if you are using those instead. Then lay the pickle slices out one by one and in a single layer in the air fryer tray.
Ensure your fryer is set to 400 F and get cooking; the pickles should be ready in about 10 minutes, or when they are golden brown and crisp. 
Hahn suggests serving air fryer pickles as a snack or appetizer. "It is definitely something people want to try when I set these out," she says. As an added bonus, serve these pickles with a ranch-style dip, which is just as good for dipping these pickles as for dipping raw vegetables. "I usually serve it with a huge veggie platter," Hahn says.
Air Fryer Fried Pickles Recipe
When Arkansas drive-in owner Bernell Austin invented the deep-fried pickle, he couldn't have imagined this much healthier air fryer fried pickles recipe.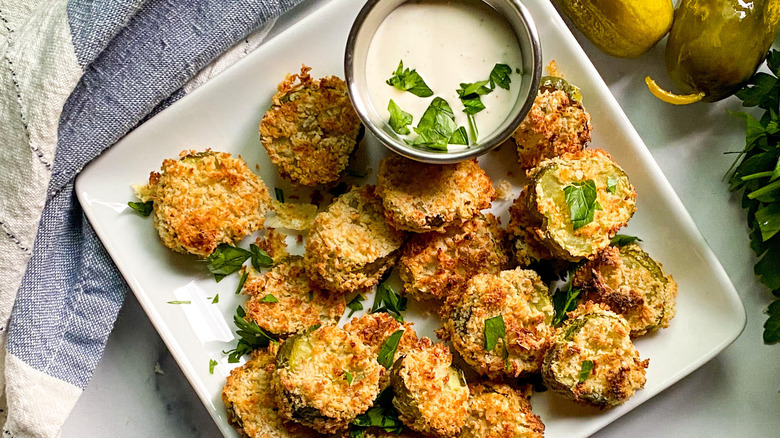 Ingredients
6 medium dill pickles
¾ cup all-purpose flour
1 teaspoon cumin
1 teaspoon smoked paprika
1 tsp oregano
1 teaspoon salt
½ teaspoon pepper
½ cup milk
1 cup panko breadcrumbs
Directions
Slice the pickles ¼-inch to ½-inch slices.
Lay them on paper towels to dry. Pat dry on top with another layer of paper towels.
Mix the flour, cumin, smoked paprika, oregano, salt, and pepper in a medium bowl.
Pour the milk into a separate bowl and the panko in another.
Dip each pickle slice into the flour, then the milk, then the panko. As they are done, lay them in the air fryer tray.
Set the air fryer to 400 F and the time to 10 minutes. They are done when they are golden brown and crispy.
Serve them immediately.
Nutrition
| | |
| --- | --- |
| Calories per Serving | 116 |
| Total Fat | 1.5 g |
| Saturated Fat | 0.5 g |
| Trans Fat | 0.0 g |
| Cholesterol | 2.0 mg |
| | |
| --- | --- |
| Total Carbohydrates | 22.1 g |
| Dietary Fiber | 1.7 g |
| Total Sugars | 2.1 g |
| Sodium | 550.1 mg |
| Protein | 3.7 g |