Neighbors Are Baffled As UK Police Search For Baked Bean Vandal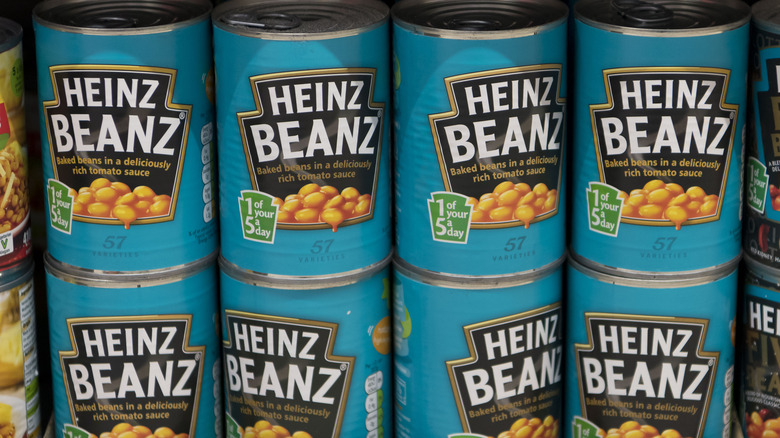 Matthew Horwood/Getty Images
A mysterious vandal has begun terrorizing a small town in the United Kingdom, using nothing more than a few cans of baked beans. Residents of Wonersh, a little village in the Waverley district of Surrey, England, have recently reported a string of vandalism incidents involving an unknown criminal who poured cans of baked beans over people's cars, doorsteps, and even into people's letterboxes, according to the Daily Mail.
"Local officers have received reports of incidents in Wonersh where beans and other food has been poured onto residents' front doors and cars overnight. The victims are understandably distressed by this unacceptable behavior," Surrey Police wrote in a Facebook post, according to Food & Wine. Predictably, the post also attracted a fair share of jokers, as some people couldn't resist the chance to make a pun or two. "I hope someone spills the beans on who it might be," one user posted, while another joked that "the crime rate has bean going up." But all jokes aside, Wonersh residents are understandably confused and disgusted by the bean attacks, which are messy, rude, and just plain wasteful. "Hope you catch those horrendous criminals – otherwise house prices in Wonersh will plunge," wrote Donna Sommerfield, a concerned Wonersh local.
Wonersh is not the only UK town to have been terrorized by baked beans
As strange as this crime may be, Wonersh residents are not alone. Similar bean-related incidents have previously been reported in other parts of the country, including in Hampshire and Cumbria. In September, families in Hampshire, England, were disappointed and infuriated to find that someone had poured beans all over the swings and merry-go-round at a local park, rendering them gross and unusable for children who wanted to play there.
In 2018, a Cumbria woman posted a photo on social media showing a pile of baked beans someone had dumped onto the hood of her car, along with an angry note criticizing her for parking in an illegal spot and blocking access to the back gates, per Express. While that incident was less an act of repeat vandalism than an expression of frustration over bad parking, one can't help but wonder why the angry motorist chose to use baked beans, of all things, to get their point across.
The Wonersh bean bandit has not yet been brought to justice, although the Surrey police have promised that "local officers will be patrolling the area and keeping an eye out for anything suspicious" (via the Daily Mail).