Easy Air Fryer Donuts Recipe
Jessica Morone/Mashed
No matter how old you are or where you come from, there's one universal truth that holds up: Donuts are one of the most delicious sweet treats around! Traditionally, donuts are deep-fried rings of dough topped with frosting, and you often get them from a bakery or from the grocery store. The dessert has come a long way over the years, but a classic, frosted donut is still a wildly popular treat around the world. 
Have you ever considered the fact that you could make donuts right in your own kitchen — and without having to deep-fry them? Recipe developer Jessica Morone from Jess Loves Baking has the perfect donut recipe that is easy to make and only requires a few ingredients. Best of all, you don't have to make your own dough, and you cook the donuts in an air fryer, making the whole process a total breeze. "I think this is one of the easiest recipes I've made," Morone explains. "The donuts themselves take almost no work since you use pre-made dough and the air fryer takes all the work out of cooking them." 
Whether you want to enjoy some donuts for breakfast or dessert, save yourself the trip to a bakery and give these easy air fryer donuts a try!
Gather the ingredients to make air fryer donuts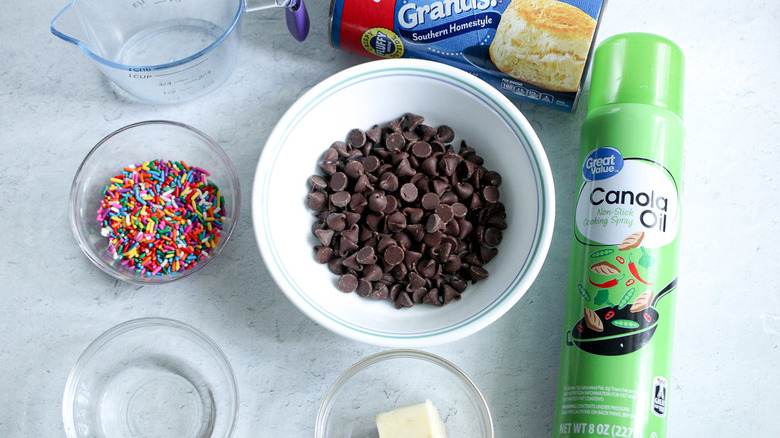 Jessica Morone/Mashed
Before you can make air fryer donuts, you'll want to make sure that you have the right ingredients. Instead of making your own donut dough, you'll simply need a can of Pillsbury's Grands! Biscuits, which you'll cut into "donut" shapes. Next, you'll need either olive oil, coconut oil, or canola oil baking spray, semi-sweet chocolate chips, butter, light corn syrup, water, and sprinkles. 
Morone also notes that you can get creative with your frosting, so instead of using semi-sweet chocolate chips, you could use white chocolate or colorful candy melts. Aside from the ingredients, you'll simply need your air fryer to cook the donuts and then you're ready to get started. 
Cut the biscuit dough into donut shapes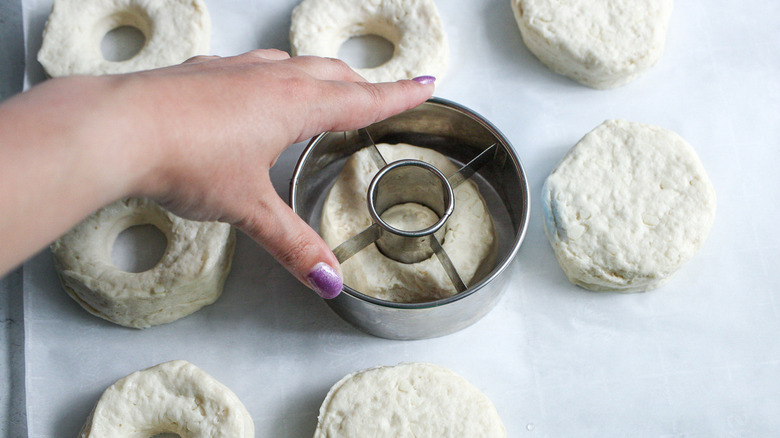 Jessica Morone/Mashed
Roll out some parchment paper onto a flat surface and then pop open the can of biscuits. Carefully remove each biscuit from the package and place them in a single, even layer across the parchment paper. Now, to get that iconic donut shape, you're going to need to cut out a hole in the middle of each biscuit, and there are a few ways to do so. The easiest way, and the way Morone does it, is by using a donut cutter, as shown in the picture. 
If you don't have a donut cutter, you can simply use a small bottle cap to cut out the middle hole, but don't discard the extra dough! You can use the middle pieces to make donut holes along with your regular donuts. 
Air fry the donuts until they're golden brown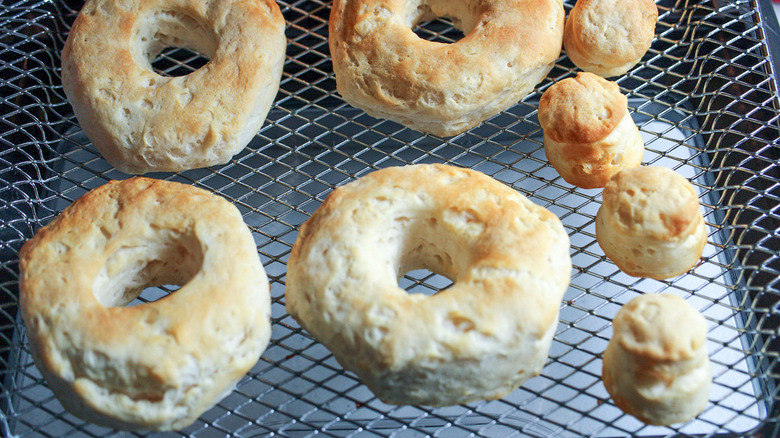 Jessica Morone/Mashed
Now that you've got your donuts cut out, you can get ready to cook them in the air fryer. Start by spraying each of the biscuits with oil. Then, place them in the air fryer basket in a single layer, ensuring that no biscuits are touching, and cook them at 350 F for six to seven minutes, flipping them halfway through. Once the donuts look nice and golden brown, you'll know that they're done.
Depending on the size of your air fryer, you'll likely have to do several batches to get all of the donuts (and donut holes) cooked. 
Make your frosting and then dip the donuts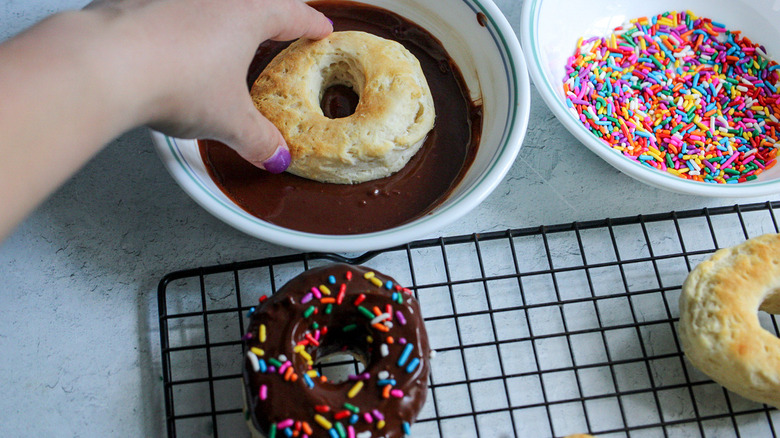 Jessica Morone/Mashed
Once your donuts are done cooking in the air fryer, you can prepare the frosting. Some people prefer donuts without frosting, but because these donuts use biscuit dough and are less sweet, Morone insists that it's crucial to add a sweet frosting or glaze element. 
To make the frosting, combine the chocolate chips, butter, corn syrup, and water in a bowl, and then microwave the bowl for 30 seconds. Stir the mixture until it's nice and smooth, and then carefully dip one side of each donut into the chocolate glaze. Top each donut with sprinkles while the frosting is still somewhat wet, so the sprinkles will stick to the donut and not fall off.
Let the frosting set and then serve your donuts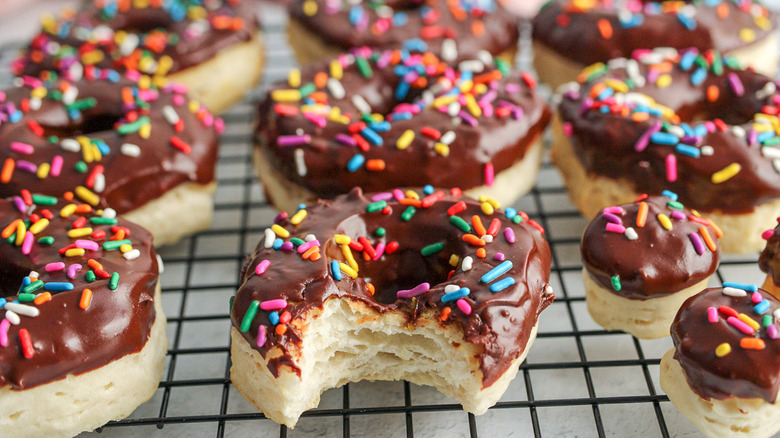 Jessica Morone/Mashed
After you've finished frosting and adding sprinkles to each donut, let them sit for a bit to allow the glaze to set. Then, you're ready to enjoy your air fryer donuts! 
Unlike traditional donuts, these biscuit-based donuts will taste less sweet and cake-like, though they'll still have that irresistible fried flavor. Paired with the chocolate glaze or frosting of your choice, these donuts have a perfect balance of sweetness! Morone notes that they pair well with coffee, though any hot beverage will complement these donuts. 
In less than 20 minutes and with just a handful of ingredients, you can make your own donuts right in the comfort of your own kitchen, making this air fryer donut recipe a must-have for busybodies who love sweet treats.
Easy Air Fryer Donuts Recipe
Did you know you could make glazed donuts right in your own kitchen — without having to deep-fry them or make the dough? Try this easy air fryer donuts recipe.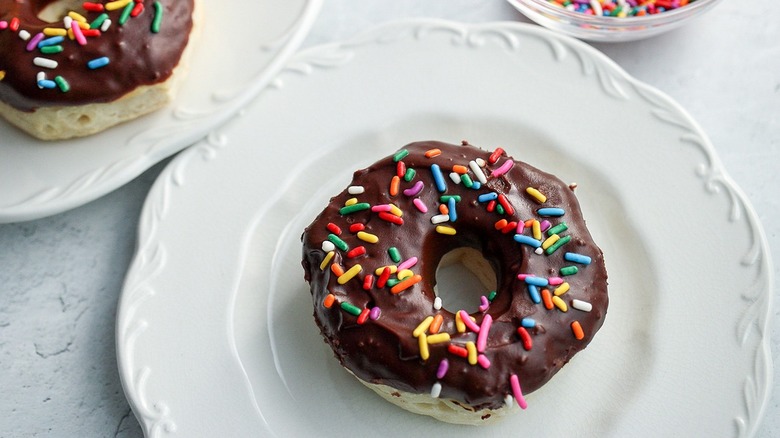 Ingredients
1 (16.3-ounce) can Pillsbury Grands! Biscuits or other big biscuits
Nonstick cooking spray
½ cup semi-sweet chocolate chips
2 tablespoons salted butter
1 teaspoon light corn syrup
2 teaspoons water
Sprinkles, for decorating
Directions
Place the biscuits in a single layer on parchment paper.
Use a donut cutter, 1-inch biscuit cutter, or small bottle cap to cut a hole in the center of each biscuit.
Lightly spray each biscuit with oil.
Place the biscuits in a single layer in the air fryer basket, making sure they're not touching.
Cook at 350 F for 6 to 7 minutes, flipping halfway through, until they are golden brown.
Repeat with the remaining dough, including the donut holes if desired.
In a small bowl, combine the chocolate chips, butter, corn syrup, and water.
Microwave the bowl for 30 seconds, then stir the mixture until it's smooth.
Dip the donuts in the chocolate glaze, then top with sprinkles.
Let the donuts sit until the glaze sets, then serve.
Nutrition
| | |
| --- | --- |
| Calories per Serving | 371 |
| Total Fat | 23.8 g |
| Saturated Fat | 6.8 g |
| Trans Fat | 0.1 g |
| Cholesterol | 9.4 mg |
| | |
| --- | --- |
| Total Carbohydrates | 36.4 g |
| Dietary Fiber | 1.5 g |
| Total Sugars | 8.7 g |
| Sodium | 365.9 mg |
| Protein | 4.6 g |