What The Restaurant Industry Is Saying About Chicago's New Indoor Mask Mandate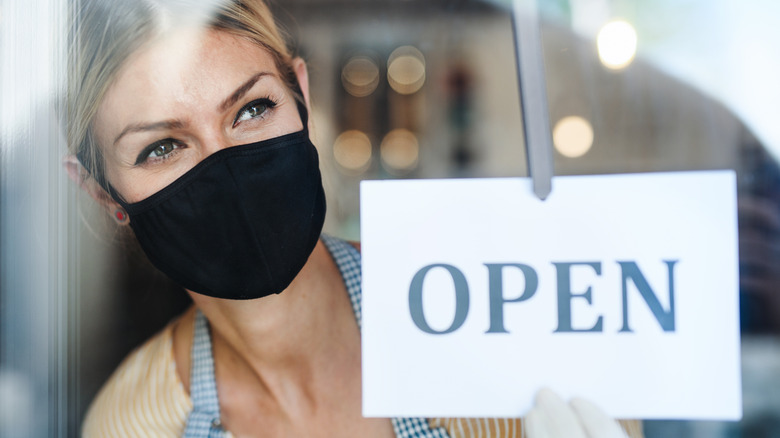 Halfpoint/Shutterstock
Chicago restaurants are currently going through a few changes that look similar to last year, when the pandemic first hit. According to Eater, diners and visitors will have to ensure that they wear face masks if they're eating indoors. This rule applies to everyone, no matter what their vaccination status is. The major reason for this is the rise of the delta variant, with cases rising to more than 400 every day in the region (via The Pantagraph). The mask mandate also applies to bars, restaurants, gyms, common areas in buildings, and other indoor public spaces.
"With the highly transmissible Delta variant causing case rates to increase, now is the time to re-institute this measure to prevent further spread and save lives," said Allison Arwady, public health commissioner for Chicago. "We continue to track the data closely and are hopeful this will only be temporary and we can bend the COVID curve, as we've done in the past."
Things seem uncertain in the restaurant industry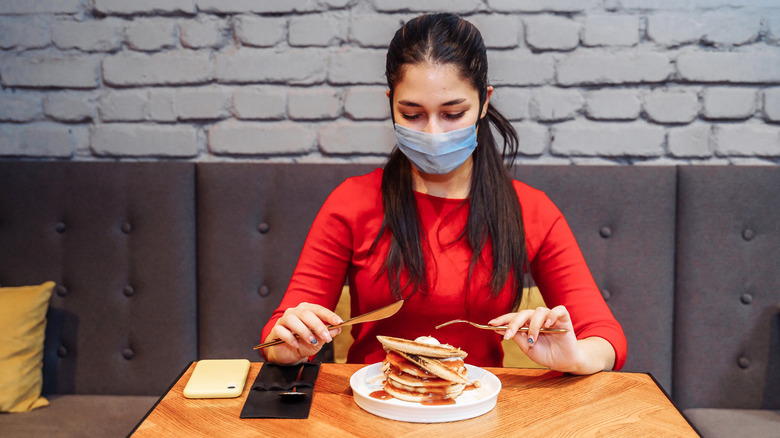 Daria Ahafonova/Shutterstock
According to Eater, the mask mandate is stressing people out as they try to figure out their next steps. While many eateries were being allowed to carry out operations sans restrictions since the month of June, the reintroduction of rules is scary for some as they try to understand the impact on businesses (via ABC 7). Sam Sanchez, the chair of the Illinois Restaurant Association, expressed his doubts and fears when he said, "There's a lot of restaurants, even myself, will close temporarily if there's a restriction on occupancy."
However, Arwady was reasonably confident that this is a temporary setback. "Our goal is to stay open," she said. "I don't expect that this will be an indefinite, forever mask requirement and that's why we've also been very clear that we're on the way up now." Mary Kay Tuzi, the co-owner of Twin Anchors Restaurant & Tavern, said that while her staff members have started wearing masks again, customers haven't embraced the change yet (via The Pantagraph). "Hopefully word gets out and we don't have to be the people to educate everybody," she said. "Obviously we'll comply if that's what the city is expecting."