What MasterChef Judge Monica Galetti Cooks For Her Dogs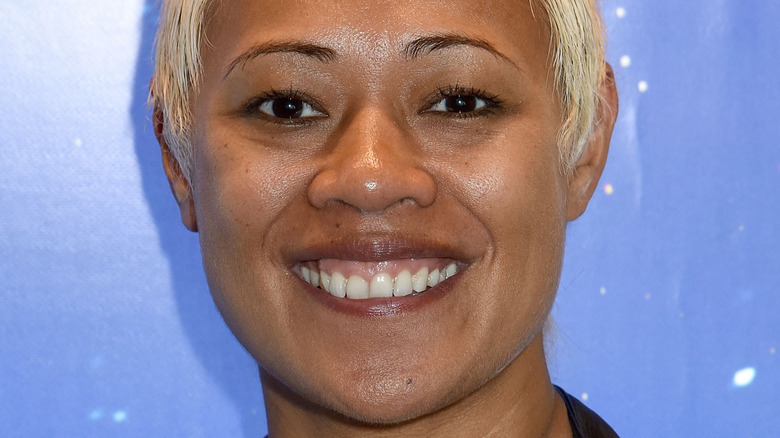 Dave J Hogan/Getty Images
People love their dogs as much as any family member, and when a celebrity chef is a pet parent, you know their beloved pups get some amazing meals and treats. This includes Monica Galetti, a judge on "MasterChef: The Professionals" (via Bloomberg). Galetti has two dogs — a Boxer named Fynn and a French bulldog named Cole. Galetti knows exactly what her two furry friends love to indulge in and even makes them dinner from time to time to switch things.
While many home cooks like to whip up special treats for their dogs, these meals don't have to be gourmet affairs. Union Lake Veterinary Hospital suggests including ingredients like chopped raw or steamed vegetables, canned cooked salmon, a whole raw or cooked egg, leafy greens like kale or spinach, and a dollop of yogurt or cottage cheese. Galetti takes these ingredients to heart and concocts the perfect dog-friendly dinner any veterinarian could get behind.
The canine-friendly protein Galetti swears by
Galetti uses similar ingredients when she cooks for her dogs. Occasionally, the chef serves up poached chicken breasts to give her furry friends a break from dog food, and she gives her pets hard-boiled eggs when she makes a batch (via Bloomberg). According to Union Lake Veterinary Hospital, Galetti's use of chicken hits the mark — it provides a good source of protein without packing in a ton of sodium or fat, such as ham. Veterinarians recommend against serving up rich meats, like ham, to dogs. These kinds of proteins contain too much sodium and fat and can cause issues down the road for your canine friends. Galetti instead treats her pups to some fruity indulgences from time to time, including frozen bananas and apples. 
If you have ever wanted to ditch the kibble and give your dogs a meal to get excited for, take a page from Galetti and treat your dogs to some seriously good ingredients — you and your pets won't regret it.