Homemade Hush Puppies Recipe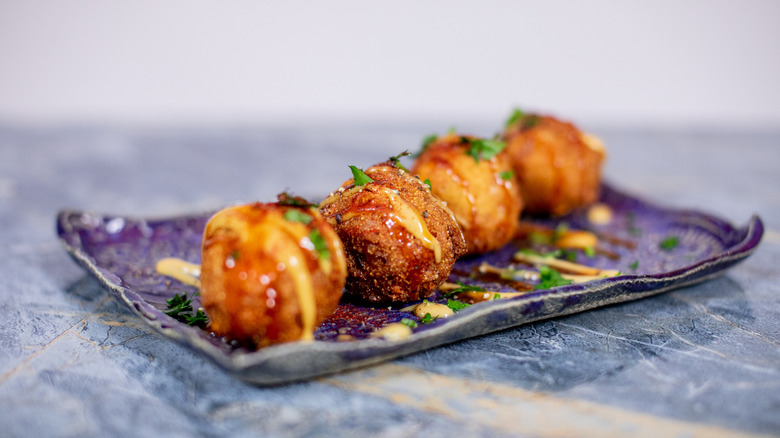 Nathaniel Lee/Mashed
What's your first thought when you hear the words "hush puppy?" Of the charming and comfortable shoe brand, you wore as a kid? The former TikTok influencer since accused of fraud and money laundering? Or do you think of those little balls of fried perfection that may well be the ultimate comfort food? 
Yeah, we were hoping you'd settle on the last option there. And when you follow this easy and flexible recipe from chef and recipe developer Nathanial Lee of Beginner Food, you can easily make batches of hush puppies at home. "I have done a base recipe that [can be used to] make basically any hush puppies," Lee says, "from savory to sweet, and so on." So while you'll see a few specific ideas for ingredients (along with the must-haves, like cornmeal and flour, of course) below, like diced onion or shredded cheese, don't stop there!
Hush puppies are rather like a blank (but delicious) canvas ready to be painted with any idea, so to speak. You can add in chopped jalapeños for spice, chocolate chips for sweetness, dried herbs for a savory taste, and on it goes. And you can try all sorts of combinations of ingredients, too.  To start, you'll probably go with either the cheese or chocolate though, not both!
Gather your ingredients for homemade hush puppies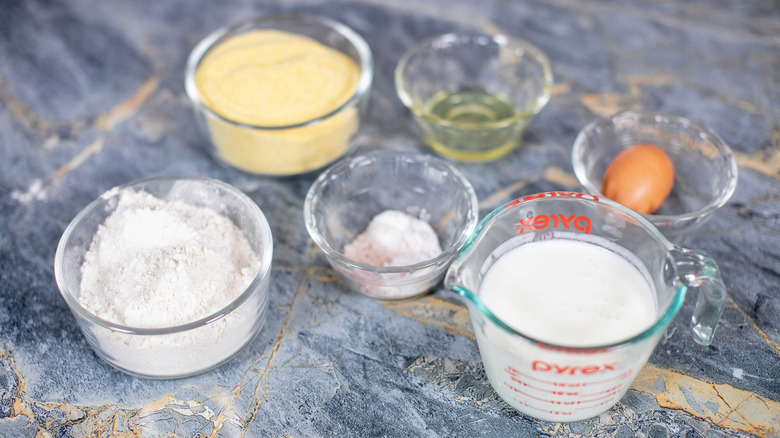 Nathaniel Lee/Mashed
As noted, you can be pretty flexible (and imaginative) when it comes to making hush puppies, so think of these ingredients as your starting point, not your be-all-end-all at all. For the most basic of hush puppies, you'll need cornmeal, flour, salt, baking powder, baking soda, an egg, oil (a bit for the dough, a lot for the frying), and buttermilk.
A few good ideas for optional ingredients are shredded cheese, diced onion, sugar (ideally powdered sugar for dusting), or favorite seasonings to mix in. But hey, you can go wild, too.
Create the dough for the hush puppies
Nathaniel Lee/Mashed
Mix the dry ingredients, so the salt, baking soda, baking powder, cornmeal, flour, and dry seasonings (if you're using them) all together in a medium bowl and stir them well.
Next, in a separate bowl, mix the wet ingredients, meaning the two tablespoons of oil, the egg, and the cup of buttermilk. Be sure to stir those well. Now combine the wet and dry ingredients and stir them until they combine, but do not overmix, as you don't want the dough to get too dense.
Roll the dough into balls and start frying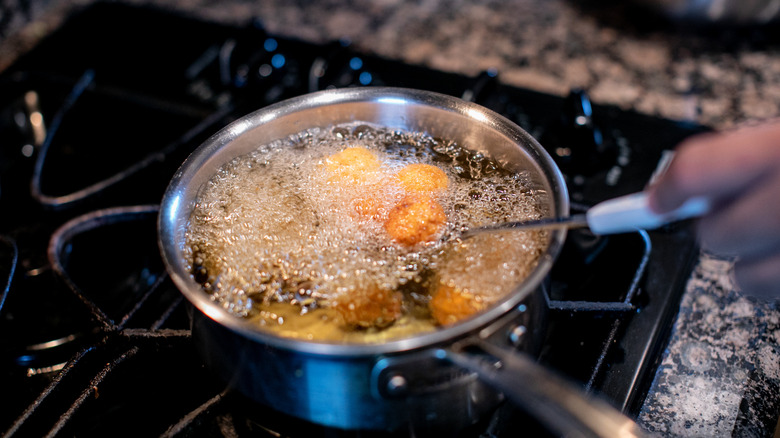 Nathaniel Lee/Mashed
Once you have the batter mixed (and not overmixed!), it's time to make the balls. Again, plan to work these only as much as needed — Lee says, "It's very important to not overwork the dough, as this will create gluten and prevent it from poofing up while frying."
Go ahead and start heating the oil, which you will want to reach an ideal temperature of 375 F. Now scoop little handfuls of dough and roll it into approximately ping pong ball-sized pieces. And now it's time to fry.
Fry your hush puppies in batches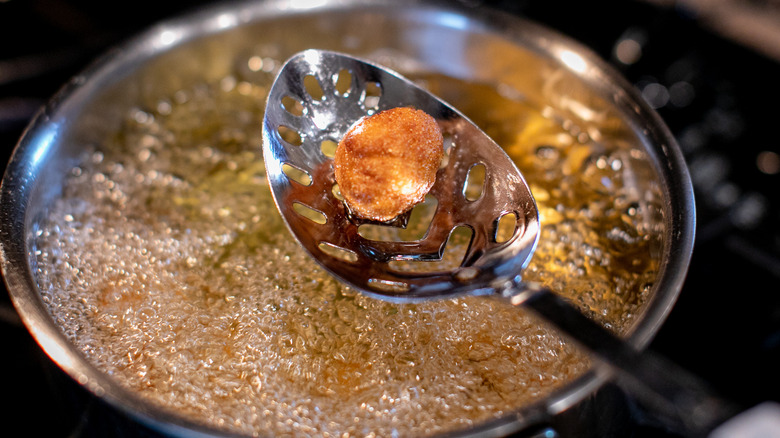 Nathaniel Lee/Mashed
Carefully drop as many dough balls as you can easily fit into the hot oil, using a slotted spoon or tongs to protect yourself from dangerous spatters. You should plan to cook each sphere of dough for about four to five minutes a piece, and you'll likely need to do three batches. They are done when golden brown all over.
Strain the cooked hush puppies and place them on a paper towel-lined plate to cool, and serve them still warm with your favorite sauces and toppings or as a delicious side.
Homemade Hush Puppies Recipe
Guilty pleasures don't get better than balls of fried dough and this hush puppy recipe is easily customizable to suit any sweet or savory cravings.
Ingredients
1 cup cornmeal
1 cup flour
1 teaspoon salt
1 teaspoon baking powder
1 teaspoon baking soda
1 egg
2 tablespoons oil
1 cup buttermilk
Optional Ingredients
½ cup shredded cheese (optional)
½ cup diced onion (optional)
2 tablespoons sugar (optional)
1 tablespoon seasonings (optional)
Directions
Mix all dry ingredients in a medium bowl. Mix wet ingredients in a separate bowl.
Combine wet and dry ingredients, but do not overmix.
Pour 3 inches of oil into a heavy bottom pot or Dutch oven. Heat oil to 375 F.
Roll or scoop dough into ping pong ball size pieces. Drop rolled balls into oil.
Cook each dough ball for 4 to 5 minutes.
Strain and cool, then serve with favorite sauce or toppings.
Nutrition
| | |
| --- | --- |
| Calories per Serving | 90 |
| Total Fat | 2.4 g |
| Saturated Fat | 0.3 g |
| Trans Fat | 0.0 g |
| Cholesterol | 10.6 mg |
| | |
| --- | --- |
| Total Carbohydrates | 14.6 g |
| Dietary Fiber | 0.6 g |
| Total Sugars | 0.9 g |
| Sodium | 135.1 mg |
| Protein | 2.3 g |