The Secret Ingredient In Wolfgang Puck's Scallion Pancakes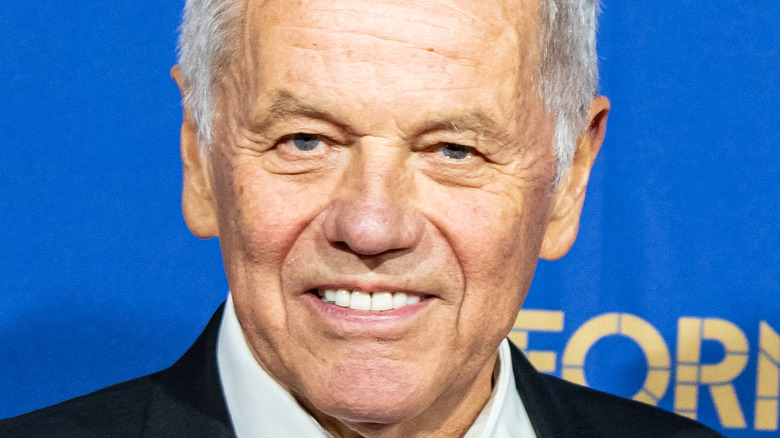 Chris Allan/Shutterstock
Celebrity chef Wolfgang Puck is truly an O.G. The Austrian-born chef and cookbook author has been called "one of the first true celebrity chefs" (via Variety) and "the world's most recognizable chef" (via Forbes). A classic example of a rags-to-riches story, Puck was born into a poor family in Europe, emigrated to America at the age of 24, and by age 33 had opened Spago, the West Hollywood, California restaurant that would catapult him to stardom (via Wolfgang Puck).
Best known for serving gussied-up pizzas topped with luxe ingredients such as smoked salmon and caviar — and for starting an empire of frozen pizzas — Puck nevertheless dabbles in a wide range of cuisines. His Santa Monica restaurant Chinois, for example, fuses Chinese and French techniques, all using seasonal California ingredients. That restaurant is where Puck developed his recipe for scallion pancakes, which feature a secret ingredient that brings them to the next level (via Food Network).
It's all about the ginger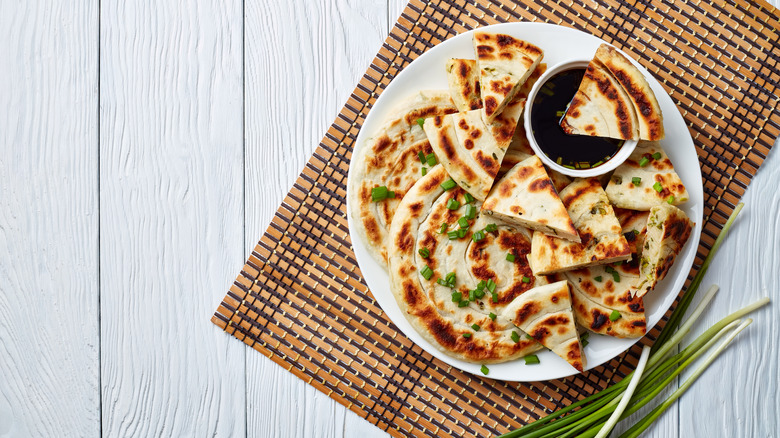 from my point of view/Shutterstock
Do you love scallion pancakes? We sure do. This Chinese restaurant takeout staple is made from a basic wheat flour dough that's stretched out thin, brushed with plenty of fat, and then rolled up on itself, which creates irresistible layers of flaky, rich dough. In between those layers of dough, cooks typically sprinkle salted chopped scallions, shape the dough into thin pancakes, then griddle them until browned and crispy on the outside. As if that wasn't delicious-sounding enough, Puck ups the ante on his scallion pancakes, amping up the filling with additional "secret" ingredients.
As the celebrity chef told Food Network, he came up with the recipe for his scallion pancakes in 1983, when he opened Chinese-French fusion restaurant Chinois in Santa Monica, California. Instead of just sprinkling chopped scallions between the layers of pancake dough, Puck developed a blend of aromatics that packs an extra punch. "When I started at Chinois many years ago, my secret weapon was a blend of 1 tablespoon of chopped ginger, 1 1/2 tablespoons of chopped garlic, and 3 minced green onions mixed into a rough paste," the chef told Food Network. "I would add it to almost every dish, like sautéed chicken and vegetables or scallion pancakes." Is anyone else craving scallion pancakes now?